In April 2015, Governor McAuliffe established the Virginia Environmental Literacy Challenge, a K–12 education program with Executive Order 42.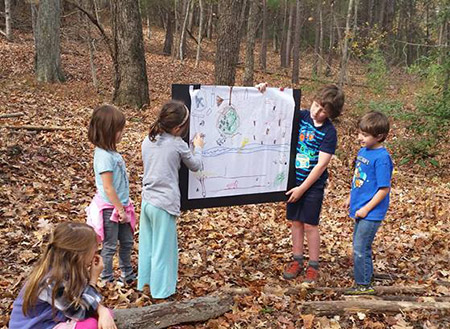 Through this Executive Order, Governor McAuliffe directed Virginia's resource and education agencies to complement and support the Commonwealth's current environmental education efforts by establishing the long-term vision that:
Virginia's students graduate with the knowledge and skills to make informed environmental decisions;
educators responsible for instruction about the environment have access to sustained professional development opportunities, tools, and resources that support efforts to provide students with high quality environmental education; and
Virginia schools maintain their buildings, grounds, and operations to support positive environmental and human health outcomes.
As part of the Executive Order Virginia Classroom Teachers were challenged to engage their students in school sustainability efforts and to participate in field investigations.
Accept the Governor's Conservation Classroom Challenge and get recognition for your environmental education efforts this year!
Recognizing that teachers are the driving force behind Virginia's environmental literacy and sustainability efforts, Governor McAuliffe has challenged all of Virginia's teachers to conduct conservation education this year. Field investigations, stewardship and environmental education projects are eligible for recognition.
It's easy to get started—read the abstracts for ideas or develop your own. The key is to get your students outdoors and learning about the natural environment where they live and play.
Abstracts of Challenges
Below are a few challenges to get you started. More challenges will be added in the next few weeks. You can use one of these or create your own using the guidelines below.
Grades K–2
ES-1: Investigate a Grasshopper's Life Cycle in Your Schoolyard
The relative abundance and small size of insects make them excellent subjects for young students. Schoolyards provide a readily accessible location for studying life cycles of individual species. By investigating grasshoppers outside the classroom, students will develop observation and collection skills while exploring the habitat of a common insect. Best time of year to conduct this study is in late spring.
View the complete challenge (PDF)
Grades 3–5
ES-10: Explore a Nearby Park or Natural Area
Every Kid in a Park initiative provides the opportunity for each fourth grade student across the country to experience federal lands and waters first hand throughout the 2015-2016 school year. Educators, parents and 4th grade students can log onto the Every Kid in a Park website where students complete an interactive activity. At the conclusion, the students are able to print out a paper voucher that can be used for free admission for themselves and their family to any federal lands or waters that charge an entrance fee. Students can experience public lands to learn about their natural and cultural heritage.
View the complete challenge (PDF)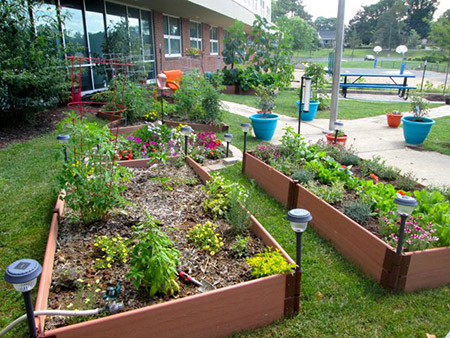 ES-11: Move, Eat and See Like a Bug
Insects play a critical role in nature, and entomologists, scientists who study this amazing class of organisms, may help protect crops, prevent disease or solve crimes. Through a series of hands-on activities and an outdoor investigation, students will be introduced to the intricacies of insect anatomy, locomotion and behavior. The learning activities can be completed as a unit of study or set up as stations during a field day event.
View the complete challenge (PDF)
ES-12: Start a Composting Project
Composting is a great way to practice responsible environmental stewardship while offering opportunities to support healthy soil. As a conservation challenge, a class can start a compost pile using a commercial bin, wooden freight pallets or even a 5 gallon bucket. Students gather select food and paper waste generated during the school day, maintain the compost pile, and carefully monitor the decomposition of brown (untreated paper or leaves) and green (vegetable or plant) waste. Once the compost has sufficiently decomposed, students may plant seeds in soil enhanced with compost to observe the effect that the addition of the compost has on plant growth.
View the complete challenge (PDF)
Grades 6–8
MS–1: Schoolyard Runoff Survey and Mapping
All students need to understand how people and their use of land use affect water quality. For this challenge students will survey and map the projected flow of water from their school building and schoolyard to storm drains and/or the nearest stream. When it rains they can evaluate their predictions and assess how the runoff might affect water quality. They will then develop an action plan for implementing at least one BMP (Best Management Practice) to lessen their school's impact on water quality.
View the complete challenge (PDF)
MS–2: Schoolyard Bio-blitz
Biodiversity is important for sustainable ecosystems. This challenge is for the class to complete an investigation of the schoolyard or a nearby habitat and determine the biodiversity of that system. Students may choose to investigate the plant or animal community or both. Once the students have determined the level of biodiversity, they can opt to increase the biodiversity by planting native plants, adding shelters, or water that will increase animal diversity. Students could collect data during each season to get a more complete picture.
View the complete challenge (PDF)
Grades 9–12
HS-1: Create An Elevation Profile of a Common Landform
Coastal and riparian zones are among the most dynamic on Earth. Students investigate relationships between the physical features of a landform and the surrounding environment, while creating a topographic profile. Using simple equipment, students complete an elevation transect of a beach, dune, stream channel or riparian buffer, or any landform with a discernable incline/syncline. At intervals, students collect physical data (temperature, wind speed, light and moisture levels, and soil or substrate composition, as appropriate to the setting.) Students graph elevation data and create a cross-sectional profile. Discussion may center on physical processes like waves and tide levels that shape the shoreline, stream flow that defines a riparian environment, or other physical factors that change with landform elevation.
View the complete challenge (PDF)
Develop and Carry Out Your Own Challenge!
Governor's Conservation Classroom Challenges should take place over 3-4 fifty minute class periods and meet these requirements.
What pre-investigation lessons or activities did you conduct before the outdoor investigation was undertaken?
What was the outdoor investigation(s)? Did you collect data, make observations. Students should be actively involved with this stage of an investigation.
What was your measure of success? What conclusions did the students draw from the investigations
Additional information on conducting Field Investigations or Meaningful Watershed Educational Experiences can be found at:
Tell us about your students' successes and be recognized!