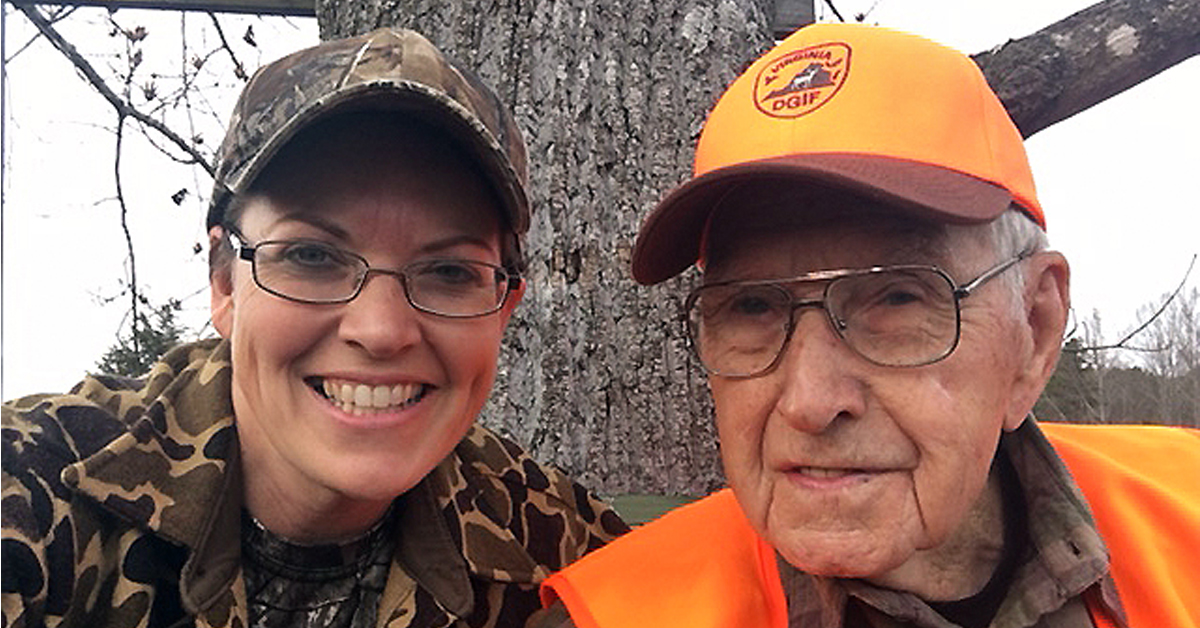 By Christin Elliott for Whitetail Times
Usually around late June, when the adrenaline from Virginia's spring gobbler season gradually begins to wane, the occasional thought of giving up hunting white-tailed deer gnaws away at my heart and soul. Dragging a big buck out of the woods gets more difficult with each passing year and, at my age, there never seems to be enough clothes in the cedar-lined closet to keep me warm on November mornings. Plus, my boys have developed their own style of hunting deer these days and seldom does it include Mom.
Like most "next generation" hunters, they are technology buffs. They love their trail cameras, and pulling cards is as important as pulling the trigger. Maybe I'm old school, but I do not care for the gadgets or naming bucks. There is something to be said for surprises in life—like when that long-tined buck you have dreamed about for months appears out of thin air! That sudden rush of adrenaline results in a heart pounding loud enough to hear.
Come July, the heat and humidity invading Central Virginia kicks you like a mule. When you open the front door in the morning and step out into the soupy air, thoughts of deer hunting are the last thing on your mind. Even so, though subconsciously, I realize the antlers of those fat, lazy, bachelor bucks have nearly finished growing for the year.
Late August is when it usually happens! I'm driving down some dusty, gravel road, in the comfort of an air-conditioned car, and catch a glimpse of deer standing in an alfalfa field. I turn around and drive back for a better look, and there they are—several big, ole bucks with magnificent, velvet crowns. Suddenly, I cannot wait for November!
Memories
That's when a lifetime of hunting memories floods my mind. As a kid, and much too young to hunt, I skipped school just to be at my grandparent's home on opening "Monday." Memories of sitting around the dinner table with Papa, my dad, Phil Davis, Mike Garner, and Steve Kirby as they recounted tales about the bucks hanging in that gnarly, old, maple tree in the front yard remain crystal clear.
I remember November 1978 like it was yesterday and still have an old faded, poorly focused photograph as a reminder. A few months earlier, my grandfather had retired from public work and, in his quest for finding something to occupy retirement, purchased a lifetime Virginia hunting license for $5. Yes, you read it correctly, five dollars! His first buck, a spike with antlers about 4 inches long, was taken on adjoining property that had been timbered earlier in the year. I was so excited to tag along and help "drag" the buck out. In 1978, that little trophy provided a source of tasty venison for our family.
Then there was the first time my father allowed me to join him in a tree stand; sitting there above the world was the coolest thing in the world to me. Thankfully, my mother never knew the sort of stands we sat in, which was before the days of harnesses and safety straps. One of the happiest days of my life was when Dad gave me that new Remington 6mm and told me I would have my own tree stand come deer season. I was 16 years old and could not wait for November!
Opening morning found me sitting alone in a permanent stand that overlooked a field of blackberry vines, sumac, and broom sedge. Shortly after daybreak, something caught my attention at the edge of the field. To my surprise, it was a buck eating honeysuckle. My hands shook as I shouldered the little rifle and aligned the scope's crosshairs on the six-pointer's shoulder. At the crack of the rifle, he fell, lifeless, with a piece of honeysuckle still in his mouth. I was so proud, because not many girls hunted deer back then.
Through the years I managed to tag several really big bucks out of that little field, two of which decorate my wall. They are reminders that everything changes with time, including that little field that is now posted and choked with Virginia pines. Some of the stand's decaying, wooden boards still hang from that triangle of poplar trees I sat perched in 25 years ago. I've hunted other counties but, come opening day my heart belongs to Bedford.
Always With Us
Later in life deer hunting took on a whole new meaning—accompanying my grandfather, who at age 105 was known far and wide as America's oldest active deer hunter. His permanent stand was 20 feet high and in a big poplar tree that stood in the same field he had plowed corn in barefooted, with a one-horse plow, more than 90 years earlier. Memories of several of our muzzleloader hunts remain as solid as a seasoned American chestnut log, especially one particular outing that occurred during 2016. Being Election Day, Papa had asked me to drive him to the local voting site that morning, so he could cast his ballot. We would deer hunt in the afternoon. To make a long story short, Papa's candidate of choice won the presidency, and he shot the biggest buck of his life. What a day and what a memory!
November 2020 found me climbing into Papa's stand well before dawn on opening morning of black powder season, alone and heavy-hearted. On September 10, just six weeks shy of his 106th birthday, Clyde Roberts had closed his eyes and took that peaceful trip to Heaven. Though he will forever be missed, we celebrated a life well-lived.
Dawn broke cold and clear, and when the sun came up it quickly became obvious deer were on the move. My boys had already sent text messages verifying they were both sitting safely in their stands. Dad had also sent one from Montana where he was fulfilling his passion for chasing big mule deer bucks. Said he just wanted to make sure I was safe, too. I knew the real reason he communicated.
Soon afterward, another text buzzed in from my oldest son, Logan, who asked if I had found what he had placed between the stand's top rail and the camo cover weeks earlier during bow season. As I pulled out the laminated photograph of my grandfather posing with a big eight-pointer he had taken out of the stand at age 100, my son said, "Papa will always be with us in the stand." Yes, I cried!
With tears still streaming down both cheeks, I caught sight of movement in the field as a buck walked nose-down through the broom sedge. I raised the CVA, aimed, squeezed the trigger—and missed! The unconcerned buck raised his head and stared in my direction briefly before melting into the woods. I blamed it on blurry eyesight! Before the morning was over seven bucks had passed by within shooting range, but now there were doubts about the scope.
After the morning hunt, and taking time out to clean the rifle's bore and shoot from a Lead Sled, it was apparent the miss had nothing to do with the scope. It was all shooter error. Off for the afternoon hunt!
More to Hunting
Fifteen minutes after climbing into the stand, a doe stood up from amidst the tall grass and blackberry brambles. With the rut in full swing, and a live decoy feeding in the field, things were looking good. A short time later a buck materialized. With the soft evening sun highlighting his antlers, it was one of the most gorgeous sights I have ever seen. When he turned broadside, I collected myself and carefully settled the crosshairs just behind his shoulder. I never heard the shot, but when the smoke cleared the deer lay motionless. He was just a seven-pointer, but I would not have been prouder had he been a 12-pointer. It had been an emotional day without my Papa, and I was proud of that buck, because there's so much more to deer hunting than antler size.
Thanks to Bedford County's "earn a buck" program, I would have to shoot a doe before taking another buck. So, with an hour of daylight remaining, the decision was made to remain seated and perhaps fill the mandated antlerless tag. Sitting there would also give me time to reminisce past hunts with my grandfather and perhaps shed a few more tears. Well, you guessed it—a short time later, a buck popped out of the timber and headed in my direction. It was every deer hunter's dream—antlers well past his ears and 10 long tines. All I could do was watch, which was okay with me because, after all, it was really Papa's buck!
Hunting has been a part of my life for as long as I can remember. What all started as tagging along with Dad led to me chasing elk, mule deer, and antelope across the hills of Montana. Some of my best hunting memories didn't end with pulling the trigger, but I did make a cracker-jack shot on a beautiful eastern Montana muley a couple of years ago. He adorns my wall and takes me back to one of the most amazing hunts of my life every time I look at those chocolate-colored, heavy tines!
I cannot imagine my life without watching the sunrise from 20 feet off the ground on a cold November morning or that first gobble of the season while all brushed in at ground level waiting for his arrival to my decoy. I am the product of taking a child into the great outdoors and letting them reap the benefits for life. I wouldn't have it any other way!
Christin Elliott, granddaughter of Clyde Roberts, is an avid deer and turkey hunter from Campbell County. When not spending time in the great outdoors, she enjoys cooking, gardening, and the rewards of being a consumptive conservationist, while sharing her adventures with family and friends through a love of writing and photography.
---
©Virginia Deer Hunters Association. For attribution information and reprint rights, contact Denny Quaiff, Executive Director, VDHA.