Restore the Wild
Virginia's wildlife depend on healthy native habitats to thrive—maintaining these habitats amidst a variety of pressures and challenges requires restoration projects. Here's how you can help.
Learn More
Conserve. Connect. Protect.
DWR has been a steward of the outdoors since 1916, leading in wildlife conservation and inspiring people to value the outdoors and their role in nature.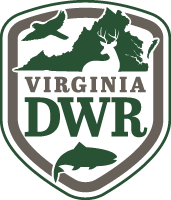 How Do We Fund What We Do?
You might be surprised to know that Virginia DWR is primarily funded from sources other than Virginia general tax dollars.
A lot of our funding to help conserve wildlife and habitat comes from public spending on things like fishing and hunting licenses, tags, or stamps, boat registrations, and via a federal excise tax on firearms and ammunition.
Those sources of financial support have helped us protect hundreds of species and their habitat for over 100 years, but there's always more we can do for Virginia's wildlife. That's where you come in. You too can become a steward of the outdoors by supporting our work or working with us — whether you hunt, fish, and boat or simply enjoy the outdoors.
How You Can Help