Virginia Wildlife is your ticket to learning more about Virginia's spectacular wildlife, fisheries, and breathtaking habitats. Whether you hunt, fish, boat, camp, or take in the wildlife from your easy chair, Virginia Wildlife offers you stories and insight on the natural world, supplied by the state's leading wildlife and outdoor experts.
September – October 2021 Issue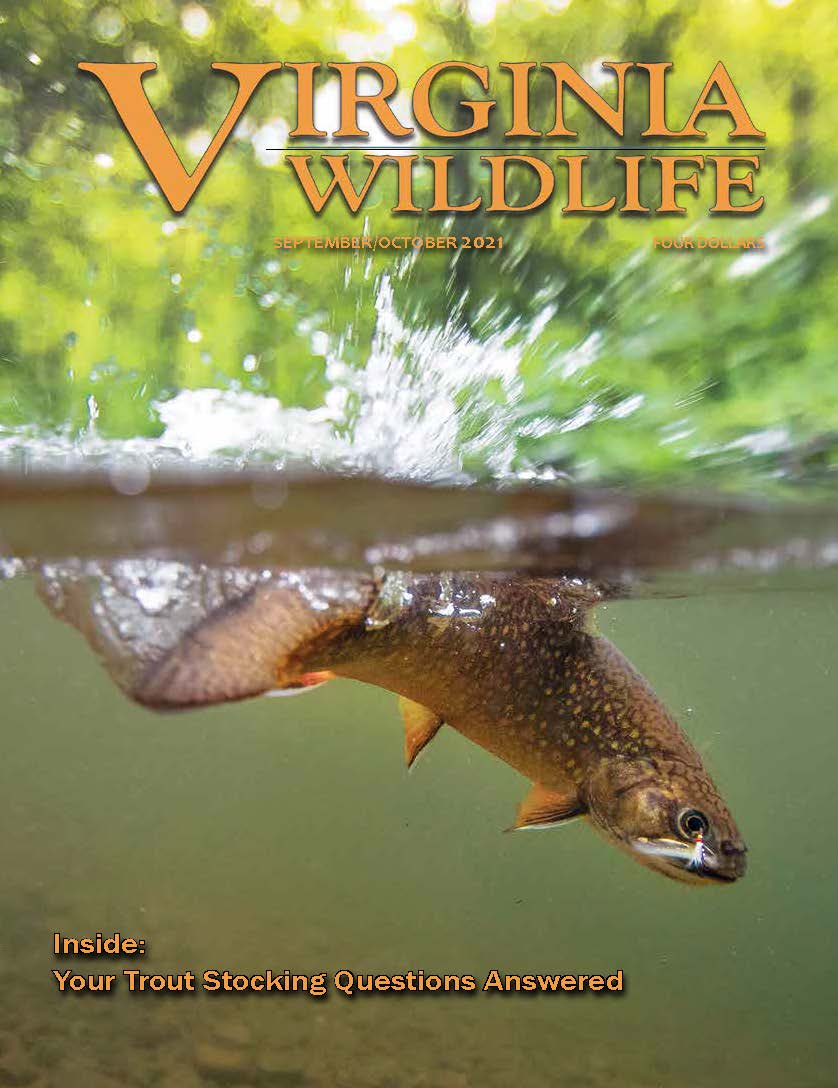 Give Tenkara a Try
This ancient technique of fly fishing is simple, elegant, and effective.
Your Trout Stocking Questions Answered
Anglers have questions, and the DWR fisheries staff has answers.
The Life Cycle of an Eastern Brook
See how this colorful and unique species reproduces.
David Turner Brings the Wild to Life in Bronze
This sculptor combines his artistic talent and passion for wildlife conservation to create remarkable pieces.
The Sensory Explorers' Trail Allows Everyone to Enjoy the Outdoors
Innovative details engage all the senses on this unique trail at Sky Meadows State Park.
The Northern diamond-backed terrapin has played an interesting role in the culture and history of Virginia's shore over the centuries.
Also...
Working for Wildlife, Explore Enjoy WMA profile, and the columns A Walk in the Woods, Off the Leash, Photo Tips, Fare Game, and Good Reads.
Subscribe to Virginia Wildlife Magazine
18 Issues (3 Years) at $29.95 — Best Deal!
12 Issues (2 Years) at only $23.95
6 Issues (1 Year) at only $12.95
Call Toll-Free
1-800-710-9369
Subscribe Online
Subscribe by Mail
Check Payable to "Treasurer of Virginia"
Virginia Wildlife Magazine
Subscription Department
P.O. Box 2042
Williamsport, PA 17703-9369
Current Subscriber? Call 1-800-710-9369 for subscription questions and renewal orders