Virginia Wildlife is your ticket to learning more about Virginia's spectacular wildlife, fisheries, and breathtaking habitats. Whether you hunt, fish, boat, camp, or take in the wildlife from your easy chair, Virginia Wildlife offers you stories and insight on the natural world, supplied by the state's leading wildlife and outdoor experts.
September – October 2023 Issue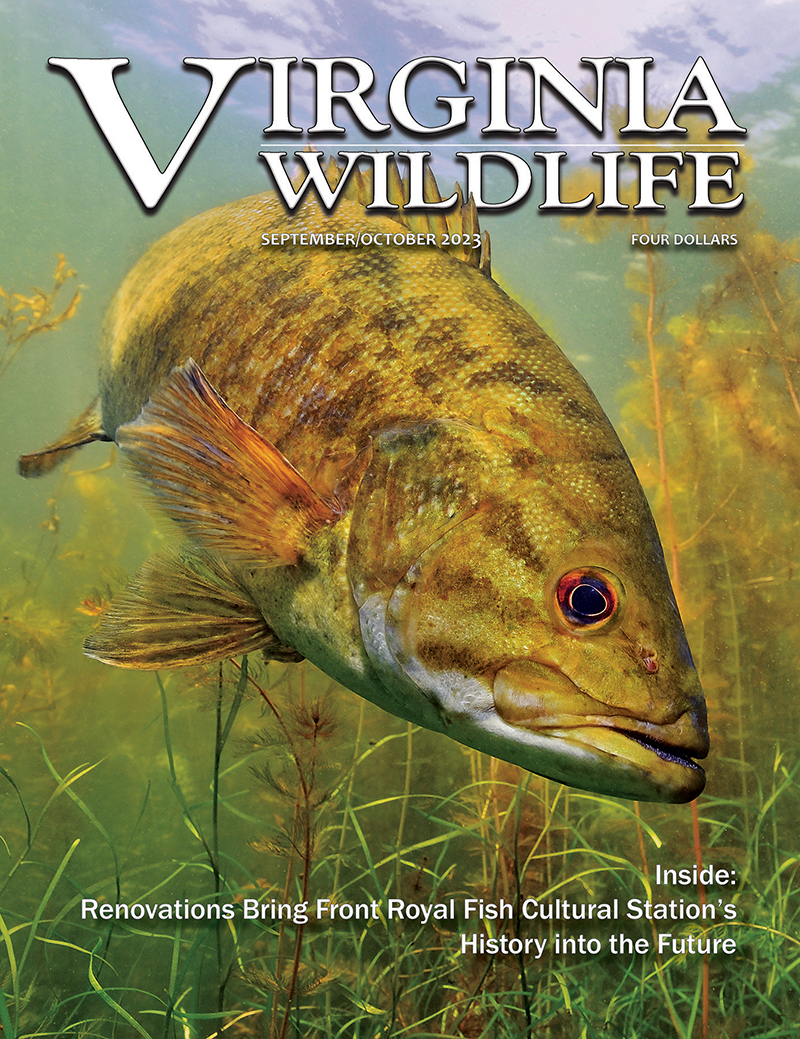 Extensive updating of the fish hatchery's infrastructure aims to help the historic facility replenish smallmouth bass populations in local river systems.
Citizens Turn Green Pastures Recreation Area into a Miracle in the Mountains
Southwest Virginia's Green Pastures Recreation Area was a safe haven for Black families during segregation, before falling into disrepair. Then came a massive grassroots effort to retell its story—and reopen its gates.
Dr. Mitchell A. Byrd Has Left an Enduring Legacy in the Sky
In more than 50 years of wildlife conservation work, this educator has helped shape generations of bird populations and students.
Why I Tie Flies
I started tying flies as a way to escape. I've continued doing it because I learned so much more.
Crayfish Play a Vital Role in Virginia's Waters
The Commonwealth's freshwaters are home to more than 30 different species of crayfish.
Living Shorelines Work with Water, Not Against It
Using natural materials and strategies to prevent tidal shoreline erosion helps humans and wildlife.
Subscribe to Virginia Wildlife Magazine
18 Issues (3 Years) at $29.95 — Best Deal!
12 Issues (2 Years) at only $23.95
6 Issues (1 Year) at only $12.95
Call Toll-Free
1-800-710-9369
Subscribe Online
Subscribe by Mail
Check Payable to "Treasurer of Virginia"
Virginia Wildlife Magazine
Subscription Department
P.O. Box 2042
Williamsport, PA 17703-9369
Current Subscriber? Call 1-800-710-9369 for subscription questions and renewal orders