Virginia Wildlife is your ticket to learning more about Virginia's spectacular wildlife, fisheries, and breathtaking habitats. Whether you hunt, fish, boat, camp, or take in the wildlife from your easy chair, Virginia Wildlife offers you stories and insight on the natural world, supplied by the state's leading wildlife and outdoor experts.
May – June 2023 Issue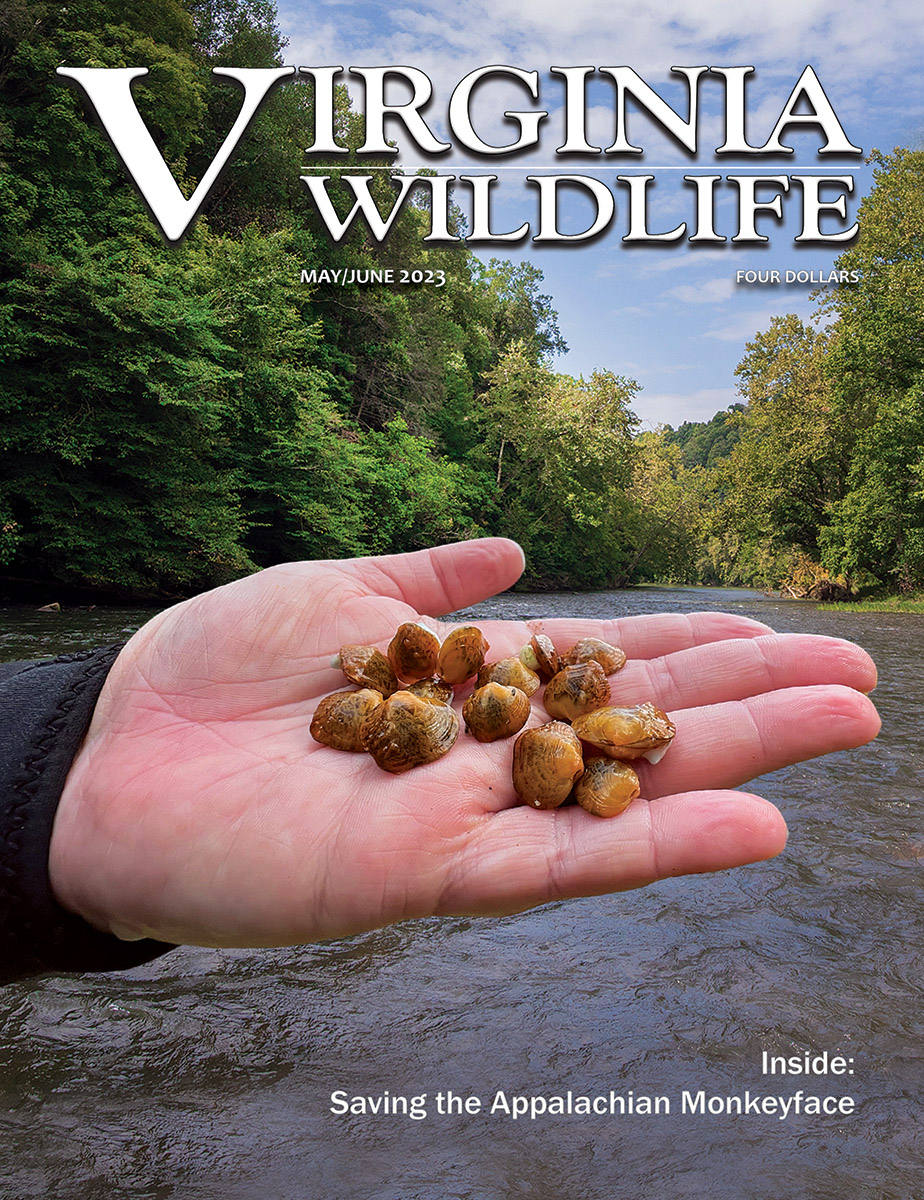 Staff at DWR's Aquatic Wildlife Conservation Center are working to preserve a species on the brink of extinction.
Putting the "Us" in Fly Fishing
Joan Chapman started a group for women who wanted to learn to fly fish. Now she's recruiting the next generation of anglers.
Hoffler Creek Wildlife Preserve Has Created a Landscape for Learning
Decades after a Portsmouth community banded together to save one of their city's last wild spaces, the Hoffler Creek Wildlife Preserve has become a platform for year-round conservation, research, education, recreation, and stewardship initiatives.
Expand Your Boundaries: Try Kayak Fishing
Fishing from a kayak is a great way to reach new waters.
DWR's Eastern Shore Initiative Will Benefit Wildlife and Virginians
The agency's purchase of thousands of acres of land opens up opportunities for wildlife recreation and habitat management.
Subscribe to Virginia Wildlife Magazine
18 Issues (3 Years) at $29.95 — Best Deal!
12 Issues (2 Years) at only $23.95
6 Issues (1 Year) at only $12.95
Call Toll-Free
1-800-710-9369
Subscribe Online
Subscribe by Mail
Check Payable to "Treasurer of Virginia"
Virginia Wildlife Magazine
Subscription Department
P.O. Box 2042
Williamsport, PA 17703-9369
Current Subscriber? Call 1-800-710-9369 for subscription questions and renewal orders