September – October 2020 Issue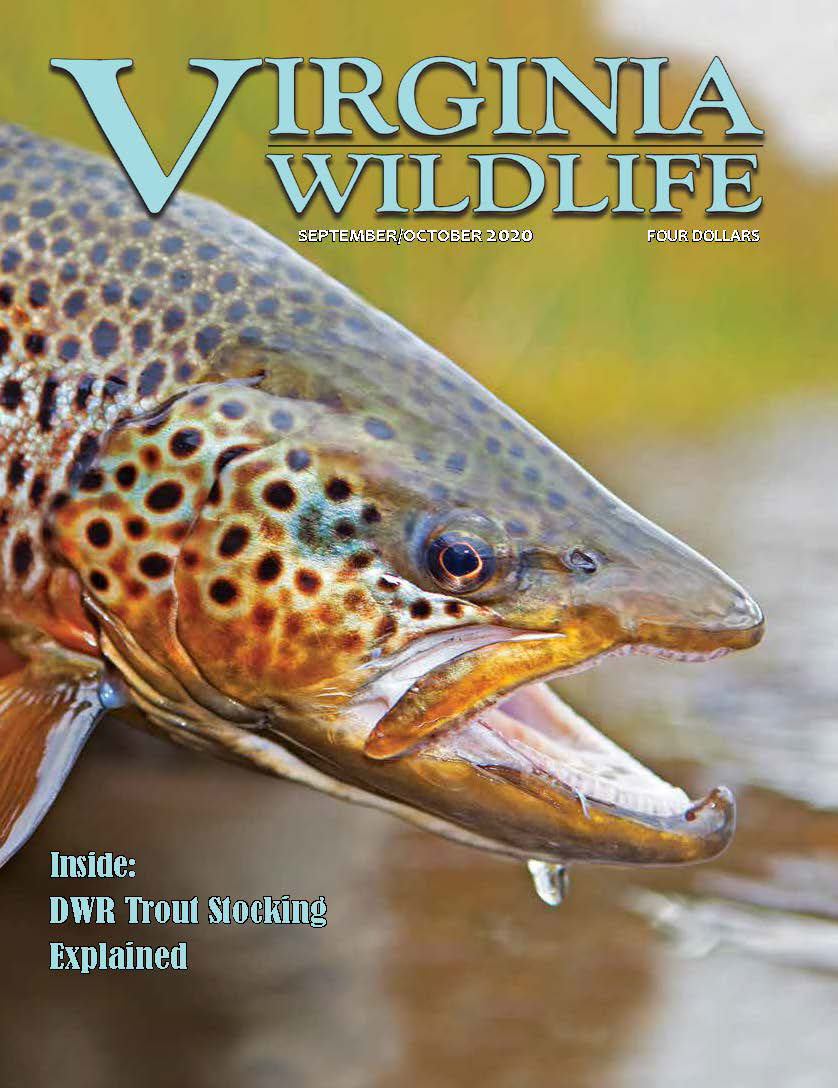 What goes into the Department of Wildlife Resources' trout-stocking program?
#VATroutSlam Tales
A look at some of the anglers who accomplished the Virginia Trout Slam Challenge.
Four-Legged Enforcers and Friend
The nine dogs of the DWR K9 Conservation Police force serve Virginia with unique skills and a wag of the tail.
A New Mindset for the 21st Century Bird Hunter
The 21st century Virginia upland bird hunter has to develop a new mindset to enjoy the sport.
Fast and Furious: Fall Hawk Migration
Bird enthusiasts in the Commonwealth flock to mountaintop sites to watch the annual spectacle of hawk migration.
Mixed News After 10 Years of White-Nose Syndrome
Virginia's bat populations have seen significant declines in certain species after a decade of white-nose syndrome, but other species seem stable.
July – August 2020 Issue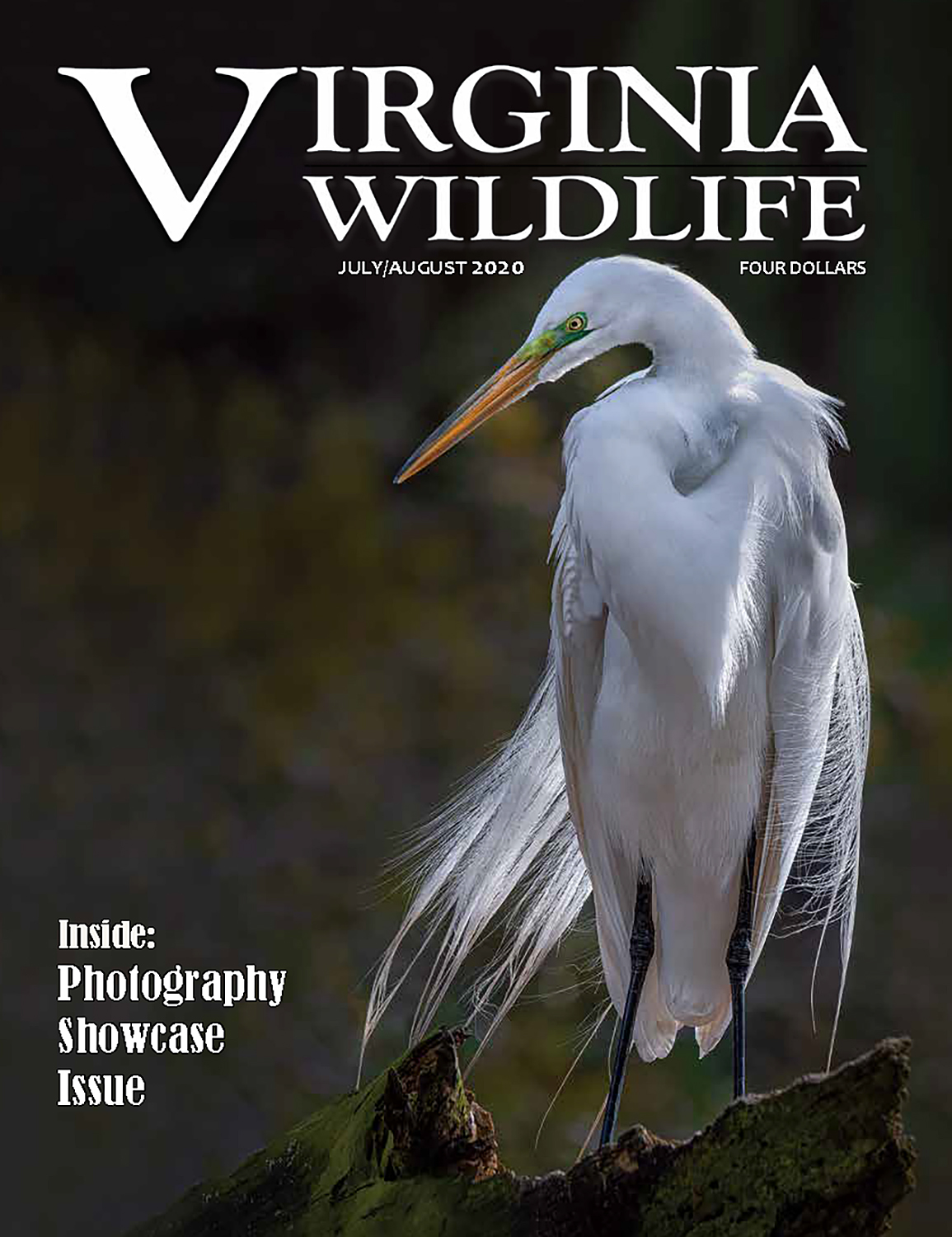 Virginia Fauna
Native mammals, birds, amphibians, reptiles, insects, and aquatic life.
Textures and Patterns
Textures and patterns found in nature.
Trail Cameras
Images that reveal the secret lives of our native wildlife.
Virginia is for Outdoor Lovers
To celebrate last year's 50th anniversary for the Virginia is for Lovers slogan, this category is for images of people enjoying our state and national parks, as well as DWR's wildlife management areas.
May – June 2020 Issue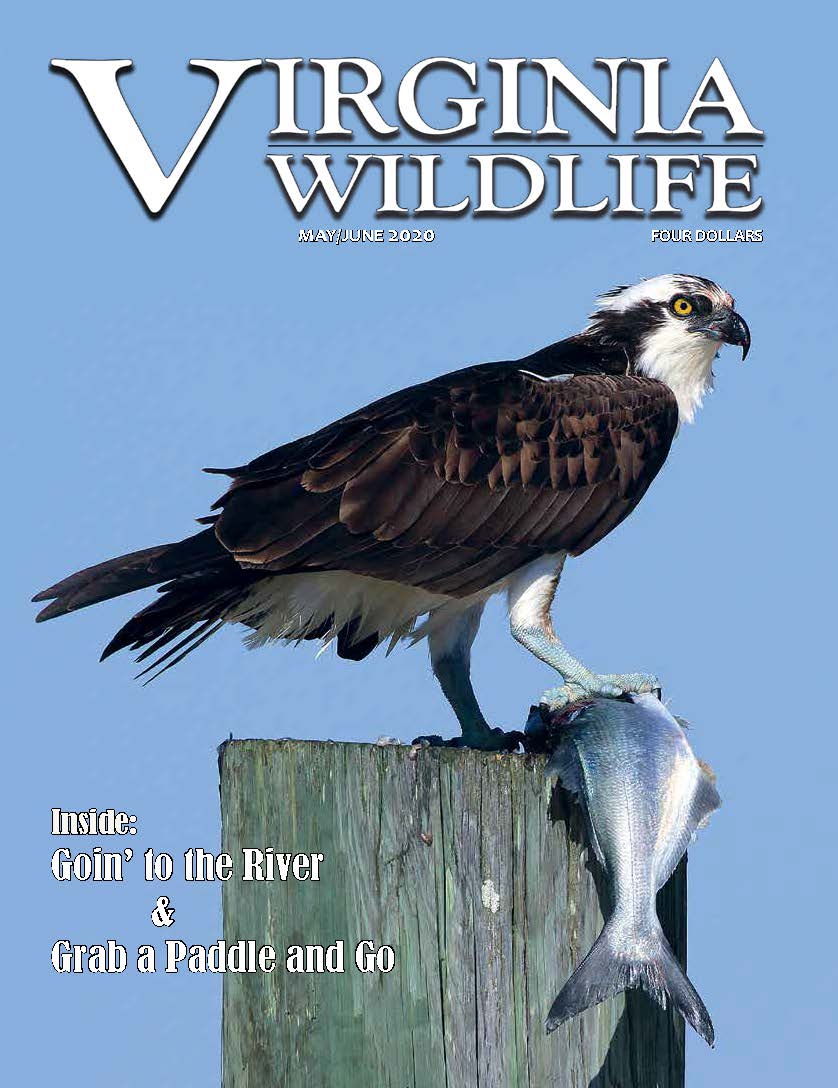 Goin' to the River
The author, noted conservationist, educator, and naturalist John Page Williams, shares some of his favorite spots on Virginia's rivers, full of beauty, wildlife, and history.
Birdwatching Opportunities Abound at Hog Island Wildlife Management Area
For diversity and abundance of species, it's hard to beat the bird-watching at Hog Island Wildlife Management Area.
Bringing the Bass Back to Back Bay
Fifty years ago, anglers pulled largemouth bass out of Back Bay by the handful, but then it all ended. Now, Back Bay is bouncing back.
Rehabilitators Fill a Vital Role for Wildlife
Wildlife rehabilitators help injured and orphaned wildlife transition back to their natural habitat.
If you paddle, Virginia is full of opportunities. The print magazine article includes five great destinations to check out, and there are five more at the link below!
Sarah Colletti is putting a lifetime of outdoor experience and advocacy to work for Virginia's natural resources, including freshwater mussel propagation and restoration.
DGIF's Digital Outreach Coordinator David Murr shares his passion for night sky photography and gives a few tips on how to get started capturing the wonders of the nightscape.
And More in the Columns...
Regular columns Off the Leash, A Walk in the Woods, Let's Grow Native, Out & About, and Fare Game cover humor, observing the natural world, planting native habitat, a recipe from noted chef Wade Truong, and more.
March – April 2020 Issue
Who Needs a Boat?
With so many fishing piers around the state, Virginia offers numerous opportunities for anglers without needing a boat!
Spring Turkey Woods
A visit to the spring woods is not only for hunting that big gobbler; it is also a time to take in nature's beauty as the forest comes alive.
DGIF raises a variety of fish at nine hatcheries across the state. Stop in at one to see what goes into raising and stocking fish.
There's More to Mushrooms than Morels
If you want to try another type of harvesting, why not make it for edible mushrooms? Find a mentor and enoy the hunt.
One Shot Brings Samantha McInteer Full Circle
She might be young but this lady has it going on! The One Shot Turkey Hunt brings this teenager a once-in-a-lifetime opportunity.
January – February 2020 Issue
Giving a Helping Hand to Bluebirds
Members of the Virginia Bluebird Society build nest boxes to keep bluebirds happy. Learn how to build your own bluebird box.
Soldier, Coach, and Mentor
A retired Marine's dedication to archery and teaching impacts countless kids.
Warm Up to Yellow Perch!
Don't let cold weather keep you from enjoying the best time of the year for catching big, tasty yellow perch!
Put on your hiking boots and go outdoors for a fun family activity that also provides valuable lessons in the great outdoors.
Tie One Off This Winter
Winter is a great time of the year to stock up on trout flies by tying your own. Why not give it a try?
November – December 2019 Issue
Deer & Waterfowl Forecasts
DGIF biologists share their insights on deer and waterfowl seasons based on current data, weather impacts, and field observations.
In Memory of Deer Camp
Fond memories of deer camp continue to instill a love for the outdoors and the people who shared it.
Savoring the Seasons
While hunting, or just being in the woods, allow your senses to reveal the beautiful and intriguing natural world around you.
Save the Quail
A labor of love, landowners work hard to create more habitat for declining quail and pollinator populations.
Master V Angler
Faster than line peeling off a reel, more powerful than a 46-lb. flathead catfish, able to catch the most citations in Virginia... It's MASTER V Angler Stephen Miklandric!
Three Seasons for Success
If you learn to use the wind, terrain, and food sources in your favor, you can harvest trophy deer in all three deer hunting seasons.
September – October 2019 Issue
Declining snapping turtle populations called for protective measures.
Virginia's "New" Smith River
Trophy trout abound in these productive tailwaters.
In Pursuit of the Mystery Marsh Bird
A kayak can offer a stealthy option when hunting for the elusive rail.
Fox Squirrels on the Rebound
Expanding populations of fox squirrels offer new hunting opportunities around the state.
Window on the Marsh
A thoughtful gift awakens memories of cherished times.
2020 Trout Program Maps
Fisheries biologists share the latest trout fishing locations.
July – August 2019 Issue
Virginia Fauna
Native mammals and birds (game and non-game), Year of the Bird 2018, reptiles, amphibians, insects, and aquatic life.
Virginia Landscapes and Flora
Scenic landscapes and native flowers, trees, shrubs, and plants, including mushrooms and lichens.
The Sporting Life
Wildlife-related activities afield (game and non-game).
Textures and Patterns
Textures and patterns found in nature.
Trail Cameras
Images that reveal the secret lives of our native wildlife.
May – June 2019 Issue
Top Dog
Winning the National Open Championship is no small task, but a retriever named Google proves to be the ultimate search engine!
A Smorgasbord of Tips for Catching Summer Panfish
Tips for filling your cooler with an assortment of tasty panfish.
Bird Life
Citizen science reaches new heights at Goshen Wildlife Management Area.
Journaling has a history of teaching a person to really see what's around them. Why not give it a try?
Working Together
In partnership with Massanutten Resort, DGIF is working to minimize human-bear conflicts.
"Eye" Want You to Know
Take some precautions to help make your outdoor adventures more enjoyable.
Take It to the Bank
Don't have a boat? No worries. Good fishing can be had along a shoreline.
March – April 2019 Issue
Call of the Wild
After a 45-year career in wildlife, our Executive Director Bob Duncan writes a memorable goodbye.
The Wily Coyote
One of the most adaptable animals in North America, the coyote plays a necessary role in Virginia and is here to stay.
Grassroots: A Story of Virginia's Working Landscapes
Landowners are partnering with organizations and citizen scientists to create landscapes that promote biodiversity.
A look at five of the numerous rivers and streams designated as "special regulation,
Seldom Seen: spring is for Spotted Salamanders
In the chill of early spring, spotted salamanders play out a rarely observed, age-old drama.
Working Together
Teaming up with Ducks Unlimited, DGIF works to improve wildlife habitat on the Princess Anne and Hog Island WMAs.
Hunting Spring Gobblers 101
Want to try spring gobbler hunting? Check out this article on how to get started.
January – February 2019 Issue
Masters of Adaptation
A top predator, the elusive bobcat is more widespread in Virginia than one might imagine.
The Pioneers
Early and influential inhabitants of the Eastern Shore changed a way of thinking by using conservation to protect hunting for all.
On the Road for Kestrels
A surprising decline in this once-common falcon sends volunteers out to give them a place to raise their young.
Now's the time to clean out the old tackle box, respool the reels, and get ready for another great fishing season.
You might be surprised to discover the variety of owls that make Virginia home. And whoooo doesn't love owls?
Manage Forests for Diversity
Timbering a forest might look bad but, if managed properly, has been proven to offer many benefits to a wide variety of wildlife.
November – December 2018 Issue
Deer & Waterfowl Forecast
DGIF biologists share their insights on deer and waterfowl seasons based on current data, weather impacts, and field observations.
Sanctuaries for Success
Think private resort with open buffet. One farmer-sportsman advocates for leaving the deer alone.
Bundle Up and Enjoy: Winter Striper Fishing
When temperatures dip, you may find lake conditions perfect for hooking a hefty striped bass.
Making Something Out of Nothing
A lifelong hunter turns his love for wildlife into creating treasures of folk art.
The Reigning King of the Southwest
Elk are calling all wildlife watchers to southwest Virginia, where the drama unfolds and the herd is thriving.
Then and Now
Waterfowlers consider how hunting has changed over time on the Eastern Shore, and urge mentors to step up.
Unintended Consequences of Fighting Pests
A cautionary tale explains how difficult it is to wage war on opponents that adapt and change.
September – October 2018 Issue
With support from the Ward Burton Wildlife Foundation, volunteers, and business partners, a citizen science project aims to help a magnificent songbird in the Roanoke River basin.
Hunting: A Foundation for Life
A childhood spent afield gives the author reason to reflect upon a simpler time, one that deeply shaped his values.
Women Afield: Finally
There are many reasons to cheer the trend of women's interest in hunting and fishing, and the outdoors industry takes note.
What's Up With Cobia?
Virginia is taking a lead in sound management of this game fish through multi-state coordination, tagging efforts, and citation data.
For the Love of Snakes
Snakes are given a bad rap, but a little knowledge and the right support group can help you overcome your fears.
The Evolution of Cute
Nature has endowed young wildlife with a number of strategies for survival, cuteness being one of them.
2019 Trout Maps
Fisheries biologists share the latest trout stocking locations.
July – August 2018 Issue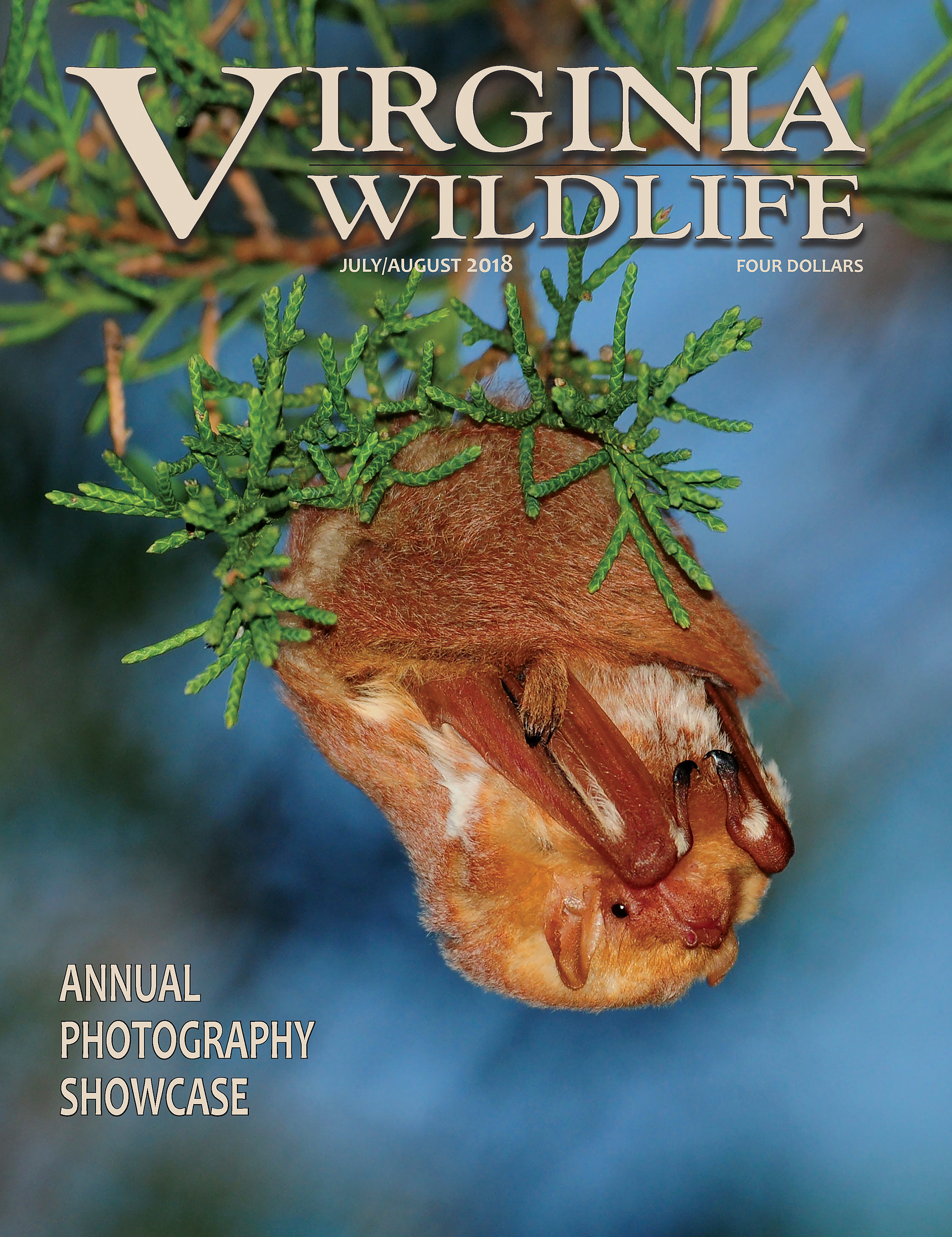 Virginia Fauna
Native mammals (game and non-game), birds, reptiles, and amphibians.
Virginia Landscapes
Native plants, trees, flowers, and scenic landscapes.
The Sporting Life
Wildlife-related activities afield (game and non-game).
Textures and Patterns
Abstract designs as textures and patterns found in nature.
May – June 2018 Issue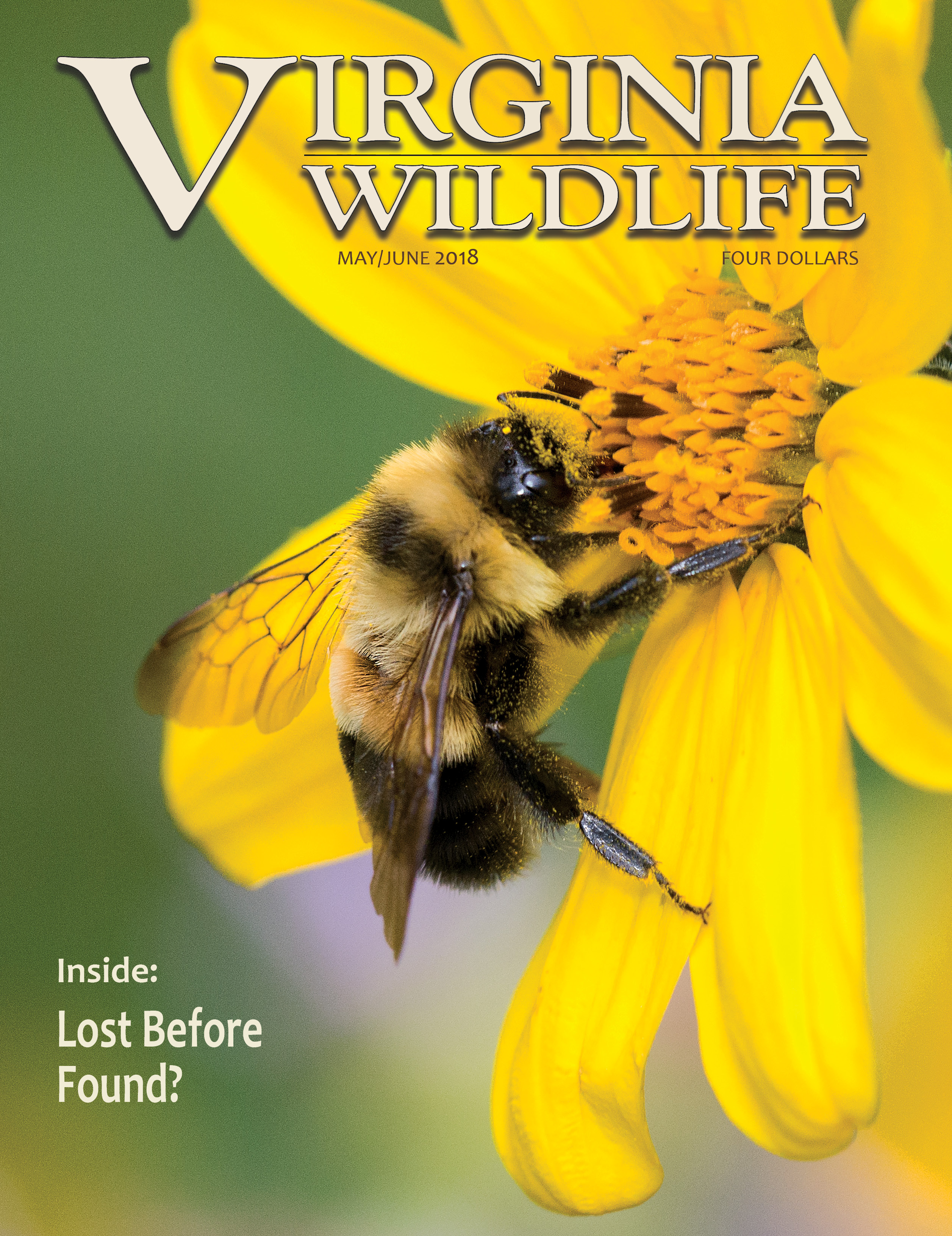 Lost Before Found
Scientists at the state's Natural Heritage Program scramble to build an inventory of native bees and protect those most at risk.
Prince Edward's Other Lake
Not far from Farmville sits a lake that rivals the largemouth bass fishing at Briery—especially in the citation range.
Mafic Fens: Diamonds of the Blue Ridge
Quiet dramas unfold in these seeps and stream bottoms, but their palette of spring colors and textures is unmatched.
Working with partners, DGIF biologists trap and band loggerhead shrikes to gain insight into the bird's decline.
All Four Seasons in One Day
It's tough enough for people, but think about the strategies animals must employ to deal with Virginia's weather.
Sit-on-Tops for Water Fun?
Follow these tips to get started and even work in a little fishing.
Do Blue Cats Deserve All the Hype?
The results are in and the answers lie in their stomach contents.
2017 Angler Hall of Fame & NASP Photo Gallery
Look who made the lists this year and take a peek at the winners of the state NASP tournament!
March – April 2018 Issue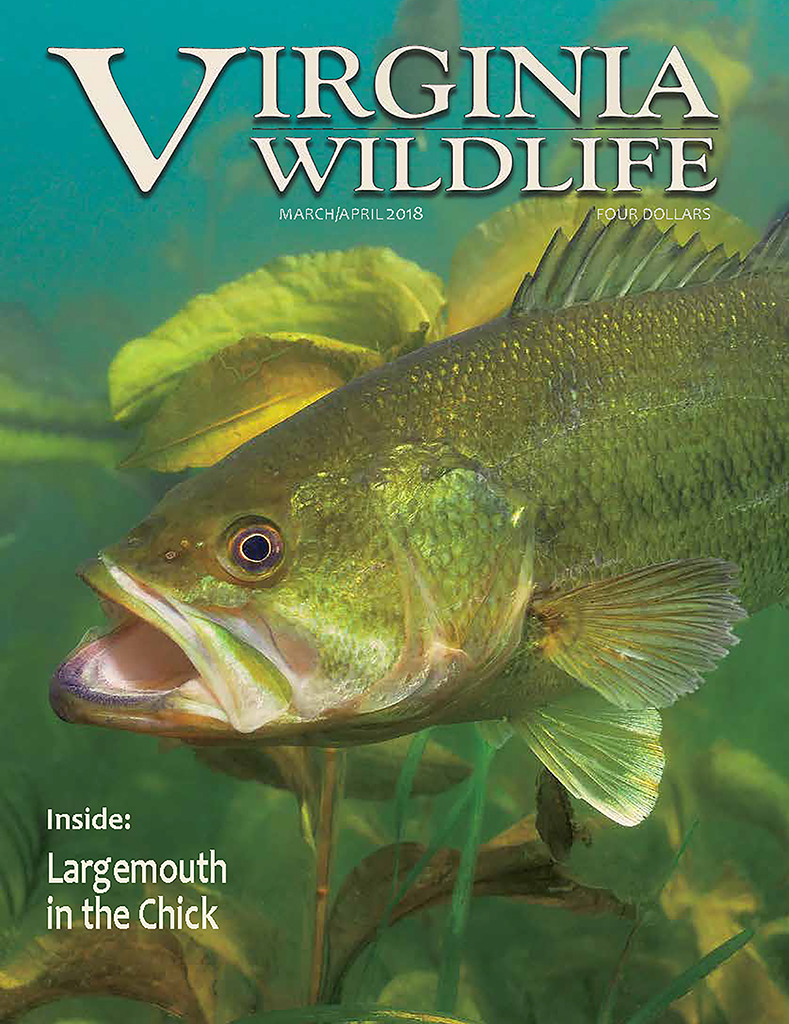 Ask most Conservation Police Officers and they will tell you, it's not a job but a lifestyle.
Saint Mary's Wilderness: An Ecosystem in Flux
If you're looking for pristine trout waters and wilderness surroundings, you will find it here.
Pollinator Waystation
Spurred by citizen action, a well-placed garden of native plants benefits commuters of every stripe.
A Tidal Wave of Success
Anglers and fisheries managers celebrate a successful comeback for largemouth bass in the lower Chickahominy River.
Gain the Home Court Advantage
A bit of behavioral analysis goes a long way toward successful pursuit of turkeys in the spring woods.
Seeing the Forest for the Carbon
Coming Soon: The business of carbon credit holds promise for conserving smaller woodland tracts.
Dog Days Afield
Those who train and field trial dogs are indeed a special breed.
4th Annual Old Dominion One Shot
January – February 2018 Issue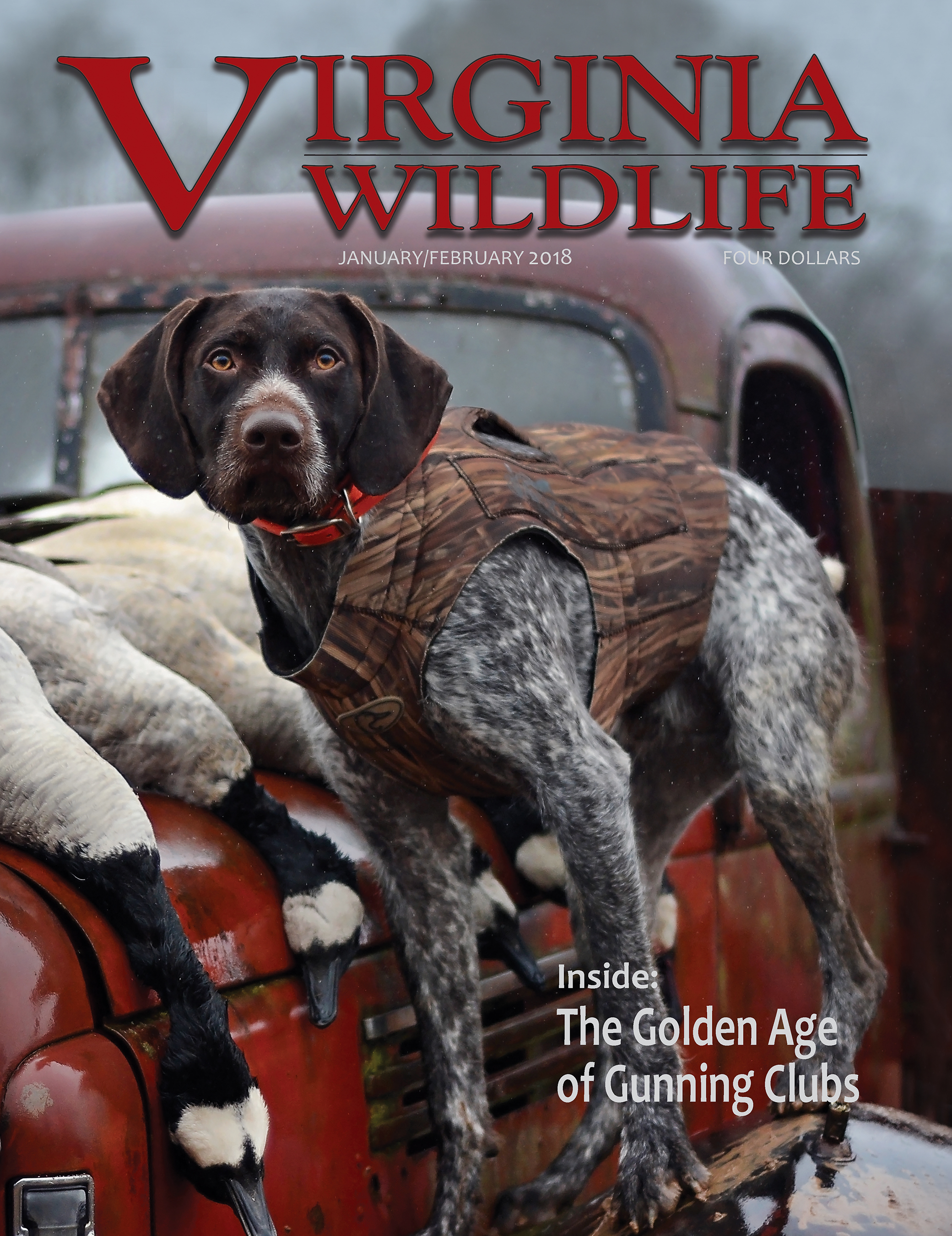 When Preacher jumped onto the truck fender and looked at the camera, Ed Felker knew he had his favorite image.
Bad Behavior or Just Birds Being Birds?
This story reminds us that birds can be brilliant, and ruthless, in their will to survive.
DIY for Better Wildlife Habitat
With a handful of minor changes, you can welcome more wildlife to your property.
A Globally Rare Virginia Jewel
Nestled amid the hubbub of Northern Virginia, a unique natural community beckons.
Paved New World: The Unexpected Biology of Urban Animals
As humans encroach upon their world, wild animals employ a number of strategies to adapt to our urban footprint.
A Slippery Slope
Virginia's Wildlife Action Plan calls attention to our most vulnerable species, including elusive salamanders.
Virginia Treasures
Governor McAuliffe's statewide initiative recognizes and protects land of exceptional conservation value.
---
Scanned copies of Virginia Wildlife Magazine from the early years, archived at the Library of Virginia.