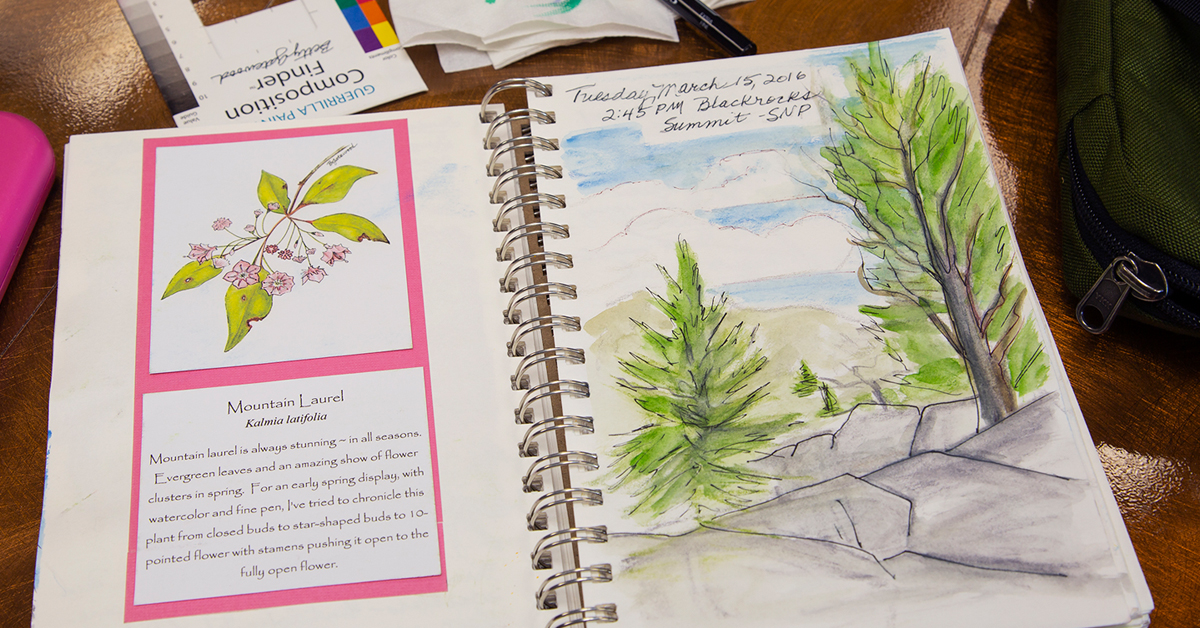 By Lynda Richardson
Photos by Lynda Richardson
"In the 20th century, to stop rushing around, to sit quietly on the grass, to switch off the world and come back to the earth, to allow the eye to see a willow, a bush, a cloud, a leaf… I have learned that what I have not drawn I have never really seen." — Frederick Franck, The Zen of Seeing
Throughout history, there have been many explorers, authors, naturalists, and scientists who have kept journals to record their observations and experiences while adventuring out into the world. Lewis and Clark, John Muir, Rachel Carson, Aldo Leopold, Ernest Thompson Seton, John James Audubon are just a few, their collective work creating a beautiful and enlightening history that is still referred to and admired today.
So why, in our twenty-first century, high tech, fast-paced lifestyle is journaling being resurrected? And more specifically, why is the art of nature journaling becoming more and more popular? And what is nature journaling?
According to noted naturalist John Muir Law, "Keeping a journal of your observations, questions, and reflections will enrich your experiences and develop gratitude, reverence, and the skills of a naturalist. The goal of nature journaling is not to create a portfolio of pretty pictures but to develop a tool to help you see, wonder, and remember your experiences."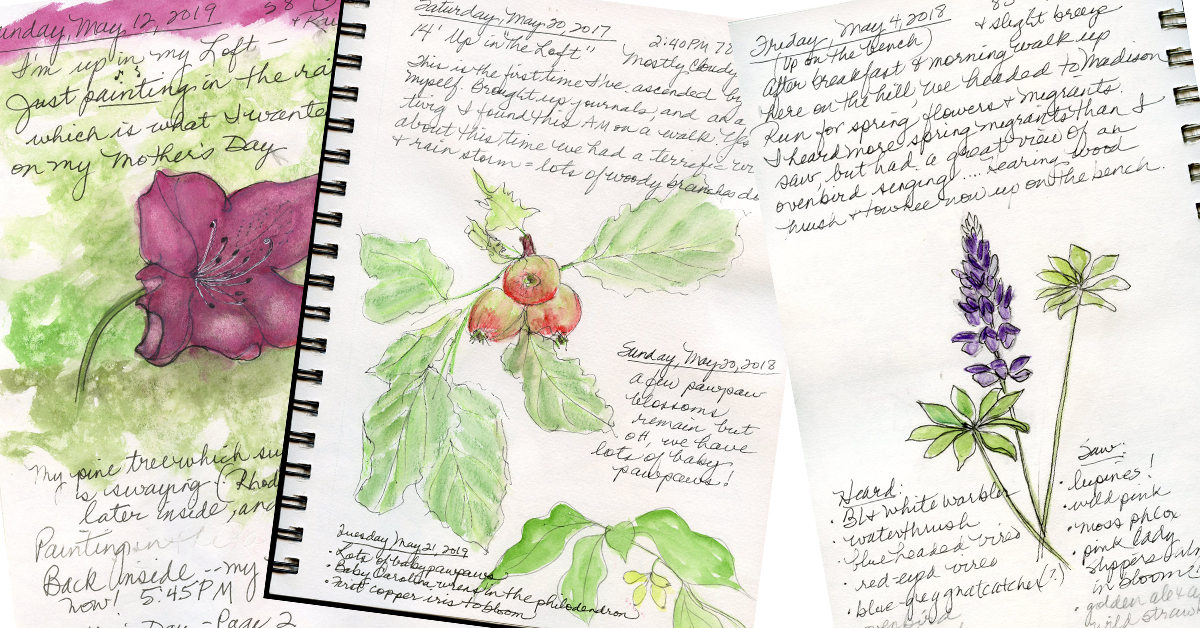 Why does this matter? Today, our society has increasingly gotten too far away from the natural world succumbing to the ease of entertainment through the latest technology. This new norm has contributed to sleep and eye problems, obesity, and stress, to name a few. There have been numerous studies on how just taking a walk in the woods or strolling across a wildflower meadow can lower your blood pressure and create a sense of peace and well-being. Now, folks are choosing to bring along a journal as another option for enjoying the outdoors.
So how do you start a nature journal? Honestly, you don't need to be an artist or have anything fancy to begin. All that's needed is curiosity about the natural world, a piece of paper (even lined paper), and something to draw or paint with. And you're ready to go!
Methodology
One of the first things to do when starting a journal is to decide if you want a sketch book or individual sheets of paper to later add to a binder. Then, when you start, always notate the date, time, and weather conditions somewhere on your page. Next, find a subject and start observing it. Jot down questions that come to mind; for example, "Why are ants on this particular flower?" You can add quotes, comments, poetry, or anything you like even days later.
Another bit of advice is to write as if you were composing a letter to someone. (Many historical journals were created in this fashion and letters were sometimes turned into books later.) As with scrap booking, you can also include newspaper clips, magazine articles, photographs, dried or pressed flowers and/or leaves, stamps, computer scans, rubbings, stickers, punches. Really, anything you want! But most importantly, you will need to find subjects for observing, studying, and drawing. And here is where one of the most important components comes into play…you will need to learn how to "see!"
Many Look But Do Not See
What does it mean to really SEE something? When wandering through the countryside really seeing it is more than just glancing at a flower or watching a bird fly by. Seeing is about slowing down. Seeing is about studying a subject by recording its details, color, lighting, perspective, and behaviors.
There are several ways to learn how to see and for me, one of them is photography. Nature journaling came to my attention when I spotted a class on Lewis Ginter Botanical Garden's (LGBG) website. It was being taught by well-known nature journaling instructor, Susie Kowalik, a master of the process. My nature loving mom and I immediately signed up.
Susie has created over 10 years of nature journals since she started and has used them as a way to observe and enjoy the outdoors. The journals became historic time lines of weather and changes in the environment, and today, she enjoys looking back at them to see those changes and how her work had progressed.
During our class, Susie placed examples of her gorgeous journals on tables for us to browse through. Breathtaking is a word that comes to mind. She spoke with us about how journals are personal journeys but also how important they are to share with others. She discussed a methodology we could use to create our journals, demonstrated how to use various medium, and had us practice using the tools. Then, it was out into the garden where a wealth of subject matter awaited.
Needless to say, it was a fun and relaxing day of being outdoors, learning how to see, creating art, and sharing what we'd done. My mom and I both loved it! Susie has since retired from teaching but talented nature journalists Lynn Wilson and Lara Gastinger are now teaching this class at LGBG.
The Art
While learning about various drawing implements for journaling from Susie, I decided that colored pencils were my favorite. (You can even get water color pencils.) Again, I turned to LGBG where I saw a class on colored pencils taught by talented botanical artist, Judy Thomas.
Judy started a group called Chickahominy Colored Pencil Artists as well as co-founding Plants of the James River Project with another botanical artist, Paula Blair. Though Judy's artwork is geared towards realistic renditions of her subject matter, the art of observation and basic ideas of nature journaling are still the same. (Botanical art is just more refined with specific "must follow" rules in place.) In Judy's class, which both my mom and I attended, we were taught more in-depth skills for using colored pencils making our illustrations even better.
We were hooked! Suddenly, we found ourselves looking for more classes and that's how we discovered Betty Gatewood and Rhonda Reebuck. A weekend nature journaling class was being offered at Big Meadows in Shenandoah National Park and my mom and I got the last two spaces. Thank goodness because it was a blast! Betty and Rhonda made a great team teaching us new ideas and methods for making our journals special. Of course, we hiked out into the beautiful, wide-open spaces of Big Meadows and there, we learned even more.
If you are interested in a new way to connect with the environment, I recommend giving nature journaling a try. Who knows…maybe it will become a piece of history that can be shared, remembered, and read for years to come.
The first week of June is National Nature Journaling Week! Find some great tips and information on journaling on the Nature Journaling Week website.
A former career photojournalist for 30+ years, Lynda is now the art director of Virginia Wildlife magazine.

This article originally appeared in Virginia Wildlife Magazine.
For more information-packed articles and award-winning images, subscribe today!
Learn More & Subscribe