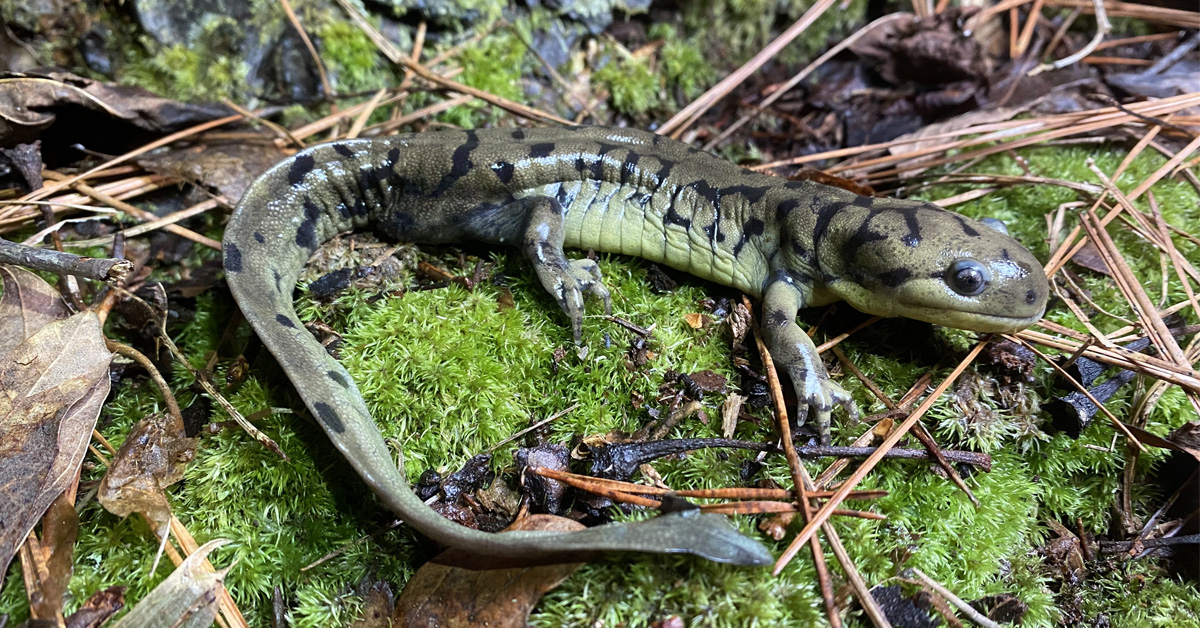 By J.D. Kleopfer/DWR
Photos by J.D. Kleopfer/DWR
The eastern tiger salamander (Ambystoma tigrinum tigrinum) is a state-endangered species that has two distinct lineages in Virginia. The Blue Ridge Mountain lineage is believed to be a surviving relic of the last ice age, while the Coastal Plain population is believed to be a recolonization from a northward range expansion from the Carolinas following the last glacial episode that ended about 11,000 years ago.
The Coastal Plain population has only three known breeding sites, one of which is in Westmoreland County. This site was just recently discovered in 2016 at an old mill pond site that according to locals had been abandoned for more than 50 years ago.
Unfortunately, just a few years after the discovery was made by a DWR biologist, the small earthen dam had finally eroded to a point that it no longer retained water. Without the retained water pooling, the salamander population lost its breeding grounds.
Coordinating with the landowner, DWR staff were granted permission to restore the dam breach in time for the breeding season that begins in mid-December 2022. During significant winter rain events, tiger salamanders migrate up to half a mile to seasonally flooded ancestral wetlands.
With the past couple of years possibly having no successful reproduction, it was imperative that repairs were made quickly as to not miss another breeding season. DWR biologists will continue to monitor the site and are hopeful the population will recover.
To learn more about Virginia's salamanders, you can obtain a copy of A Guide to the Salamanders of Virginia. Proceeds go to the Virginia Outdoor Fund that helps connect kids with the outdoors.