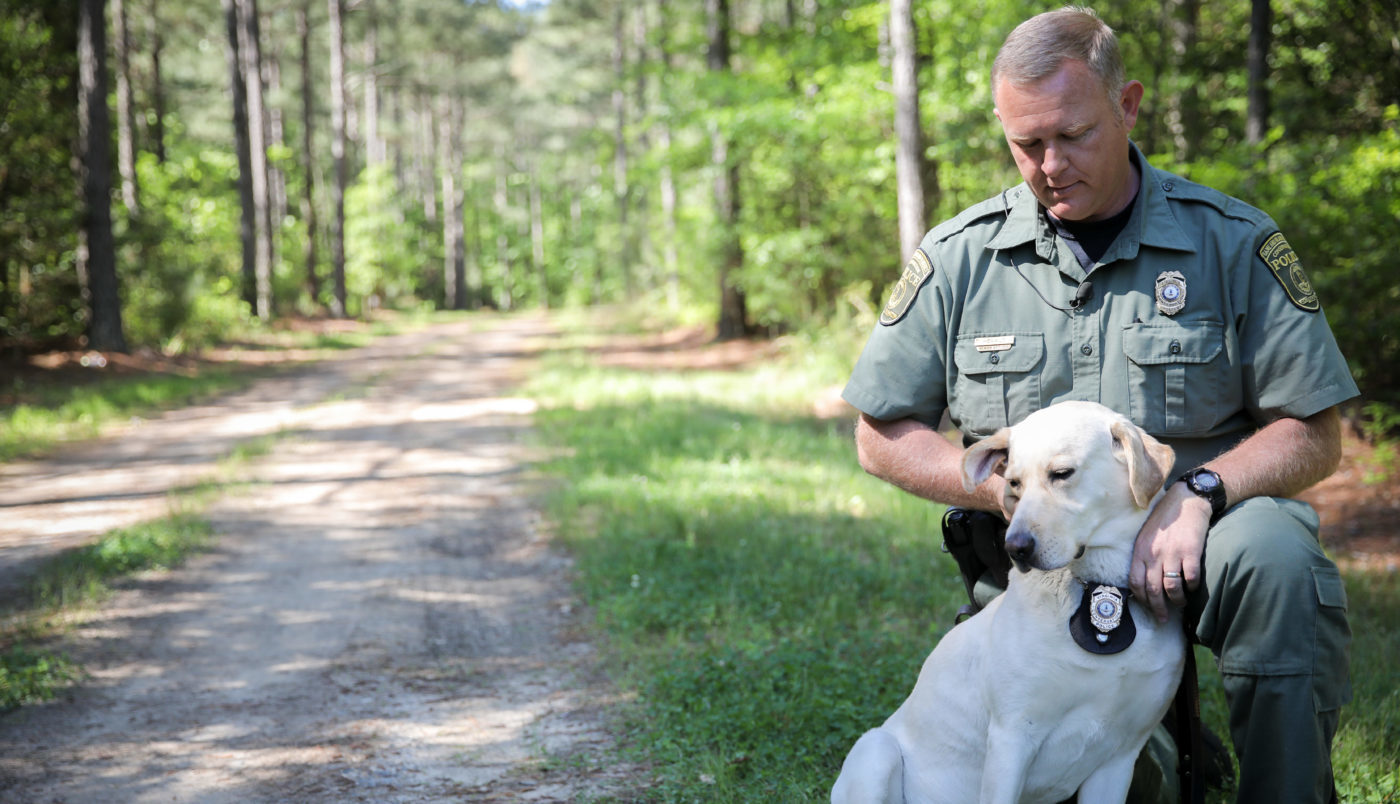 By Rachel Bringewatt
Photos by Meghan Marchetti
Over the past seven years, Officer Richard Howald has rarely gone into work solo. As one of the initial three handlers of the DWR K9 Team that was launched in 2011, Howald takes his yellow lab, Scout, with him basically everywhere.
"She is a real steady worker," Howald said about Scout.
The two are an effective team and have been involved in many detection, article recovery and tracking cases over the years. They communicate through various cues and are continually training to fine tune the skills they are use on the job. This has continued to be true this fall, except now Scout is learning to operate on three legs instead of four.
In August, Scout was diagnosed with cancer, most likely a soft tissue sarcoma. After clean chest x-rays, an abdominal ultrasound, and bloodwork suggested the cancer had not yet spread, Scout underwent surgery at referral practice in Richmond. Her leg was amputated on September 21.
DWR Wildlife Veterinarian Megan Kirchgessner, who jumped in to help Howald and the K9 Team understand what was happening and what the prognosis was after hearing that Scout had been diagnosed cancer, explained that out of the treatment options available,  amputation was decided to be the best option given the nature and location of the tumor.
"We needed to make a decision that was in the best interest of both Scout and the agency," Kirchgessner said. "We could have just amputated and retired her, but she loves her job. That is what she lives to do."
Although the plan, even prior to the cancer diagnosis, was for Scout to retire in the spring, Howald explained that getting Scout back to work as quickly as possible was a priority.
"With speaking with all the vets involved, they said she would recover quickly and would be able to work," Howald said. "[Getting her back to work] would also keep her motivated instead of losing her leg and then being stuck in the house."
After a couple weeks of recovery, Scout had her stitches removed and is on the move. Howald said she is back to coming along to work with him, and he's starting to take her on long walks.
Over the next few months, Howald said he will keep an eye for any evidence that the cancer spread before the amputation and work with his regular vet. It is possible that the cancer spread microscopically prior to surgery.
"Hopefully we caught it early enough, but time will tell," Kirchgessner said.
For now, Howald is busy rebuilding Scout's strength and beginning to train a new dog, Sky. Last week, Scout ran her first track on three legs.
"She did well, tired after the first one," Howald said. "I have been getting her to go a little farther each day. She still has the drive to track and playful at the end, so I will see how far she is willing to go."
This article was written by Rachel Bringewatt, Content Intern, Virginia Department of Wildlife Resources.