Being aware of what weather is on the way can help make your day of boating safe.
By Ron Messina/DWR
When a mother cat carries her kittens one by one down the gangway of a ship about to head out into rough seas, it might be a good idea to take note. Legend has it one 19th century passenger witnessed the cat's work and decided not to take a trip on the steamship Portland. It turned out to be a good decision.
It was November 1898, and just off the Virginia coast, a storm was blowing up. Ice-cold air jetting down from Canada was mixing with balmy Gulf Stream warmth—the perfect recipe for a nor'easter. Barometers plummeted, and the massive low-pressure system ripped northward along the Atlantic coast, wind and waves crushing everything in its path.
Up in Massachusetts, the big side-wheel steamship SS Portland was about to depart Boston on a commuter run, ferrying 192 passengers to Portland, Maine. With wind and dark clouds looming, the ship's captain had a decision to make—do I stay or do I go? He poured on the coal, in hopes of beating the bad weather to port.
Weather forecasting was in its infancy, and there was no ship-to-shore communication, so the captain had no way to know he was steaming into one of the deadliest nor'easters ever recorded. The Portland sank in the storm, with all hands lost. The "Portland Gale of 1898" ultimately sank 150 vessels and claimed 400 lives.
Should I Stay or Should I Go?
Gale force winds, waves, and lightning have always played fast and loose with mariners and their boats. While we no longer need to rely on intuition to foretell storms, we still must make good decisions. Even today, with satellite technology, custom marine forecasts, and precise storm track modeling available on our smartphones, boaters still occasionally run afoul of the weather, and still must routinely decide, "do I stay or do I go?"
Jeff Orrock, Meteorologist-in-Charge at National Oceanic and Atmospheric Administration's (NOAA) National Weather Service office in Wakefield, Virginia, said that boaters in the mid-Atlantic always need to be vigilant, but especially during fall through spring when Virginia's weather becomes more variable day to day. Orrock advises boaters to check the weather early and often, and to pay close attention to the wind speed trends, which change frequently.
"If I'm going boating two or three days from now, I'll start watching the forecast for the day I'm going out," said Orrock. "In the summertime, things don't change much. But you start getting into September, October, November, all the way through to July, cold fronts are coming down, coastal storms are forming, and weather patterns are moving fast."
The mid-Atlantic is well known for its dangerous nor'easters—big coastal storms that rotate counter-clockwise, with winds rolling out of the northeast, crushing waves, rain, snow, and lighting. When the conditions are right, they can develop quickly, sometimes within only a few hours. Up until the mid 2000s, these storms were notoriously difficult to forecast accurately because computer weather modeling wasn't advanced enough.
Nor'easters are more common from fall to late spring, which happens to coincide with some very good fishing opportunities. With today's modeling technology, meteorologists can accurately forecast nor'easters several days ahead of time, before the weather systems that combine to create them exist. While this is good news, it can sometimes lead to problems for boaters since conditions appear fine to go fishing or pleasure boating—until they suddenly don't. Orrock calls these "rapid intensification storms. We've had folks get into serious trouble because the conditions change dramatically," he said. "Keep an eye on the forecast. Mother Nature will humble you pretty quickly."
Wind and Waves
For recreational boaters, wind is one of the major factors to consider before heading out on the water.  Wind-driven waves can quickly turn a fun day on the water into a rough, unpleasant boat ride. The National Weather Service issues wind advisories to help boaters determine wind risks.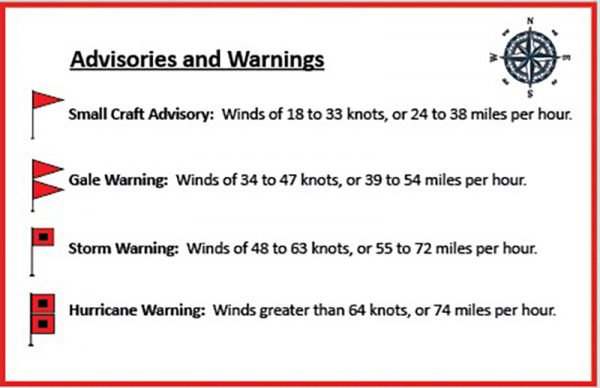 Small craft advisories kick in around 20 knots on the bay, and 25 knots on the ocean.  A small craft advisory is issued when local winds have reached dangerous levels for a small boat. Each boater needs to know the limits of their boat and their own skill level, and determine how much wind and wave action they can safely tolerate.
There's no official definition of "small craft" for the advisory. NOAA states that: "Any vessel that may be adversely affected by Small Craft Advisory criteria should be considered a small craft. Other considerations include the experience of the vessel operator, and the type, overall size, and sea worthiness of the vessel."
At 34 knots, the gale warning force designations begin, and Orrock said, "conditions are going to be severe for most average mariners, and even the larger cargo vessels and ships coming into port have to take different precautions, because that's a lot of wind, and it really pushes those big boats around."
Storm and hurricane warnings are both severe enough that no boats should be on the water and even larger commercial shipping fleet boats should be headed to safer waters. Outflow winds from these powerful storms can cause severe conditions for boaters even if they're hundreds of miles away.
"Wind fetch," the distance wind travels over water, has a direct impact on wave size. The longer the fetch, the larger the waves. The nuances of wind, wave, and tide patterns might not always be available on your local TV weather report, but fortunately, the NOAA Marine Forecast Discussion at weather.gov can help boaters navigate complex coastal weather trends.
The Best Source for Marine Weather Information
NOAA's weather.gov/marine website has all the weather information boaters need, including interactive marine forecasts of Virginia's larger rivers, the Chesapeake Bay, and offshore waters all organized by zone, so boaters can drill down to the exact location they'll be boating and find hour-by-hour details on conditions like wind speed, wave activity, and precipitation. It's an essential resource boaters can add to their checklists before heading out on the water.
Weather.gov/marine also hosts the Marine Forecast Discussion, featuring experts breaking down their thoughts on the precise timing of weather events, explaining what's happening on the water and why. You might learn terms such as "outflow winds," which occur when a storm hundreds of miles off the coast causes big swells coming back to the beach on an otherwise bluebird day. This kind of interpretive analysis goes well beyond a typical forecast, providing the insights essential to boater safety.
We All Get Caught
But even with the best information, sometimes weather still surprises boaters.
"I've been boating for over 20 years now, and the thing about boating is, you're going to get caught—all boaters get caught. I think the top thing that catches us off guard is thunderstorms," said Orrock.
Like many other recreational boaters, he's had run-ins with fast-moving thunderstorms that "pop up" in the summertime. The first time he tried to race a storm back to the marina he made it in time—the black clouds were still a couple minutes away—but as his wife stood on the bow tying the line, two blasts of lighting struck very close, with simultaneous thunderclaps. Lighting routinely strikes miles away from the edge of a storm cloud. "Lightning gets people every year; it's probably the biggest risk you face out there on the water," Orrock said.
"In summertime, many times you go in the afternoon there are going to be thunderstorms," says Tom Guess, a former Boatswain's Mate in the Coast Guard and Boating Division Director at the Virginia Department of Wildlife Resources (DWR). "You can have a thunderstorm come in, and all of sudden you have no visibility, you've got a lot of wind, you got a lot of chop, you've got lightning all around you. If you're in a motorboat or a small boat with an open cabin, all of a sudden you realize you're not very big in that body of water at all."
If caught in the thick of a fast-moving thunderstorm, it's best to reduce speed and head into the wind and at a 45-degree angle to the waves. If you're near shore, another tactic is to find a sheltered cove and set anchor in 5 or 6 feet of water to ride it out. Stay low under the hardtop to be safer from lightning, or settle into the cabin if the boat has one. That's exactly what Orrock did with his family on another occasion, when he was 8 miles from the marina. "It was heavy rain, a little bit of lightning, some gusty wind, but we were fine," he recalled. "The waves weren't too bad because we were so close to shore."
Guess advises to always check the currents, especially if you're going out on a bigger body of water like the Chesapeake Bay or larger rivers. "If you've got an outgoing tide, and you're in the mouth of a river, you can get a lot more chop," he said. "In inlets, if you've got an outgoing tide—the tide's ebbing, the wind's blowing inshore—you'll go from having waves to having breakers."
Guess said that many recreational boaters, even those with many years of experience, are creatures of habit. They leave from same from the same ramp, go to the same fishing spot, and rarely deviate from their plan.
"And they've never been caught in fog, or in severe weather, or they've never been halfway out and for some reason don't get to their destination, because everything always works out. But the first time they have to figure out where they are and how to get back, it's a whole different ballgame," Guess noted.
Being prepared for an unexpected setback is essential. One tool that's convenient for boaters to utilize is the ubiquitous cell phone. Guess said that smartphones have become "gamechangers" in recent years with apps that are easy to use for everything from checking the weather radar in real time, to marine navigation and float plans.
Orrock advised all boaters to "be careful with 'wishcasting,' or saying, 'this is what I want to do today, weather forecasters are always wrong, so I'm just going to go.' Boating and weather is about being knowledgeable, so check the weather, check the forecast, watch the trends over several days, and know what conditions will be at the location where you're planning to go boating."
Boating Safety Checklist:
Check the weather, wind, and tides for the location you will be boating at gov before your trip
Have a float plan and let people know where you're going
Carry a cell phone in a waterproof bag
Have a working VHF radio or handheld radio aboard
Keep boat maintained and check lights and equipment
Always wear a lifejacket
Take a marine weather course, available at COMET.Met Ed and United States Coast Guard.
---
Ron Messina enjoys writing, photography, and the outdoors. He's the Video Production Manager at DWR.