DWR is celebrating Hispanic Heritage Month by recognizing the achievements and contributions of Hispanic American champions who have inspired others to achieve success through Virginia's great outdoors!

Established in 2010, Hispanic Access Foundation is committed to connecting Latinos and others with opportunities and partners to improve lives and create an equitable society. We envision a future where every Latino individual in America enjoys good physical health and a healthy natural environment, a high-quality education, economic success, and civic engagement in his or her community with the sum of improving the future of our country. A multi-issue organization, our work has spanned from health outreach, to educational opportunity, financial literacy, and environmental justice. In our conservation work, Hispanic Access seeks to correct the narrative that has excluded people of color from the U.S. environmental movement and work alongside grassroots leaders to address environmental justice issues.

Describe how your organization or program connects the Hispanic community to the outdoors and/or wildlife in Virginia?
Among our programs and initiatives, Latino Conservation Week (LCW) stands out for our communities in Virginia. Held each year in July, LCW facilitates Latinos recreating in the outdoors while uplifting and addressing the environmental issues that affect their communities in particular. In 2022, we partnered with more than 300 organizations to spearhead more than 200 events, including hiking, camping, fishing, sailing, and river cleanups. Activities took place across the country, including five (5) LCW events in Virginia this year. Events included a farm and park tours, picnicking and playing at local parks, and environmental education on the Chesapeake Watershed in English and Spanish.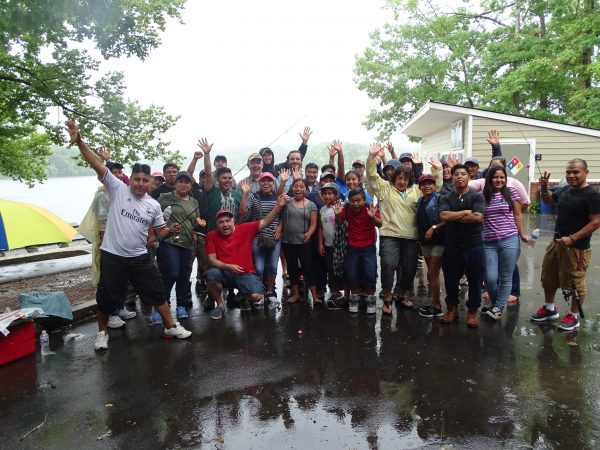 Describe how the Virginia Department of Wildlife Resources has supported your organization or program and the impact it has had.
Virginia Department of Wildlife Resources (DWR) has been a valuable partner during Latino Conservation Week. Events we have hosted with DWR have been comprehensive, experiencial, and magical. Fishing is an activity that brings families and friends together, and DWR knows well how access to great quality gear and instruction can change an experience for grandparents and children alike. One example that stands out is during an LCW event in 2019, Hispanic Access brought Hispanic families out to Three Lakes Park in Henrico, VA and met DWR there who was already setting up. DWR had brought all the gear our community members would need, and they set it up so all they had to do was pick it up, get a quick lesson on how to cast, receive their worm, and off they went! Despite the many lines knotting up, or hooks getting caught in trees, of which DWR helped untangle and dislodge, kids, parents and abuelos (grandparents) caught fish all day long. On top of this, DWR was willing to match funding with the Recreational Boating and Fishing Foundation to make the event well-rounded and provide fun and food for all.

Provide a brief story or real-life example that showcases the impact your efforts have had on the Hispanic community.
There are a few moments during our programming in partnership with DWR that really stand out as showcasing impact. The first was in 2018, at Burke Lake Park, in Burke, VA. Hispanic Access invited local Latino families out for a fun filled day of fishing…and that's exactly what they got. Yet, one aspect of the fishing experience was much more impactful than anyone could have anticipated…getting a free multi-day license. Not only were the parents and grandparents excited at this prospect, it gave families the opportunity to come back to the lake or to one of the many fishing spots recommended that day. Several parents and kids thanked us and DWR for the license and expressed their intention to fish all weekend. A second instance we realized had made a profound impact on our community members was seeing the eyes of the children light up as they caught fish after fish at Three Lakes Park, Henrico, VA – particularly one child who caught not only over a dozen fish…but even a hungry turtle…we all got a good laugh out of that. Any avid angler can tell you that it's a special moment when you see someone discover their love for fishing and the outdoors. That spark, and the memories made during the event, are exactly what inspires families to seek out more opportunities to fish and be outdoors, cultivating stewards for our natural resources for generations to come.
Provide information on how people can support your organization.
Virginians – consider hosting or participating in Latino Conservation Week events next year (July 2023), or during our other annual initiatives Latino Advocacy Week (LAW) and Our Heritage, Our Planet (OHOP) Film Week. Learn more by visiting our website at hispanicaccess.org and follow us on social @hispanicaccess. Consider making a donation to help sustain our work, and consider partnering with us if you represent a local or national organization! Many thanks to Virginia Department of Wildlife Resources!
Para obtener más información sobre el Departamento de Recursos de Vida Silvestre de Virginia y las oportunidades de caza, pesca y recreación al aire libre que existen en Virginia, mire este video.