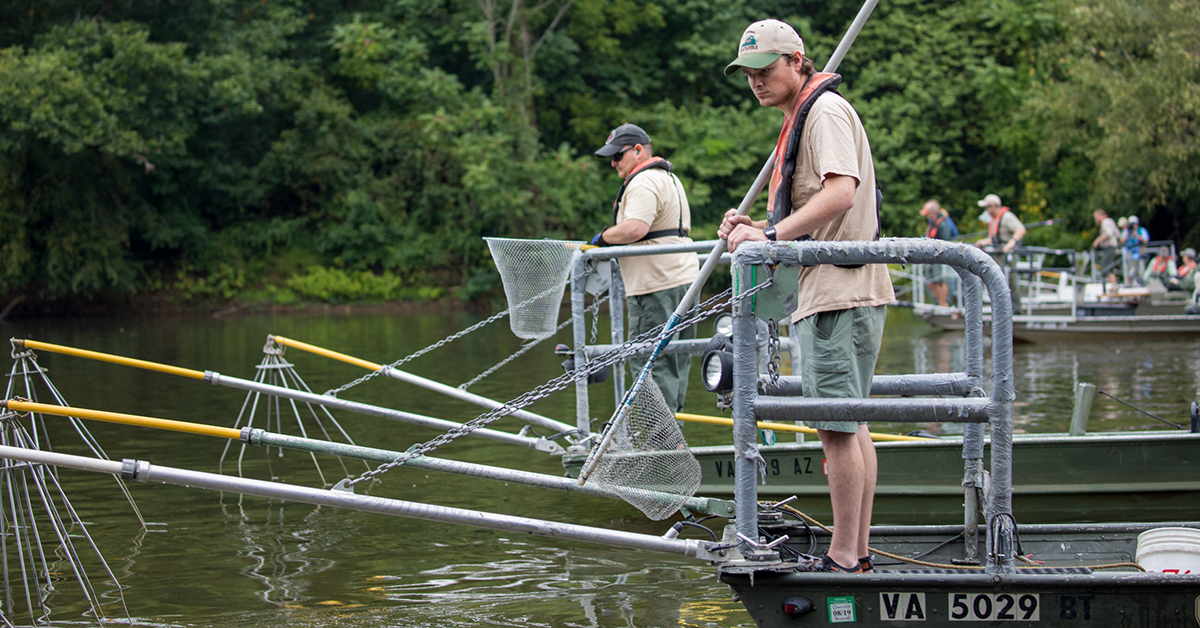 By Alex McCrickard, DWR Aquatic Education Coordinator
Photos by Meghan Marchetti/DWR
Have you watched some of the videos from aquatic biologists at the Department of Wildlife Resources (DWR) and seen a boat outfitted with long, wand-like poles with dangling cables? Have you ever showed up to a river or stream and witnessed a crew of biologists with large backpacks and long rods extending into the water? This unusual-looking activity is called electrofishing, and it's modern science in action.
As Virginia's state fish and wildlife agency, DWR is responsible for the management of our fish and wildlife resources for the benefit of the public. Our agency staff work hard to conserve and protect our freshwater fisheries across the Commonwealth. The best way to monitor the health of fish populations is to catch a number of fish from one area at one time. While our aquatics biologists are all excellent anglers, there is a more efficient, safe, and effective way to catch the fish! Electrofishing is a common method used in fisheries science; this type of biomonitoring is truly one of the most effective ways to monitor our fisheries.
Fish can really help tell the story of the health of a certain waterbody. They are in the water 24/7 and are constantly exposed to the elements. Some species are more tolerant to pollution than others. The make-up and diversity of a water body's fish population can help tell the story of water quality and inform our agency's biologists. In turn, all of this influences sound management decisions that can improve habitat, water quality, and fish health, which benefits the general public and anglers who cherish Virginia's freshwater resources.
So, you now might be wondering what exactly happens during electrofishing? What's going on behind the scenes during these surveys? Our electrofishing FAQs below cover these basics.
What is electrofishing?
Electrofishing is a technique used in fisheries science to sample fish populations. Sampling is when biologists study a number of fish from a certain area, measuring and examining them and recording the statistics. When biologists electrofish, a generator or battery gives off an electrical current that runs through the water. Volts, amps, and frequency can be adjusted based on water temperature, conductivity, and other variables. Electrofishing can take place on foot with a backpack unit on a small stream or river. For larger rivers and lakes, electrofishing typically takes place from a boat or barge.
From a boat, the anodes enter the water from a long boom off the bow. Electrical current travels from anode cables back to the cathode(s)–in many cases, the metal hull of the boat acts as the cathode. The electrical field typically expands 5 to 7 feet in circumference from each anode and down about 6 to 7 feet. The size of the electrical field can vary depending on conductivity, voltage, and frequency of electrical current.
Fish are temporarily stunned as the electrical current causes their muscles to contract.  The fish then float towards the surface where they can be easily netted.
Is electrofishing harmful to fish?
Electrofishing has the potential to be harmful if not used properly; however, biologists have the training and experience to operate the equipment safely and effectively while minimizing impacts to fish. Prior to any sampling, biologists adjust and monitor electrofishing settings to the target species in a particular habit. In some cases, electroshocking is avoided during spawning periods and habitats of certain rare and endangered species to eliminate even the perception of harm.
Does electrofishing affect different species of fish differently?
Yes, the frequency of the electromagnetic current can affect species differently. For example, low frequency electrofishing tends to only affect catfish species. When we sample tidal rivers to assess the catfish populations, we solely use low frequency. High frequency sampling is often used for standard community assessment of multiple species. Because of their larger surface area, big fish such as bass and muskie are more susceptible to electroshocking than small fish such as minnows and darters.
Electrofishing is only efficient in shallow water, so sampling is usually conducted when all species and sizes of interest are likely to be vulnerable to this technique.
Why do DWR biologists electrofish? What's the goal for sampling and what do DWR biologists do with the fish during electrofishing?
Electrofishing is an effective method to assess the health of a fishery in a non-lethal manner. It allows biologists to evaluate the health, variety, size distribution, and abundance of fish species on a given body of water and how that population can change over time. Length and weight measurements further allow biologists to assess overall fishery health. This type of sampling allows DWR to look at interactions within a fish population. Furthermore, we can track status of endangered and threatened species or the status of spread of any invasive species. All of this information influences sound management decisions that benefit the public who recreate on these resources.
Is electrofishing safe for the DWR biologists?
Yes, because of their training and experience, DWR biologists are safe when electrofishing. Our biologists wear non-breathable waders that keep them from being shocked while using backpack electrofishing units. For electrofishing boats, numerous electric cut-offs are in place to prevent accidents, and the boat is grounded. All DWR biologists wear personal flotation devices while sampling on boats. DWR biologists have also had formal training in electrofishing principles and techniques (for example the U.S. Fish and Wildlife Service electrofishing course), which contributes to the safe operation of electrofishing gear.
In what kinds of waters do you electrofish?
Electrofishing takes place in freshwater and tidal freshwater rivers and streams. Because of the high conductivity of saltwater, it is not conducive to electrofishing.
Can anglers use electrofishing equipment to catch fish?
No, it is unlawful for the general public to use electrofishing equipment to catch fish.