By Peter Brookes
Photos by Peter Brookes
The end of winter and the arrival of spring means many things to many people, but to Virginia's tidal river anglers it means primarily one thing, and one thing alone: The shad are coming! The shad are coming!
Yes, America's "founding fish" is coming soon to a Virginia tidal river near you.
Anyone who follows the annual shad run in the Old Dominion is aware of the famous fishing opportunities on the James River near Richmond and the Rappahannock River near Fredericksburg. But what about the Occoquan River, a tidal tributary of the Potomac River?
Located north of the James and the Rappahannock rivers, the Occoquan River provides another—albeit lesser known—destination for spring shad fishing.  You've almost certainly driven over it if you've crossed the Occoquan Bridge on I-95.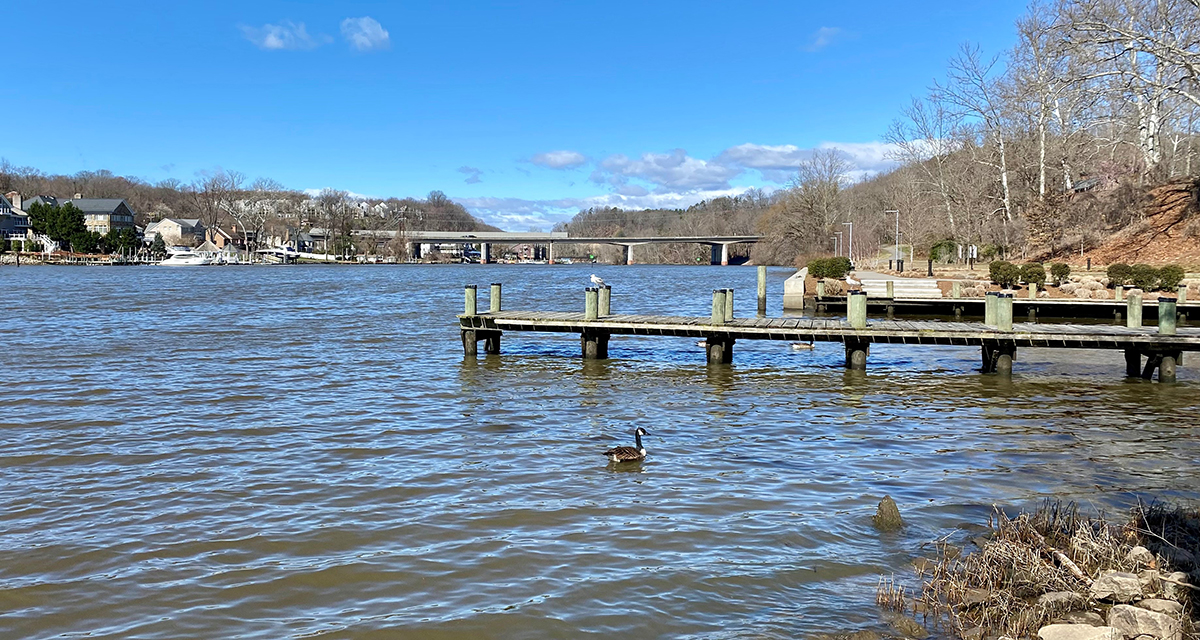 The river can be accessed from Occoquan Regional Park in Lorton, across the water from the historic town of Occoquan. Fishing can be done from the park's shoreline or by launching a watercraft from the park's boat ramp.
It's important to note that, during the annual shad run, the Occoquan River gets flush with primarily hickory shad rather than its cousin, the American shad, according to DWR Fisheries Biologist John Odenkirk. Among some anglers, Americans are the prized catch due their bigger size and relative fewer numbers in comparison to healthier stocks of hickories. Keep in mind, however, that American shad are a species of greatest conservation need and there is currently a statewide moratorium on them, so they're catch-and-release only. But many fishers—including me—really enjoy hooking into hickories, too.
To help you identify these fish, make sure to read "American or Hickory? ID your Shad Catch."
That's because these feisty fish are sometimes referred to as the "Poor Man's Tarpon." In appearance, while much smaller, hickory shad have a superior mouth with a protruding lower jaw, just like the "silver king." And like the tarpon of Florida fame, hickories are also known to come out of the water and get some air when hooked on a colorful lure or fly such as a shad dart. If you're lucky, they may even do a tarpon-like tail-walk for you.
Another bonus?
While hitting the shad run on the Occoquan River in the spring, you may also get into white perch, striped bass, largemouth bass, crappie, yellow perch, flathead catfish, and channel catfish, according to DWR. Not a bad deal.
Of course, you'll need a Virginia fishing license. In addition, you must also register with the Virginia Marine Resources Commission's (VMRC) Fisherman Identification Program—it's free!—since you're fishing for a saltwater fish in freshwater.
Also, if you want to harvest shad, be sure to check the DWR and VMRC websites for the latest Virginia regulations, including current moratoria on keeping American shad as well as alewife and blueback herring—which are a common bycatch during the shad run.
So if you haven't hit the Occoquan River yet—especially for those anglers nearby in Northern Virginia—you may want to try a new fishing thing and sling some string for shad (or other species) there this spring.
---
Dr. Peter Brookes is a DC foreign policy nerd by day and a VA award-winning outdoor writer by night. Email: Brookesoutdoors@aol.com