Region 2 (South-Central Virginia)
Smallmouth Bass fishing in the Staunton River in 2020 should continue to be good. Better than average year classes produced in 2008 and 2009 should provide anglers with good catch rates of Smallmouth Bass 14 inches and greater. The 2015, 2017 and 2019 year classes were very good so catch rates will remain consistent in the short term. The 2015 and 2017 year classes will provide opportunities to catch quality smallmouth for the next several years. Catch rates in fall sampling show population densities for three of the last four sample years above average and among the best catch rates in 22 years. The 2016 year class was poor and high rainfall and extreme flows in 2018 likely resulted in few fish added to the fishery but the other year classes will compensate for these two poor years. Consistent numbers of smallmouth over 16 inches have existed in the Staunton for the last 15 years so anglers still have great opportunities to catch quality fish in this stretch of river. Growth rates of Smallmouth Bass are above average and survival is good which helps the Staunton River be a consistent producer of quality-size smallmouth. Population estimates performed late summer 2013 indicate that the Smallmouth Bass population size has declined somewhat since surveys were last performed in 2006 but the population is still very healthy. The Staunton has excellent Smallmouth Bass habitat in the reach above Brookneal; anglers new to the river should concentrate on the abundant rocky habitat as well as submerged trees extending from the river bank. The river also holds a number of Spotted Bass and the chance to catch a spot over 12 inches is very good; especially in the lower river below Brookneal.
In addition to black bass, anglers in the Staunton River will find fishing for Channel Catfish and Flathead Catfish to be excellent. Catfish are well distributed throughout the river and should be available to anglers fishing from the shore and from boats. A Striped Bass spawning run from Kerr Reservoir also provides a very popular and unique fishing opportunity in April and May. Walleye and Saugeye fishing has also really taken off in the Staunton, especially from Leesville dam to Altavista. Quality Walleye are now consistently being caught and sampled all the way to Brookneal. A tag reward study will be performed in 2020, 2021 and likely 2022 to assess the extent of angler exploitation of the Walleye/Saugeye fishery. Look for signs posted at public fishing ramps for additional information and return the tags if you are lucky enough to catch a tagged fish. It is very important information that will benefit the fishery! Please return tags to:
VDGIF – Reward Program
107 Foxwood Drive
Farmville, VA 23901
Anglers can expect to catch decent numbers of Smallmouth Bass in the 8–14 inch size range in most areas of the upper James River (Iron Gate to Lynchburg) in 2020. In fall 2019, 1,248 Smallmouth Bass were collected using electrofishing gear and 710 of those bass were between 7 and 14 inches. Anglers should expect to see fish larger than 14 inches as they continue to persist from good year classes seven to ten years ago in most areas. Approximately 22% of the Smallmouth Bass collected were greater than 14 inches and therefore protected under the current slot limit regulations. Spawning success for smallmouth has been below average for the last five years leading to reduced numbers of bass less than 8 inches. The decline in Smallmouth Bass abundance is linked to poor reproduction during multiple and successive years. Recreational usage of the upper James has become extremely popular. Anglers specifically targeting Smallmouth Bass should consider fishing in less frequented sections of river.
Numbers of Muskellunge appear good (slightly increasing during the past ten years) and are found primarily upstream of Lynchburg. There are now adequate numbers of musky to provide a relatively good chance of a hookup. Muskies can be very picky so anglers often use a variety of baits throughout the year including large crankbaits, spinnerbaits, tubes, and swimbaits.
The upper James is also home to a variety of sunfish including Rock Bass, Redbreast, and Bluegill. Sunfish numbers are slightly higher than previous years with the majority of fish ranging from 5 to 7 inches in length. Although often overlooked, angling for sunfish can provide great entertainment especially using light tackle or fly-fishing. As for catfish in the upper James, Channel and Flathead Catfish numbers should be similar to previous years—plentiful in places but not consistently abundant river-wide.
Region 3 (Southwest Virginia)
On the New River upstream from Claytor Lake (Upper New River), Smallmouth Bass spawning success has been poor since 2014 due to high water conditions in the spring months, although it appears that 2016 was a good Smallmouth Bass spawning year. As a result, most angler catches in 2020 will be Smallmouth Bass from 7 to 11 inches, with occasional catches of larger Smallmouth Bass from the abundant spawns in 2012 and 2014. The section from Buck Dam to Allisonia is the best area of the Upper New River for Smallmouth Bass fishing. Walleye fishing is best from Fries Dam to Allisonia where the Department concentrates its stocking efforts. Anglers catch good numbers of Walleye in this section from February to May, with Foster Falls a prime location. Rock Bass and Redbreast Sunfish provide fun fishing opportunities, particularly from Mouth of Wilson to Fries where these sunfish are more numerous. In pool areas from Ivanhoe to Allisonia, anglers can catch Channel and Flathead Catfish, which are more numerous upstream from Claytor Lake than they are downstream from the lake. Muskie populations have increased from Ivanhoe to Allisonia, offering opportunities to catch a trophy that will light up your lure!
Like the New River upstream from Claytor Lake, Smallmouth Bass spawning success on the New River below Claytor Lake (Lower New River) has been poor since 2014, although the 2016 year class was slightly above average. Based on limited fall 2019 electrofishing data, it appears that the 2019 Smallmouth Bass spawn was good. As a result, angler catches in 2020 will primarily be 7 to 11 inch Smallmouth Bass, with occasional catches of larger ones from the good spawns in 2010, 2012, and 2014. Top locations for smallmouth bass are Whitethorne to Eggleston in Montgomery and Giles counties and Pembroke to Pearisburg in Giles County. Good areas for panfish include Claytor Dam and Whitethorne in Montgomery County and Pembroke to Pearisburg in Giles County. If you prefer catching big fish, increase the size of your gear and target Muskellunge. Throwing large spinnerbaits and stickbaits could result in hair-raising strikes.
VDGIF biologists are beginning the second year of a multi-year tagging study aimed at estimating angler exploitation of Muskellunge in the lower New River. The results of this will provides valuable information to fisheries biologists and administrators about how anglers use this fishery and will help justify the amount of time and resources that VDGIF employs to maintain it. If you catch a tagged Muskellunge, please send it in to the address on the tag and we will send you a $20 reward. Many thanks go to Virginia Chapter 76 of Muskies, Inc. for their assistance in processing the reward payments. We ask that you please be patient as processing the rewards payments does take some time. Thank you for your part in helping VDGIF evaluate the lower New River Muskellunge fishery.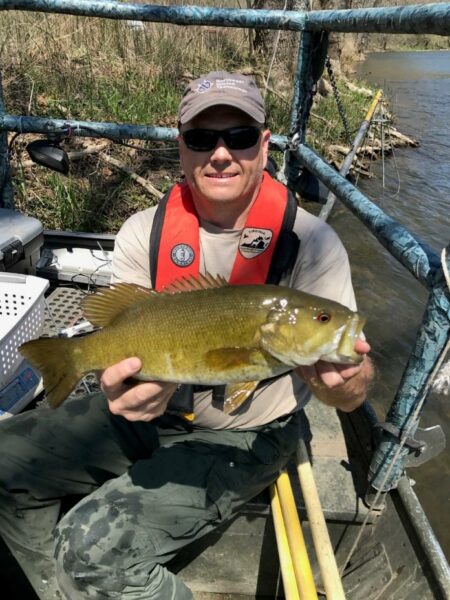 Fishing on the Clinch River in 2020 may prove somewhat challenging for anglers. The overall catch rate for Smallmouth Bass during the 2019 spring sample of 41 fish per hour of electrofishing was comparable to that observed in 2018 (40 fish/hour). However, the 2019 catch rate remained substantially lower than the long-term average of 67 fish/hour. Adult Smallmouth Bass were observed in one of the lowest abundances of the past fifteen years and is likely the result of poorer than average spawning success in 2014. The good news is that the 2016 Smallmouth Bass year class appears to be a fairly strong one. Although these fish averaged about 6 inches in length in the 2019 sample, they will continue to grow and contribute to the abundance of adult fish in coming years. Thirty-two percent of the adult Smallmouth Bass in the 2019 Clinch River sample were larger than 11 inches in length and 12% exceeded 14 inches. Approximately 4% of the Smallmouth Bass sampled were larger than 17 inches.
Rock Bass in the Clinch River have experienced a decline in abundance since 2006 and the decline persisted in the 2019 sample. Adult Rock Bass were collected at a rate of 25 fish/hour, which is significantly lower than the long-term average of 61 fish/hour. Like Smallmouth Bass, the spawning success for Rock Bass is heavily influenced by spring time river flows and this, in turn, can impact the abundance of adult fish in later years. Thirty-six percent of the adult Rock Bass in the 2019 Clinch River sample were larger than 7 inches in length and 12% exceeded 9 inches.
Since spring time electrofishing efforts do not effectively sample species such as Channel Catfish and Flathead Catfish information on the relative abundance of these is not available. However, anglers targeting these species in the deep pools of the Clinch River should have good success in 2020. Walleye and Muskellunge, although not as abundant as the species mentioned above, should provide some exciting and rewarding fishing opportunities as well.
Anglers wishing to target river Smallmouth Bass in 2020 should definitely make a trip to the North Fork Holston River. The relative abundance and size structure of the population was down somewhat in the 2019 electrofishing sample. However, this may be partially attributed to lower flows and the temporary closure of the Weber City access, which prevented sampling in that area. That area typically produces some of the larger Smallmouth Bass. Fifty-one percent of the Smallmouth Bass were larger than 11 inches and 21% exceeded 14 inches. About 10% of the Smallmouth Bass observed were larger than 17 inches.
Additionally, the abundance of Rock Bass in the 2019 North Fork Holston River sample looked good and, unlike the Clinch River, appears to be relatively stable. Thirty-six percent of the Rock Bass sampled on the North Fork Holston River were 7 inches or longer.
Region 4 (Northern Virginia)
Anglers should experience below average Smallmouth Bass catch rates in 2020 on the Rappahannock and Rapidan Rivers, as there have been numerous poor year classes recently due to above average spring flows. No sampling occurred in 2019 due to drought conditions, but 2018 samples provided low catch rates. The good news is size structure should be above average thanks to the last run of good year classes in 2014-2016 (especially 2015). There are plenty of Channel and small Blue Catfish for that camp dinner from well above the junction on both arms downstream to Fredericksburg, and Redbreast Sunfish are plentiful. Anglers may encounter small Striped Bass and Yellow Perch, as the demise of Embrey Dam now enables these migratory species to ascend upstream.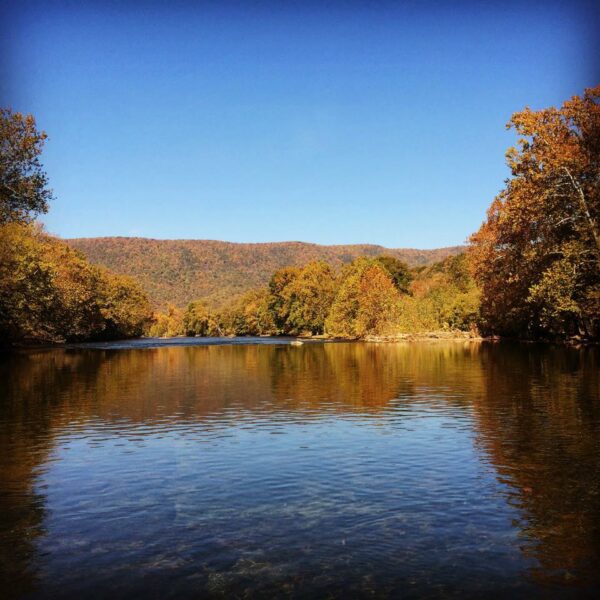 The South Fork and Mainstem Shenandoah Rivers are known by anglers as a "numbers" fishery, meaning anglers can expect to catch a reasonable amount of bass and sunfish on any given day. Based on the DGIF 2019 fall sampling, it appears the Smallmouth Bass fishery consists of average population numbers from a few successful spawning events over the past years. When anglers reported their catch in 2019, they reported fair fishing.
The number of adult Smallmouth Bass greater than 11" is currently slightly below the 22-year average. The larger fish that are present in the population are most likely from above average spawning success in 2014. The number of Smallmouth Bass greater than 14" collected was below average in the 2019 fall sample. Although larger fish are currently sparse biologists did document a fair number of Smallmouth Bass in the 9 to 11" range. These 9 to 11" bass are from a record 2014 spawning year and should grow up to 11 to 13 inches throughout the 2020 summer. There was also good spawning success in 2012, and these fish that are remaining offer anglers a better size fish to target. Successful Smallmouth Bass spawning in 2012, 2014, and 2015 improved fishing the past few years. Barring any fish disease outbreaks, the population should maintain fair numbers over the next several years. Spawning success in 2019 was well above average when compared to the last 22 years. The 2019 year class should help maintain Smallmouth Bass numbers in the future. Thus, Smallmouth Bass catch rates in the South Fork and Mainstem Shenandoah Rivers should be average over the coming years with a lack of larger (> 16") fish. Anglers should also expect fair catches of Redbreast Sunfish.
Anglers should not overlook Largemouth Bass, as this river harbors a quality population; and finding 2 to 4 pound fish should not be difficult if deeper, slower sections with woody debris are targeted. There is also the opportunity to catch musky in the longer and deeper pools. Channel Catfish in the 2 to 6 pound range are very common, and anglers should concentrate on the lower South Fork and Mainstem when targeting Channel Catfish. There is always the strong possibility of a mixed bag on the Shenandoah. Don't be surprised if you catch quality-sized Pumpkinseed, Bluegill, Green Sunfish, Fallfish, Black Crappie, or even a Walleye. In spring 2014, VDGIF began stocking Walleye fry in the Shenandoah River annually to supplement the natural population and increase the number of Walleye present. The 2014 and 2015 stocking seems to have survived well; and anglers should expect to see an increase in the catch of Walleye in 2018. Due to a shortage of supply, Walleye were not stocked in 2016 or 2017. Most 2014 and 2015 stocked fish became legal harvest size during 2019. Walleye fry were again stocked in 2018 and 2019. As future annual stockings are added to the Shenandoah River, the population should increase to an acceptable fishery. Anglers fishing for Walleye on the Shenandoah River should focus their efforts in the deeper pools during daylight hours. Walleye will move out of the deeper pools into shallow bedrock ledge areas to feed at night.
Consistent spawning success should also aid in improving the Smallmouth Bass population in the North Fork Shenandoah over the next few years. In 2018 the North Fork Shenandoah experienced long-term record flows which may have had an impact on the fish community. The 2019 spring raft sample Smallmouth Bass numbers were much lower than the 2018 sample. Although numbers have declined from 2018, there are still stretches of the river that seem to have weathered the storms better than others. Areas around Seven Bends State Park and slightly upstream may offer better fishing. There is always the possibility of encountering larger fish when fishing the best habitat. Fallfish are plentiful in some sections of the North Fork, and can exceed 14" and should not be overlooked. Anglers may also encounter fair numbers of Redbreast Sunfish in most areas, Bluegill in deeper pools, and the opportunity to catch a quality-sized Largemouth Bass, Channel Catfish, or the occasional Muskellunge. Pool habitat is limited, so seek out deeper water when targeting these species. If you plan a float trip here; stick to spring and early summer, as low flows and possible dense vegetation can make fishing and navigation difficult later in the year.
For more information, contact the following regional offices:
Staunton River: Farmville Office (434) 392-9645
Upper James River: Forest Office (434) 525-7522
New, Clinch, and North Fork Holston Rivers: Marion Office (276) 783-4860
Rappahannock and Rapidan Rivers: Fredericksburg Office (540) 889-4169
Shenandoah River: Verona Office (540)248-9360