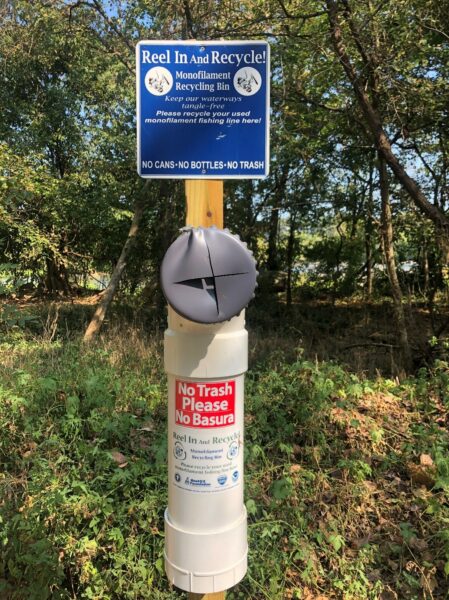 As anglers, it's essential that we conserve the resources we enjoy, cherish, and recreate in. Please help us and our mission by being an environmental steward of our fish and wildlife resources!
Monofilament fishing line is an environmental hazard and can be harmful by:
Entangling wildlife
Tangling and jamming boat props
Polluting our fisheries across the state
Please dispose of fishing line properly. Many boat ramps, parks, and marinas across our fisheries throughout the state have monofilament recycling bins. Please recycle old and tangled monofilament in these plastic bins.
You can also bring your monofilament fishing line to one of our DWR offices and receive a free Virginia Wildlife Magazine!
You can also visit one of these fishing stores near you and recycle your fishing line.
Bass Pro Shops
11550 Lakeridge Parkway, Ashland, VA 23005
804-496-4700
Bass Pro Shops
1972 Power Plant Parkway, Hampton, VA 23666
757-262-5200
Cabela's
5000 Cabela Drive, Henrico, VA 23233
804-340-7300