Notice: On April 1, 2016, Virginia implemented a new "full-online" hunter education course. You must be a Virginia resident and 12 years of age or older to take this course.
The full-online course has the same general content as the traditional classroom course and the "Self Study + Class" offer above but requires state specific information to be covered along with quizzes or tests in which the student must achieve a score of 90% or better to pass.
This state-approved course is commercially provided and is not administered by the Virginia Department of Game and Inland Fisheries. A fee of $29.50 is paid directly to the provider for this course.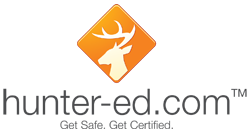 Virginia chooses Hunter Ed as an official online course provider. The new Virginia-approved online hunter safety course covers all the information you'll need to know to satisfy Virginia hunter education requirements.
Complete the Virginia online hunter-ed.com course
Receive your Virginia Hunter Education Certificate, and hunt!
The Hunter-ed.com course uses the same information that's taught in the Today's Hunter classroom manual, but also includes award-winning videos, interactive animations and graphics. Students can take the course on their mobile phone, tablet or laptop. Sign up today.