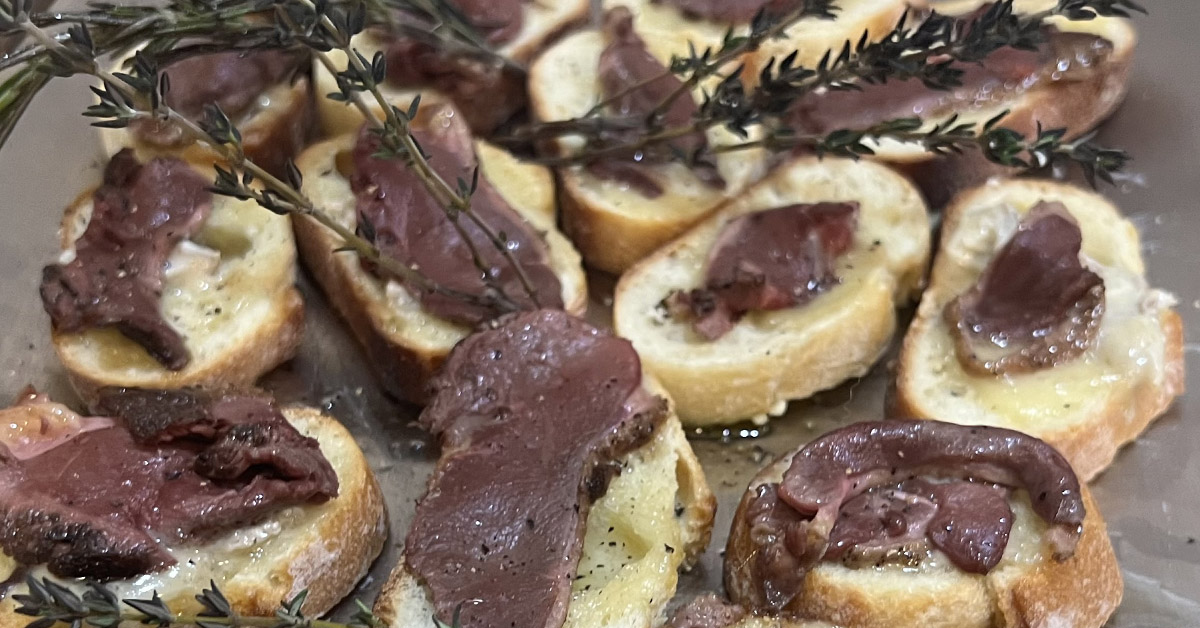 This simple and quick, but elegant, appetizer is sure to please!
Ingredients
| Amount | Ingredient |
| --- | --- |
| | 1–2 breasts from a wood duck or other fine-eating duck (skin-on strongly preferred) |
| | 2 cloves of garlic, finely chopped or minced |
| | 1-2 baguettes, sliced |
| | Butter or Brie cheese for the bread |
| | (Optional) Fresh thyme and rosemary for garnish |
How to Prepare
Season the breasts with salt and pepper.
If you have it, chop off the plucked tail and put it in your cast iron pan on medium high with 1 tablespoon of butter. The tail has a lot of fat, which adds to the flavor, and it also makes a delicious chef snack when slightly charred.
Add the garlic when the pan is almost ready for the duck.
Once the pan is very hot, add the duck breasts skin-side down and sear for about one minute each side.
Put the breasts in a plastic bag or other container and place in the freezer for as long as it takes the meat to firm up just enough so that you can slice it thinly without tearing the meat.
Place the slices of duck between two sheets of parchment paper and on a solid surface and beat them to nearly translucent-thin with a flat side of a mallet, or even your palms.
Put baguette slices in oven on a cookie sheet or foil at 350 for 6 minutes.
Remove from the oven, and thinly spread butter or an earthy Brie cheese on the bread.
Add the carpaccio and then return to the oven for one minute on broil (or as desired – or keep cold as is and add the meat after the bread is finished toasting).
Sprinkle a garnish with rosemary and thyme.
Enjoy these rich and decadent bites!