Bear Creek Lake is a 42-acre impoundment located entirely within the 16,000-acre Cumberland State Forest. Outdoor enthusiasts will find many opportunities to pursue the activities they love at the park or the state forest. The species composition consists of largemouth bass, bluegill, redear sunfish, black crappie, and channel catfish. There is also a handicapped-accessible pier available at Bear Creek Lake.
The lake is open to fishing from sunrise to sunset.
Maps & Directions
The park is about 4.5 miles northwest of the town of Cumberland. From U.S. Route 60, go west on Route 622 and south on Route 629 to the park entrance.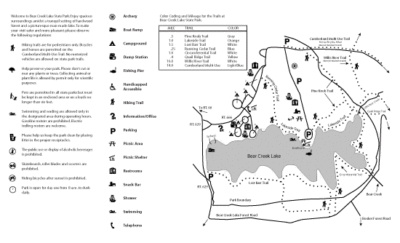 Fishing
Largemouth bass
The bass fishery at Bear Creek Lake is in excellent condition. Six years have now passed since the lake and fishery renovation and bass sizes reflect an almost new lake phenomenon. Department samples indicate a healthy population with many fish over 15 inches and good numbers of young fish entering the system. Density of largemouth bass is average for Southside Virginia waters and anglers should enjoy a very active fishery at Bear Creek.
Panfish
For angler seeking something besides largemouth bass, Bear Creek also provides home for bluegill, redear sunfish, and black crappie. Bluegill is the predominate panfish species with good numbers and good sizes of fish in the population. Fish over 8 inches are not uncommon but most of the population is in the 5-7 inch range. Redear sunfish are also common at Bear Creek but there numbers are roughly 1/3rd those of bluegill. Redear have good potential to reach 10 inches and above but have not done so at this reservoir yet. Black crappie are also present but in limited number and size.
Channel catfish
Channel catfish are stocked annually at 10 fish per acre to provide an alternative fishery to Bear Creek Lake anglers.
Biologist Reports
Regulations
Largemouth bass
15 inch minimum, 2 fish per day
Sunfish
No size limit, 50 fish per day
Channel catfish
15 inches minimum, 8 fish per day
All other species
Statewide limits apply
General
Fishing license required for persons 16 years of age or older.
Electric motors only. Gasoline motors restricted.
Facilities, Amenities, and Nearby Attractions
Facilities
Fee

✔

Parking

✔

Handicap-Accessible

✔

Food Concession

✔

Picnic Tables

✔

Grills

✔

Restrooms

✔
Amenities
Hiking Trails

✔

Bike Trails

✔

Viewing Blinds

✘

Observation Platforms

✘

Fishing Pier/Platform

✔

Boat Ramps

✔

Motorboat Access

✘

Horsepower Limit

✘

Electric Motor Only

✔

Paddle Access

✔

Camping

✔

Primitive Camping Only

✘
Bear Creek Lake has a single lane concrete boat ramp near the dam. The park also offers camping, restroom facilities, swimming beach, boat rentals, and many other amenities.
Please see detailed map under Maps for more information regarding available facilities.
More Information
For more information about the Bear Creek Lake fishery, please contact:
Virginia Department of Wildlife Resources
434-392-9645
For more information about Bear Creek Lake State Park, please contact:
Bear Creek Lake State Park
804-492-4410 (park office)
1-800-933-PARK (reservation line)
www.dcr.virginia.gov