Chandler's Millpond is a picturesque 75-acre impoundment located in Westmoreland County in the northeast of Virginia. The Sturman family originally built it around 1670 on Cat Point Creek. The pond is privately owned by several individuals, but the Department of Game and Inland Fisheries has an agreement with them to allow public fishing.
The dam was completely redesigned and rebuilt following a failure in 2015. The reconstruction of the dam was completed in May of 2020. The redesign of the dam included extensive earthwork to ensure a solid foundation and a relocation of the spillway. The dam includes a multi-species pool and weir fishway that will provide access to 8 miles of habitat upstream including the impoundment. American Eel (catadromous) are the primary migratory species expected to use the fishway which will allow juvenile eels to access upstream habitat as they make their journey from the ocean . Anadromous fish such as Alewife and Blueback Herring are secondary targets. The fishway provides connectivity for resident fishes as well.
The pond is open for "catch and release" fishing but fish populations are limited at this time. Fisheries biologists will sample the existing populations and develop stocking plans to re-establish self-sustaining populations of fish such as Bluegill, Largemouth Bass, Redear Sunfish and Channel Catfish.
The pond has an average depth of about 6 feet and has a boat ramp and a courtesy pier. Boats are limited to electric motors only.
The Virginia Department of Game and Inland Fisheries (DGIF) will require an Access Permit for visitors to department-owned Wildlife Management Areas (WMAs) and public fishing lakes, who are age 17 and older, unless they possess a valid Virginia hunting, freshwater fishing, or trapping license, or a current Virginia boat registration. Learn more about the Access Permit.
Maps & Directions
The pond is situated off Route 3, approximately one mile west of Montross. Map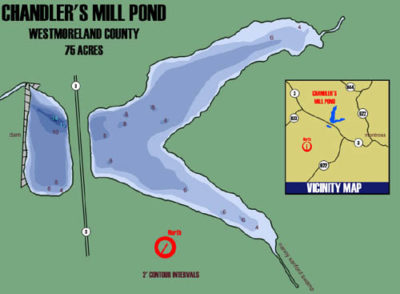 Fishing Opportunities
These historical reports provide some idea as to the quality of fishery that Chandler's Mill Pond can support.
Biologist Reports
Regulations
Facilities
Facilities include a boat ramp and courtesy pier off of Route 3. The parking lot entrance is adjacent to the little league field.
More Information
For more information, please contact:
Department of Game and Inland Fisheries
3801 John Tyler Hwy.
Charles City, VA 23030
Phone: (804) 829-6580, Ext. 129