Elkhorn Lake is a 54-acre reservoir in the George Washington and Jefferson National Forests (GW&JNF), owned by the City of Staunton.
Maps & Directions
Elkhorn Lake can be accessed via Forest Development Road (FDR) 95 from FDR 96 and Route 250 west of Churchville.
Map for Elkhorn Lake:
Fishing
This lake is managed for warmwater and coldwater angling opportunities. The lake contains a quality largemouth bass fishery with good numbers of large 3-6 pound bass. Bluegill and pumpkinseed sunfish support a quality panfish fishery. Channel catfish fingerlings are stocked every year to promote better catfish angling.
Elkhorn Lake Fish Habitat Map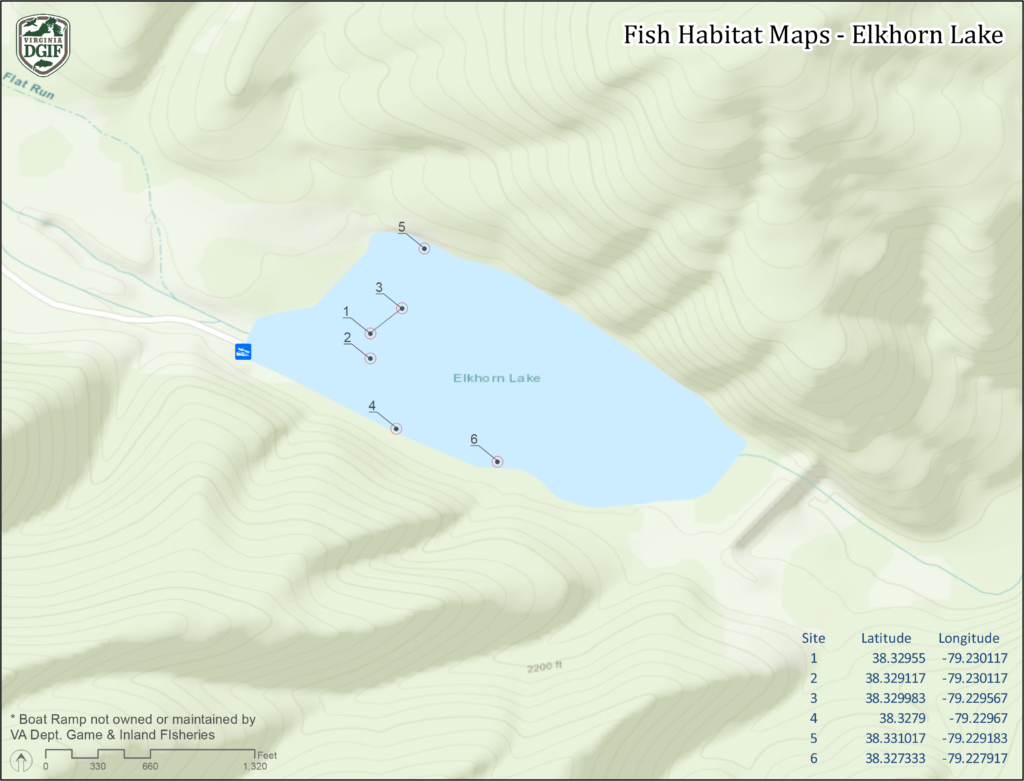 Biologist Reports
None available at this time.
Regulations
Trout
Stocked from October through May
Trout license is required to fish these waters from October 1 through June 15.
A National Forest Stamp is required.
Catfish
Creel limit of four fish per day was placed on channel catfish in 1997 to help create and maintain better catfish angling.
Bass
A 14-inch minimum length limit was placed on largemouth to maintain an abundance of bass to help "thin out" the sunfish to promote better growth and size in sunfish.
News
The Turner Ashby High School FFA worked with VDWR to install 45 "pyramid" style fish attractors, made from Christmas trees they collected. The structures were placed in the lake in February 1999 and 2000, and they are accessible by bank anglers as well as those with boats.
Facilities, Amenities, and Nearby Attractions
Facilities
Fee

✘

Parking

✔

Handicap-Accessible

✔

Food Concession

✘

Picnic Tables

✘

Grills

✘

Restrooms

✔
Amenities
Hiking Trails

✔

Bike Trails

✘

Viewing Blinds

✘

Observation Platforms

✘

Fishing Pier/Platform

✔

Boat Ramps

✔

Motorboat Access

✘

Horsepower Limit

✘

Electric Motor Only

✔

Paddle Access

✔

Camping

✘

Primitive Camping Only

✔
Facilities include a primitive boat launch, restrooms, handicapped access path, and fishing platforms on the entire southwestern shoreline.
More Information
For additional information, contact:
VDWR
Fisheries Biologist
517 Lee Highway
Verona, VA 24482
Phone: (540) 248-9360