Hearthstone Lake is a 7-acre impoundment in the George Washington and Jefferson National Forests north of Stokesville. Hearthstone is managed for warm-water and cold-water angling opportunities. In the fall of 2020, the lake was refilled after extensive dam repairs were completed. Trout stocking resumed in October 2020. Unfortunately, the drawdown eliminated the warm water sport fish populations within the lake. Biologists are currently developing a plan to restock, but anglers will have to be patient while the populations recover.
Maps & Directions
Access Hearthstone Lake off Forest Development Road (FDR) 101 from Route 718 north of Stokesville.
Map to Hearthstone Lake:
Fishing
Hearthstone Lake Fish Habitat Map: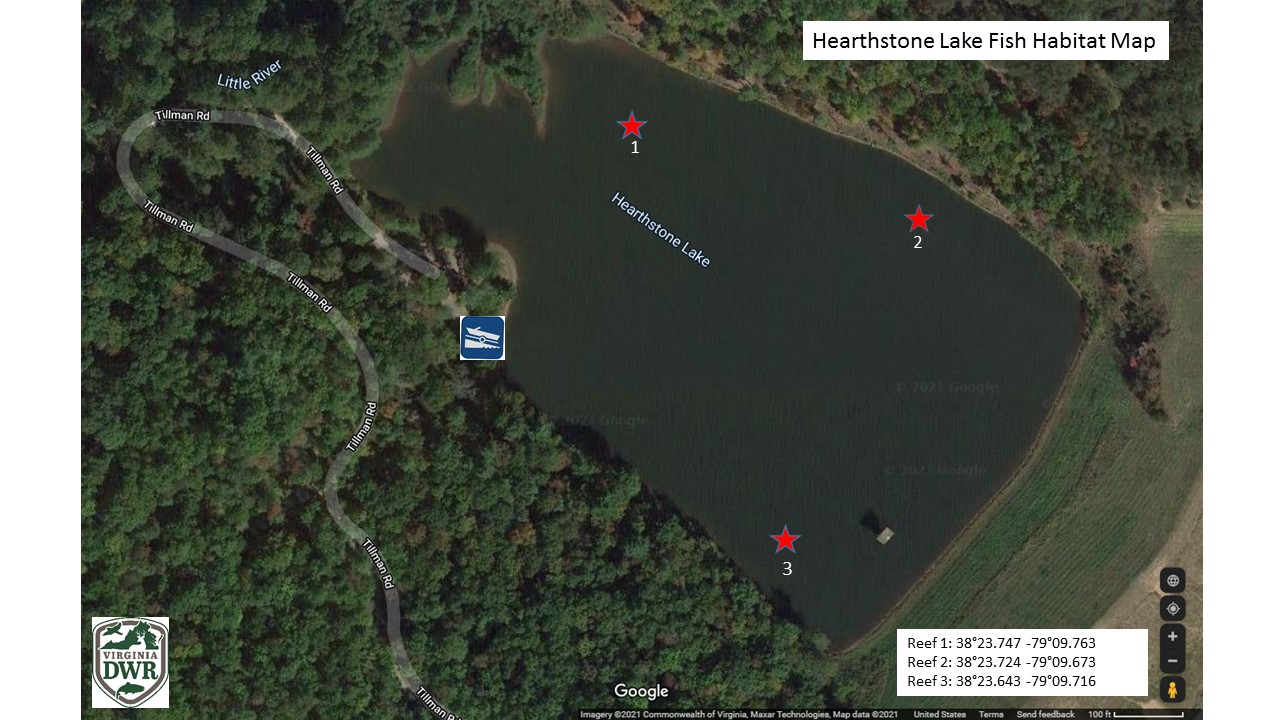 Biologist Reports
None available at this time.
Regulations
Trout
Trout are stocked from October through May
A trout license is required to fish these waters from October 1 through June 15.
Facilities, Amenities, and Nearby Attractions
Facilities
Fee

✘

Parking

✔

Handicap-Accessible

✘

Food Concession

✘

Picnic Tables

✘

Grills

✘

Restrooms

✘
Amenities
Hiking Trails

✘

Bike Trails

✘

Viewing Blinds

✘

Observation Platforms

✘

Fishing Pier/Platform

✘

Boat Ramps

✘

Motorboat Access

✘

Horsepower Limit

✘

Electric Motor Only

✔

Paddle Access

✔

Camping

✘

Primitive Camping Only

✘
Facilities include a primitive, boat launch and dirt parking area, and there is good bank access on the south side of the lake.
More Information
For more information, please contact:
Virginia Department of Wildlife Resources
517 Lee Highway P.O. Box 996
Verona, VA 24482
(540) 248-9360