This 61-acre Department-owned impoundment is in the Hidden Valley Wildlife Management Area in Washington County. Hidden Valley Lake is located in the mountains at about 3,500 feet of elevation. The south side of the lake is almost completely forested, and the north side is a mixture of woods and open lands. These open lands provide good bank access for anglers.
Hidden Valley Lake supports populations self-sustaining populations of largemouth bass, bluegill, redbreast sunfish, and black crappie. Channel catfish and northern pike are stocked.
The Virginia Department of Wildlife Resources (DWR) requires an Access Permit for visitors to department-owned Wildlife Management Areas (WMAs) and public fishing lakes, who are age 17 and older, unless they possess a valid Virginia hunting, freshwater fishing, or trapping license, or a current Virginia boat registration. Learn more about the Access Permit.
Maps & Directions
To get to Hidden Valley Lake, take Route 19 and Alternate 58 (north from Abingdon or south from Hansonville), and then follow Route 690 to the lake. Map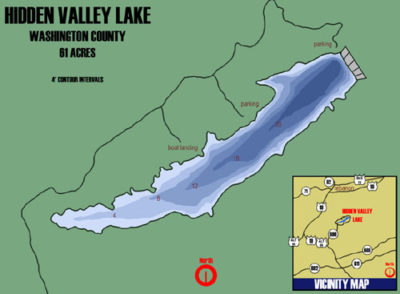 Fishing
Fishing opportunities at Hidden Valley Lake are much improved compared to the late 1990s. Stockings of largemouth, bluegill and northern pike effectively reduced the over-abundance of redbreast sunfish that was a problem in the past. Largemouth bass are increasing in both size and abundance, and are now reproducing in the lake. Bluegill have replaced redbreast sunfish as the dominant sunfish species. Black crappie are very abundant, but stunted at a small size. Most of the crappie collected in samples are less than 8 inches long. A few nice crappie up to 15 inches have been collected, but they are rare. Channel catfish and northern pike are stocked each year. These two species offer anglers some diversity. Overall the fishery appears to be improving.
Biologist Reports
Regulations
Bass
18 inches minimum
1 fish/day
Northern Pike
30 inches minimum
2 fish/day
The lake is open to fishing 24 hours a day
Gasoline motor use is prohibited.
Facilities, Amenities, and Nearby Attractions
Facilities
Fee

✘

Parking

✔

Handicap-Accessible

✔

Food Concession

✘

Picnic Tables

✘

Grills

✘

Restrooms

✔
Amenities
Hiking Trails

✔

Bike Trails

✘

Viewing Blinds

✘

Observation Platforms

✘

Fishing Pier/Platform

✘

Boat Ramps

✔

Motorboat Access

✘

Horsepower Limit

✘

Electric Motor Only

✔

Paddle Access

✔

Camping

✘

Primitive Camping Only

✔
No developed campground facilities are available
No camping is allowed within 100 yards of the lake shoreline.
A concrete boat ramp is available for launching.
A pit toilet is available from April through October.