The crown jewel in the scenic Holliday Lake State Park is likely to be the 145-acre Holliday Lake. The lake is in a beautiful setting, which provides an excellent backdrop for a family outing. The lake is clear and low in productivity, but still supports a quality largemouth bass fishery, as well as good sunfish and chain pickerel fishing. Black crappies also provide excellent fishing opportunities for anglers. This lake seems to "turn on" earlier than other lakes in the piedmont, and it offers anglers a good bet for early season action. Numerous fallen trees congregate fish for anglers to catch, but summer anglers should concentrate their efforts in the deeper water.
ATTENTION ANGLERS:
The lake level at Holliday Lake is lowered each winter for maintenance of the swimming beach and periodic placement of fish habitat structures. The normal, annual draw-down is 3 feet with every third year being a more substantial draw-down of 10 feet. Winter 2008-2009 is one of the 10-foot draw-downs with the next two winters being the 3 foot reduction. The ramp is inaccessible during the 10 foot draw-downs so calling the park prior to a fishing trip in the winter months might be in order. Draw-downs begin in early December with the lake allowed to refill in late February.
For park information, call 434-248-6308.
Maps & Directions
Access via State Route 24 between Appomattox and U.S. 60 and from Routes 626, 640 and 692. Approximately 12 miles from the Appomattox Courthouse National Historical Park. Map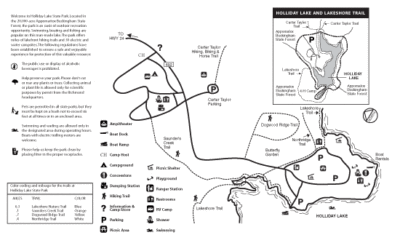 Fishing
Largemouth bass
The bass fishery at Holliday Lake is just one of the many great reasons to visit this state park owned lake. All sizes of largemouth bass are well represented in this reservoir with fish up to 20 inches available to the most patient angler. Most bass in Holiday Lake are in the 11 to 13 inch range but there are still good numbers of fish over 14 inches. Samples by Department biologists show that densities of bass in the reservoir are average for lakes in Southside Virginia offering ample opportunity for folks to have a fun day of fishing.
Panfish
The panfish population has changed a great deal since anglers introduced yellow perch into the system in the late 1990's. The yellow perch population has out-competed bluegill and redear sunfish; species that once dominated the role of prey in the reservoir. Bluegill numbers have suffered most dramatically in the past decade with numbers in our samples roughly 1/10th what they once were. Yellow perch numbers seem to be leveling off and nice size perch, up to 12 inches, are now being caught. Hopefully the bluegill population will rebound somewhat and again offer anglers at the park another fishing opportunity. Black crappie are also present in the reservoir and offer a limited fishery. Samples indicate a few individuals up to 10 inches but most in the 7-9 inch range.
Channel catfish
Channel catfish are stocked annually at 10 fish per acre to provide an alternative fishery to Holliday Lake anglers.
Biologist Reports
Regulations
Fishing
Largemouth bass
12 inches, 5 fish/day
Sunfish
No size limit, 50 fish/day
Channel catfish
No size limit, 20 fish/day
All other species
Statewide limits apply
General
Fishing license required for persons 16 years of age or older.
Electric motors only. Gasoline motors restricted.
Facilities, Amenities, and Nearby Attractions
Holliday Lake has a single lane concrete boat ramp and ample parking. The park also offers camping, restroom facilities, swimming beach, boat rentals, and many other amenities.
Please see detailed map under Maps for more information regarding available facilities.
More Information
For more information about the Holliday Lake fishery, please contact:
Virginia Department of Game and Inland Fisheries
434-392-9645
For more information about Holliday Lake State Park, please contact:
Holliday Lake State Park
434-248-6308 (park office)
1-800-933-PARK (reservation line)
Department of Conservation and Recreation