Holliday Lake is a 145 acre lake that lies within Holliday Lake State Park. The lake is in a beautiful setting, with rugged terrain and deep clear water which provides an excellent backdrop for a family outing. The park offers quality fishing as well as a number of additional outdoor recreation opportunities.
For more information on the park and non-fishing recreation opportunities and amenities please visit the State Park's website.
ATTENTION ANGLERS:
The lake level at Holliday Lake is lowered periodically for maintenance of the swimming beach and periodic placement of fish habitat structures. The normal draw-down is 3 feet with the occasional 10 ft drawdown being necessary. The ramp is inaccessible during the 10 foot draw-downs so calling the park prior to a fishing trip in the winter months is a good idea. Draw-downs begin in early December with the lake allowed to refill in late February.
For park information, call 434-248-6308.
Maps & Directions
Access via State Route 24 between Appomattox and U.S. 60 and from Routes 626, 640 and 692. Approximately 12 miles from the Appomattox Courthouse National Historical Park. Map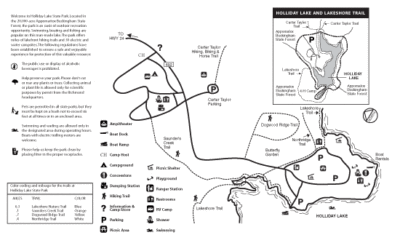 Fishing
Largemouth Bass
Densities of largemouth bass within Holliday Lake are average relative to other lakes in the region. The lake offers a good number of quality fish in the 12-15 inch range with some limited opportunity for fish up to 20 inches. For best success anglers should target deeper water with rock or woody cover from June-March, in April and May head for shallow water as the bass move in to these areas to spawn.
Sunfish
The sunfish population has declined significantly as a result of yellow perch, which were introduced by anglers in the 1990's. Holliday Lake has some of the lowest catch rates for sunfish of any fishery in the region. The lake offers modest numbers of catchable size bluegill (6-7 inches) and a handful of redear sunfish up to 10 inches. Sunfish support a limited fishery at Holliday but anglers will find best success with night crawlers and crickets. Small jigs can also be seasonally productive. For best success target shorelines with fallen trees or beaver lodges.
Crappie
Holliday Lake supports a good crappie fishery with strong catch rates relative to other fisheries in the region. Most fish are in the 6-7 inch range but fair number of fish up to and over 10 inches provide anglers some opportunity for a quality catch. Minnows yield the best results for crappie though jigs and small crankbaits can be productive. Target points and shoreline vegetation around the spawn (April) head for deeper channel ledges and the ends of fallen trees for the remainder of the year.
Yellow Perch
Yellow Perch catch rates have declined in recent years as populations seem to have stabilized. Most fish are in the 5-6 inch range but fish up to 12 inches are still present. Anglers will find the best success with yellow perch in the late winter and early spring. Minnows and other live bait are generally the most productive though small jigs and crankbaits can also yield success.
Channel Catfish
The channel catfish population is maintained by annual stockings with fair numbers of harvestable size fish (>15 inches) present.
Biologist Reports
Regulations
Largemouth bass
12 inch minimum, 5 fish per day
Channel catfish
15 inch minimum, 5 fish per day
All other species
Statewide limits apply
General
Fishing license required for persons 16 years of age or older.
Electric motors only. Gasoline motors restricted.
Facilities, Amenities, and Nearby Attractions
Holliday Lake has a single lane concrete boat ramp and ample parking. The park also offers camping, restroom facilities, a swimming beach, boat rentals, and a number of other amenities.
Please visit the State Park's website for more detailed information on available amenities.
More Information
For more information about the Holliday Lake fishery, please contact:
Virginia Department of Wildlife Resources
434-392-9645
For more information about Holliday Lake State Park, please contact:
Holliday Lake State Park
434-248-6308 (park office)
1-800-933-PARK (reservation line)
Department of Conservation and Recreation