Horsepen Lake is a 19-acre impoundment located entirely within the Horsepen Wildlife Management Area in Buckingham County, Virginia. The lake is one of several department-owned lakes created in the 1930's.
The lake underwent repairs on the riser tower after the lake developed serious leaks in 2001. The impoundment is now full and was restocked in the summer of 2002. Fishing reopened in the spring of 2005. Horsepen is managed for warmwater fish species including largemouth bass, bluegill, redear sunfish, and channel catfish.
The Virginia Department of Wildlife Resources (DWR) will require an Access Permit for visitors to department-owned Wildlife Management Areas (WMAs) and public fishing lakes, who are age 17 and older, unless they possess a valid Virginia hunting, freshwater fishing, or trapping license, or a current Virginia boat registration. Learn more about the Access Permit.
Maps & Directions
To reach Horsepen Lake, travel Route 60 to Buckingham then follow State Route 638 south to the lake. Signs are posted on route 638 directing anglers to the lake.Map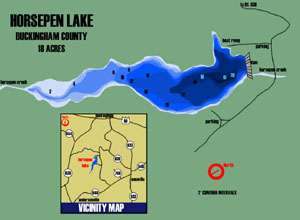 Fishing
Largemouth bass
Horsepen Lake's Bass population is being managed to produce a trophy fishery and the restrictive regulation is in place to achieve that goal. Biologists are hopeful that Horsepen will be something to brag about in the near future. Currently, the fishery boasts good numbers of catchable size Bass.
Sunfish
Currently, most Bream are small but expanding their population. Horsepen provides an excellent opportunity for kids to experience fishing with several areas around the lake where bank fishing is accessible.
Channel Catfish
Almost 300 channel catfish are stocked annually to maintain the fishery. Catfish from the first stocking should be reaching a minimum of 12-14 inches by now so enjoy the fishery.
Crappie
Black Crappie have become prevalent is Horsepen Lake. Generally, Crappie are an undesirable species in ponds and small lakes. Horsepen supports an abundance of quality Crappie over 8 inches.
Biologist Reports
Regulations
Largemouth bass – 22 inches, 1 per day
Sunfish – no size limit, 50 per day
Channel catfish – 15 inches minimum, 8 per day
All other species – statewide limits apply
Fishing license required for persons 16 years of age or older
Electric motors only – gasoline motors restricted
The following are prohibited on this property: Swimming, Open air fires, Trotlines, Alcohol, Littering, Sailboats, Jetskis, tournaments involving prizes
Hours of use: 24 hours per day.
Facilities, Amenities, and Nearby Attractions
Horsepen Lake has a single lane boat ramp and a gravel parking lot. Bank fishing access is limited to the lower section of the lake near the pavilion. Several fish attractors have been constructed for both bank and boat fishermen. These include hinge trees, brush piles and various other structures scattered throughout the lake to concentrate fish.
More Information
For more information on Horsepen Lake, please contact:
Virginia Department of Game and Inland Fisheries
107 Foxwood Drive
Farmville, VA 23901
(434) 392-9645
For more information on the Horsepen Wildlife Management Area, please contact:
(434) 561-3350