Lake Burton is a 76-acre impoundment located in Pittsylvania County, Virginia. This reservoir is owned by the Virginia Department of Wildlife Resources and is managed primarily for fisheries related activities. The reservoir was impounded in 1950 and was stocked with various species of sportfish such as largemouth bass, bluegill, and channel catfish. Lake Burton is an impoundment of Tomahawk Creek and is relatively shallow and contains a number of fish species that were not originally stocked. These species either were in Tomahawk Creek prior to impoundment or were stocked by anglers. Lake Burton also contains a number of undesirable species such as common carp, suckers, bullhead catfish and gizzard shad. Small impoundments such as Lake Burton typically do not benefit from these species because they cause the sport fish populations to become unbalanced. Carp and suckers tend to keep water muddy while gizzard shad contribute to stunted sunfish populations.
Turbid water and an abundance of undesirable fish species have resulted in an unbalanced fishery in Lake Burton. However, Lake Burton does have a very good largemouth bass fishery with a few bass in the 6–8 pound range but these fish may be challenging due to the large quantity of available forage. The large number of bluegill can provide fast action for sunfish anglers but these fish are small and an increase in size is not likely in the near future due to competition with gizzard shad. The crappie population fluctuates and is generally poor due to small sizes but this lake does generally contain high numbers including an occasional large crappie.
The Virginia Department of Wildlife Resources (DWR) requires an Access Permit for visitors to department-owned Wildlife Management Areas (WMAs) and public fishing lakes, who are age 17 and older, unless they possess a valid Virginia hunting, freshwater fishing, or trapping license, or a current Virginia boat registration. Learn more about the Access Permit.
Maps & Directions
From Chatham, take Route 57 west to Route 750 at Rondo; turn right (north) and go to Route 800; turn left (west) on Route 800 to the lake, about 4.3 miles. Map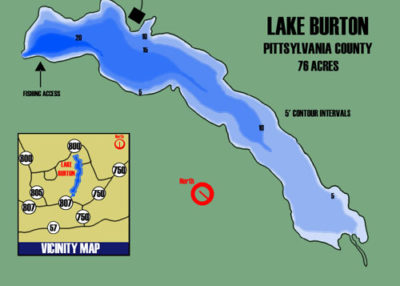 Fishing
Lake Burton is one of the best trophy bass fisheries in the state when comparing DWR sampling catch rates. The lake has gizzard shad and an abundance of small bluegill, crappie, and white perch. Lake Burton is shallow compared to other regional lakes and is frequently turbid.
Largemouth Bass
Largemouth bass reproduction and recruitment has historically been poor which enhances growth due to the abundant forage and limited competition. The average size of adult bass (bass > 8″) has remained stable at approximately 15 inches with most bass in the 3-6 pound range but there are also good numbers of 7-9 pound bass. Keep in mind, the larger bass are difficult to catch due to the large quantity of forage which can make this fishery a real challenge. Largemouth bass are most abundant in the lower half of the lake where depths are generally more favorable but can be found throughout the lake. Bring a camera along in case you catch a trophy since it is illegal to harvest or retain any bass in your livewell.
Crappie
White and black crappie are both present at Lake Burton. Most crappie in this lake experience poor growth due to overabundance and competition with white perch.
Sunfish
The overabundant bluegill population is a result of limited predation from largemouth bass and competition with shad. Sunfish growth is poor and levels off at age 5 when they are 6 inches in length. There are very few redear sunfish (or shellcracker) available and most do not exceed 7 inches.
Catfish
White and bullhead catfish are the two catfish species at Lake Burton and average 11 inches in length.
See the most recent Biologist Report below for more details and fish population trends.
Biologist Reports
Regulations
Largemouth Bass regulation:
No bass may be harvested
All bass must be immediately released to the water unharmed
Other regulations:
Statewide fishing regulations apply for all other fish species.
Outboard motor use is prohibited. Electric motors are allowed.
Prohibited activities: swimming, open air fires, trotlines, littering, sailboats, alcohol, and fishing tournaments involving prizes.
Hours of use: Lake Burton is open to fishing 24 hours.
News
New in 2007
Lake Burton largemouth bass regulations changed to NO harvest of largemouth bass beginning February 1, 2007. This regulation was designed to bolster the largemouth bass population and protect the few bass that attain trophy status. According to population estimates conducted in 2006, there was only 10 bass in the lake that were 21 inches or larger. Even with a few of these large fish harvested, the goal for managing this lake as a trophy bass fishery would be compromised.
Tips for Proper Care and Handling of Trophy Bass:
If you are one of the few anglers who are fortunate enough to catch a trophy largemouth bass, the following precautionary measures will decrease the likelihood of delayed mortality of released fish.
Land the fish as soon as possible. Playing a fish to exhaustion diminishes its chance of survival, especially in warm water. Having the proper fishing tackle is important.
Avoid excessive handling when landing a fish, removing the hook, taking pictures, measuring, etc. Always make sure that your hands are wet before handling fish.
To handle trophy fish, wet your hands and then use your thumb to clamp down on the bottom lip and support the fish's weight by placing the off-hand under the fish (toward the tail). Do not hold the fish in a horizontal position just by the lower lip.
Water temperature's of 75°C and warmer are more stressful on fish.
Fish should not be out of the water for more than 60 seconds.
Proper handling and care of trophy largemouth bass will increase everyone's chances of catching a trophy bass.
Facilities, Amenities, and Nearby Attractions
Lake Burton has a good concrete boat ramp with limited parking. Located in a remote area, Lake Burton had not gotten much fishing pressure, but more anglers have been discovering this lake and pressure has increased. No restrooms or trash receptacles exist at the Lake. Bank fishing is allowed and there is a narrow strip of land that extends around the entire shoreline that can be utilized by bank anglers. The strip of DWR property surrounding the lake is marked with metal T posts and yellow paint on trees. Anglers and wildlife watchers are permitted to walk around the entire lake if they stay between the marked boundary and the water's edge.
More Information
For more information on Lake Burton, please contact:
Virginia Department of Wildlife Resources
1132 Thomas Jefferson Road
Forest, VA 24551
434-525-7522