Lake Curtis is a 91-acre, Department-owned lake in Stafford County. The lake has an abundance of standing timber, providing fish with "structure." It is on the boundary of Curtis Memorial Park, a facility that has tennis courts, a swimming pool, a golf course, grills, and picnic tables. Several new fishing pier "bulkheads" were recently added adjacent to the Department's parking lot.
The lake has excellent largemouth bass, bluegill, and channel catfish populations. Curtis consistently produces large bass, with fish as large as 13 pounds coming from the lake. Fisheries surveys by biologists indicate large fish are present, but the abundance of standing timber gives them plenty of places to hide. Curtis offers the finest bluegill fishery in the district. With ample shoreline access, it's an ideal place to practice fly-fishing or take a youngster out for the day. The lake is fertilized each summer to increase productivity.
The Virginia Department of Wildlife Resources (DWR) requires an Access Permit for visitors to department-owned Wildlife Management Areas (WMAs) and public fishing lakes, who are age 17 and older, unless they possess a valid Virginia hunting, freshwater fishing, or trapping license, or a current Virginia boat registration. Learn more about the Access Permit.
Maps & Directions
Lake Curtis can be reached from I-95 and Fredericksburg by taking Rt. 17 north to Rt. 616 north. Follow Rt. 616 to Rt. 622, then turn left (west) to reach the boat ramp. Map
Information about the lake can be obtained by contacting the DWR Regional Office in Fredericksburg at 540-899-4169.
Curtis Memorial Park can be reached by continuing on Rt. 622 and then left on Rt. 612. Information pertaining to Curtis Memorial Park, contact Stafford County Parks and Rec at 540-658-4871.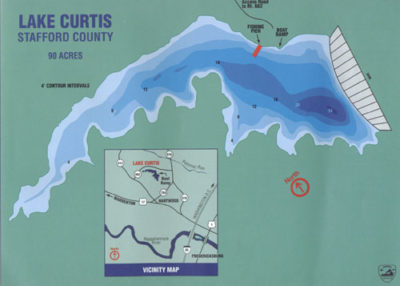 Fishing
Biologist Reports
Regulations
Largemouth Bass
The daily bag limit for bass is five per day.
Sunfish
There is no size limit for sunfish (bluegill, redear etc.) in Lake Curtis. Anglers can harvest 50 sunfish (combined) per day.
Crappie
Black may be harvested without size restriction from Lake Curtis. The daily limit is 25 per day in aggregate.
Channel Catfish
There is a 15 inch minimum size limit, anglers are limited to 8 fish per day.
Facilities, Amenities, and Nearby Attractions
Facilities
Fee

✘

Parking

✔

Handicap-Accessible

✔

Food Concession

✘

Picnic Tables

✘

Grills

✘

Restrooms

✘
Amenities
Hiking Trails

✘

Bike Trails

✘

Viewing Blinds

✘

Observation Platforms

✘

Fishing Pier/Platform

✔

Boat Ramps

✔

Motorboat Access

✘

Horsepower Limit

✘

Electric Motor Only

✔

Paddle Access

✔

Camping

✘

Primitive Camping Only

✘
DWR has a boat ramp and large parking area available to anglers on the North side of the impoundment off of Rt. 622. On the south side of the lake, Stafford County Parks and Rec's Curtis Memorial Park is a multi-use facility offering tennis courts, a swimming pool, a golf course, and picnic area. Ample bankfishing opportunities exist around the lake perimeter, along with several fishing platforms located near the DWR parking lot.
More Information
For additional information, contact:
Virginia Department of Wildlife Resources
Fisheries Biologist
1320 Belman Road
Fredericksburg, VA 22401
Phone: (540) 899-4169
or
Stafford County Parks and Recreation Department
Phone: 540-658-4871.