Lake Keokee is a 92-acre impoundment located in Lee County. The lake is surrounded by National Forest lands. The lake offers fishing for largemouth bass, bluegill, redear sunfish, and channel catfish. Flooded standing timber is the dominant habitat type for this lake. Navigation routes were cleared while the lake was drawn down in 2003 and 2018, but boaters should still use caution.
Maps & Directions
Access Site:
Map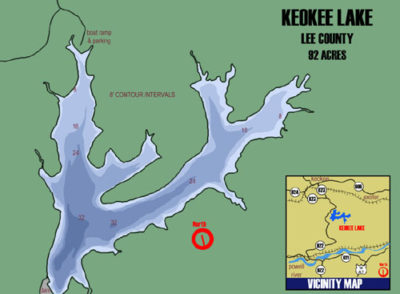 Fishing
The lake supports an average abundance of largemouth bass compared to other Southwest Virginia impoundments. The size structure of the bass population, however, is dominated by smaller bass with an average length of around 9 inches. Very few bass over 12 inches long are collected in population samples. Age and growth data indicate that it takes more than five years for a largemouth in Lake Keokee to reach 12 inches. So you can expect to catch good numbers of bass at Keokee, but most of them will be small. The slow growth rates are likely the result of the low productivity of the lake despite liming and fertilization efforts. Biologists will continue to monitor the bass population and consider options to improve its size structure.
Sunfish are an entirely different story at Lake Keokee. Bluegills and especially redear sunfish reach larger sizes. Citation-sized (1 pound or 11 inches) sunfish are definitely a possibility here. Sunfish spawn in May and June, and that would probably be the best time to land a trophy.
Channel catfish are stocked each fall and an 18-inch minimum, 2 fish/day daily limit regulation was implemented for catfish on Lake Keokee in 2016. The purpose of this regulation change was to improve the size structure of the channel catfish population and distribute the harvest of stocked channel catfish more evenly among anglers.
Biologist Reports
Regulations
Catfish must be at least 18 inches to harvest and the daily limit for catfish is 5 fish/day.
Statewide creel limits apply for all other species.
Gasoline motor use is prohibited.
A National Forest Stamp is required to fish Lake Keokee.
News
Lake Keokee Timber Cutting Completed
When Lake Keokee was constructed in 1975, much of the timber within the lake basin was left standing for fish habitat. Over time the trees deteriorated and toppled into the lake. Unfortunately, the break usually occurred at or just below the water's surface leaving stumps that created significant navigation and safety hazards for boaters on the lake.
In early 2018, a project was initiated to remove the tops of standing timber. The lake was drawn down about 3.5 feet to allow the timber tops to be cut by VDWR personnel. This project was completed in October 2018 with nearly 3,200 timber tops being removed. The lake release boards have been reinstalled and the lake will begin to refill as rainfall allows. However, anglers should continue to exercise caution while boating on Lake Keokee during the lake refill period and afterwards.
Facilities, Amenities, and Nearby Attractions
Facilities
Fee

✘

Parking

✔

Handicap-Accessible

✔

Food Concession

✘

Picnic Tables

✘

Grills

✘

Restrooms

✔
Amenities
Hiking Trails

✔

Bike Trails

✔

Viewing Blinds

✘

Observation Platforms

✘

Fishing Pier/Platform

✔

Boat Ramps

✔

Motorboat Access

✘

Horsepower Limit

✘

Electric Motor Only

✔

Paddle Access

✔

Camping

✘

Primitive Camping Only

✔
There is a ramp and courtesy pier for boat launching. A universally accessible pier is available a short distance from the parking area. Pit toilets are located in the parking area.
More Information
For more information about the lake's fisheries contact the Marion DWR office.
For more information about U.S. Forest Service facilities at Keokee Lake contact the Clinch Ranger District at (276) 679-8370.