Keokee Lake is a 92-acre impoundment located in Lee County. The lake is surrounded by National Forest lands. The lake offers fishing for largemouth bass, bluegill, redear sunfish, and channel catfish. Flooded standing timber is the dominant habitat type for this lake. Navigation routes were cleared while the lake was drawn down in 2003, but boaters should still use caution.
Maps & Directions
Access Site:
Map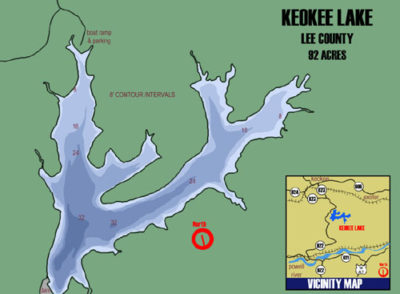 Fishing Opportunities
Bass fishing opportunities are somewhat limited at this time. The lake supports an average abundance of largemouths compared to other Southwest Virginia impoundments. The overall size structure of the population is poor, however. Very few bass over 12 inches long are collected in population samples. Age and growth data indicate that it takes more than five years for a largemouth in Keokee Lake to reach 12 inches. So, you can expect to catch bass at Keokee, but most of them will be small. The slow growth rates may be the result of the low productivity and tough foraging conditions in the past. Biologists will continue to monitor the bass population and consider options to improve the fishery. The fingerlings stocked from 2004 to 2006 were Florida strain hybrids that may offer improved growth potential compared to northern strain largemouths. Biologists will continue to monitor the bass population and try to improve its size structure.
Sunfish are an entirely different story at Keokee Lake. Bluegills and especially redear sunfish reach enormous sizes. Citation-sized (1 pound or 11 inches) sunfish are definitely a possibility here. Sunfish spawn in May and June, and that would probably be the best time to land a trophy.
If stocked channel catfish do as well at Keokee as they have in other small impoundments in recent years, fishing should really pick up in the near future. The new catfish stocking protocol seems to have made a big difference in small impoundment catfishing in Southwest Virginia. Channel catfish will be stocked each year.
Biologist Reports
Regulations
Statewide creel limits apply for all species.
Gasoline motor use is prohibited.
A National Forest Stamp is required to fish Keokee Lake.
Facilities
There is a ramp and courtesy pier for boat launching. A universally accessible pier is available a short distance from the parking area. Pit toilets are located in the parking area.
News
Keokee Lake Liming Completed
One hundred tons of limestone dust was distributed into Keokee Lake on April 12-13, 2011 in order to increase the lake's alkalinity. This is the first step toward improving the productivity of the lake. The next step will be applying fertilizer to the lake. Fertilizer application will begin later this spring. The liming and fertilization process should boost productivity and increase growth rates for fish. Plankton will be the first to benefit from the input of nutrients through fertilization. Small fish will then eat the plankton and larger fish will eat the small fish. So, the process should benefit both sunfish (that eat plankton) and largemouth bass that eat the sunfish.
More Information
For more information about the lake's fisheries contact the Marion VDGIF office.
For more information about U.S. Forest Service facilities at Keokee Lake contact the Clinch Ranger District at (276) 328-2931.