Lake Orange is a 124-acre Department-owned public fishing lake in Orange County that was impounded in 1964 and opened to fishing in 1967. The lake is located a few miles east of Orange, VA and offers a scenic setting surrounded by gently rolling farmland and hardwood forests. Access to the lake is off of the main lake peninsula on the western side where the boat ramp, concession, fishing pier, parking lot, picnic facilities and plenty of great shoreline access can be found.
Lake Orange is a eutrophic reservoir supporting a typical warm water fish community of Largemouth Bass, Bluegill, Redear Sunfish, Black Crappie, Channel Catfish, Chain Pickerel and Walleye. Walleye and Channel Catfish are stocked on a regular basis to provide anglers with good fishing action. Lake Orange is fertilized annually, as the added nutrients increase the lake's productivity and angler catch.
Lake Orange became popular for producing the world record White Bass of 6 pounds, 13 ounces in 1989. How White Bass were introduced into Lake Orange is still a mystery, as they were never officially stocked. Illegal angler introduction or accidental hatchery stocking. Gizzard Shad were illegally introduced sometime in the mid-1990s, and the population is now well established.
Lake Orange can be reached by taking Route 629 off of either Route 20 or Route 522, depending on where you are traveling from. Directional signs for Lake Orange are posted along these roadways. Travel on Route 629 until you see Route 739. Route 739 will take you to the peninsula located in the middle section of Lake Orange.
The Virginia Department of Wildlife Resources (DWR) requires an Access Permit for visitors to department-owned Wildlife Management Areas (WMAs) and public fishing lakes, who are age 17 and older, unless they possess a valid Virginia hunting, freshwater fishing, or trapping license, or a current Virginia boat registration. Learn more about the Access Permit.
Maps & Directions
From the town of Orange, go east on Rt. 20. Turn right on Rt. 629 and then left on Rt. 739 to the lake.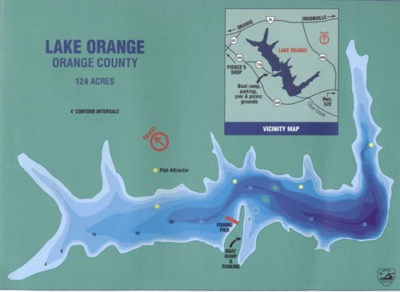 Fishing
The main target species at Lake Orange are Black Crappie and Largemouth Bass. The majority of the fishing pressure is placed upon these species. The lake provides angling opportunities for Walleye, Channel Catfish, Bluegill, Redear Sunfish and Chain Pickerel. Yellow Perch, White Perch, Warmouth and Common Carp also provide some action.
Largemouth Bass
The Largemouth Bass fishing is very good at Lake Orange. There are numerous bass in the 10 to 12 inch size range with a decent number in the 15 to 18 inch size range.
Due to desirable attributes including fast growth, good genetics, and ample forage, it was determined that this fishery was a good candidate for a "trophy" Largemouth Bass regulation (meaning that production of exceptional fish was likely given a reduction in harvest of large fish). The Largemouth Bass population has produced fish in the 11-12 pound range. In order to protect larger bass while encouraging the harvest of smaller bass, a new regulation was established in 2004. The regulation is a 16″ to 22″ protective slot, which means bass less than 16″ or larger than 22″ can be harvested (however, only one bass larger than 22″ can be harvested per day). Daily creel limit remains at 5 bass. Lake Orange bass feed heavily upon schools of Gizzard Shad. The abundance of shad in the lake has made fishing for bass a little more difficult. Anglers should try using crankbaits and other artificial lures that resemble a shad pattern and shape. Jigging spoons through schools of bass feeding on shad is another good pattern. A good fish finder will allow for finding schools of shad.
Black Crappie
The Lake Orange crappie fishery is in good condition with a healthy and abundant population. Anglers consistently catch crappie in the 1-pound range. Anglers do well catching crappie off of the fishing pier, fish attractors, or near the many beaver lodges. Anglers are encouraged to try various crappie style jigs until they find a pattern that works best. A good technique for Lake Orange crappie is using light jig heads tipped with small minnows.
Walleye
Lake Orange offers a decent Walleye fishery. It was initially stocked with Walleye in 1977. The lake has been stocked annually (except 1983, 1993-1995) at a rate of 100 Walleye/acre. Stocked Walleye usually measure about 1.5 inches in length. Due to the difficulty and cost of raising Walleye to larger size in hatcheries, biologists have decided to stock higher numbers of small fingerlings in hopes they will survive to keep the fishery alive. Walleye in the 4 to 5 pound range have been routinely caught at Lake Orange.
Channel Catfish
Lake Orange provides a good Channel Catfish fishery. Channel Catfish have been stocked since the lake was first impounded in 1964. The lake has been stocked annually at 20 fish/acre since 1986 (except 1996 and 2000) and the lake annually produces numerous catfish in the 2-pound-plus range.
Bluegill
The Bluegill population is abundant with fish averaging in the 6–7″ size range. The Bluegill fishery has suffered the impact of the Gizzard Shad introduction and proliferation. The Gizzard Shad population has fully established itself in Lake Orange. Largemouth Bass feed heavily upon the shad and less on the Bluegill. This switch in the food chain is causing an increase in the survival rate of Bluegill. As a result, more Bluegill are surviving to spawn and larger year classes of Bluegill are being produced. The biomass of Bluegill over the course of time, if not thinned out by predators or angler harvest, will lean toward slower growth and smaller size, a stunted population. Anglers are encouraged to harvest Bluegill.
Biologist Reports
Regulations
Largemouth Bass
There is a 16″ to 22″ protective slot limit on Largemouth Bass in Lake Orange. Anglers can harvest five Largemouth Bass per day. Anglers are encouraged to harvest bass in the 8 to 12 inch range to prevent stockpiling of the bass population. Bass between 16″ and 22″ must be released. Only 1 fish larger than 22″ may be harvested.
Black Crappie
There is a 9 inch minimum size limit on black crappie in Lake Orange. Anglers can harvest 25 Black Crappie per day.
Walleye
18 inch minimum size limit in Lake Orange. Anglers can harvest 5 Walleye per day.
Sunfish
There is no size limit for sunfish (Bluegill, Redear Sunfish, etc.) in Lake Orange. Anglers can harvest 50 sunfish (combined) per day.
Channel Catfish
15 inch minimum size limit for Channel Catfish in Lake Orange. Anglers can harvest 8 Channel Catfish per day.
Other regulations:
Camping, swimming, sailboats, hunting, trotlines and fishing tournaments involving prizes are prohibited.
Gill nets, seines and gasoline motors are prohibited except for official Department duties.
Cast nets are permitted for catching gizzard shad.
Boat anglers are permitted to use trolling motors on Lake Orange. Anglers with outboard motors on their boats can fish the lake as long as their motor is trimmed/propped out of the water. The gas tank should be removed from the boat if at all possible or the gas line disconnected.
Open fires are prohibited except in designated picnic grills.
Possession of alcoholic beverages is prohibited.
Wading while fishing is permitted.
News
Fish Habitat Enhanced
New fish structure habitat consisting of sunken Christmas trees and pallet teepees have been installed around the lake. Trees and pallet teepees were sunk with attached concrete blocks and marker buoys placed on these fish structure reefs. Black crappie and sunfish should find the added habitat to their liking.
Facilities, Amenities, and Nearby Attractions
Facilities
Fee

✘

Parking

✔

Handicap-Accessible

✔

Food Concession

✔

Picnic Tables

✔

Grills

✔

Restrooms

✔
Amenities
Hiking Trails

✘

Bike Trails

✘

Viewing Blinds

✘

Observation Platforms

✘

Fishing Pier/Platform

✔

Boat Ramps

✔

Motorboat Access

✘

Horsepower Limit

✘

Electric Motor Only

✔

Paddle Access

✔

Camping

✘

Primitive Camping Only

✘
Lake Orange provides numerous facilities with a concession that provides boat rental, bait and tackle. Picnic facilities, including a shelter, tables and grills, make for an enjoyable family outing. The lake is open year round and 24 hours a day for shore fishing and for private boats.
Angler's Landing (540-672-3997), the concession at Lake Orange, is open from mid-March through mid-October, however; the other facilities are open all year. The boat ramp is located on the right side of the peninsula in the protected cove. The floating fishing pier is a popular spot for handicapped and shore-bound anglers to try their luck.
The pier is located on the left-hand side of the peninsula. There is plenty of good shoreline access all along the peninsula and the trail along the cove. Several fish attractor reefs have been installed around the lake to help concentrate schools of fish.
More Information
For more information on Lake Orange, please contact:
Virginia Department of Wildlife Resources
1320 Belman Road
Fredericksburg, VA 22401
540-899-4169
Angler's Landing at Lake Orange
540-672-3997