Little Creek Reservoir was constructed in 1981 and is owned by the City of Newport News. The watershed is relatively small, and pumping water from Chickahominy Reservoir primarily regulates the reservoir. On occasion, water is also pumped in from Diascund Reservoir. Water from Little Creek is then pumped to the terminal reservoirs of the Newport News water supply system.
This is a relatively deep, clear lake with little structure. Fishing success is usually best along points and drop-offs. Anglers will find a depth sounder extremely helpful. The majority of fishing action usually takes place on the deep side in depths of 15 to 20 feet. Anglers can find some shallow water action during the early spring period while fish are closer to the banks during the spawning season.
Largemouth bass, walleye, saugeye, striped bass, black crappie, yellow perch, chain pickerel, bluegill, and redear sunfish are the major species of interest in this reservoir. 
Maps & Directions
From U.S. 60 at Toano (James City County), take Route 610 (Old Forge Road) to Lakeview Drive, turn left and take the second park entrance on the right. Map
Fishing
Little Creek Reservoir has a variety of fish species that anglers can target. The electrofishing survey conducted on May 8th, 2018 revealed the presence of 15 fish species. Information on the popular targeted species will be covered.
Largemouth Bass
The collection of largemouth bass through electrofishing has been difficult over the years at Little Creek Reservoir. The clear water, steep banks and limited shoreline cover all combine to make it complicated to estimate the status of the bass population. The basic electrofishing boat is good for sampling the shoreline areas of most reservoirs with water depths in the 2 to 6 foot range. Electrofishing efforts along shoreline areas that are deeper than 6 feet tend to spook more fish than effectively shock. The 2019 electrofishing survey collect 76 largemouth bass from the 6 sites that were sampled. The catch rate of 38 fish/hr is much less than most reservoirs in Region 1, District 1. Collected bass ranged in size from 5 to 19.76 inches with a high percentage of bass in the 11 to 16-inch range. The sample collected 24 preferred-sized bass that were greater than 15 inches in size. Anglers are reminded that a lot of the bass action will be found in water that is 10 to 15 feet deep. The bass will take advantage of the cooler water that is present in the deeper areas of the reservoirs. There are a limited number of local bass fishing clubs that try their luck out at Little Creek Reservoir. Fishing the reservoir definitely takes some patience and a fair amount of time to figure out the best techniques. 
Striped Bass
DWR stocks Little Creek Reservoir annually with striped bass fingerlings. The reservoir is stocked at a rate of 25 striped bass fingerlings/acre for a total of 23,675 fingerlings each May. The fingerlings are stocked in a pelagic manner by way of boat to spread them out to roughly 25 different stocking locations. Little Creek Reservoir has the capacity to produce some very large striped bass. The new reservoir record of 36 pounds was caught by an angler during the spring of 2019. The majority of the striped bass action comes from dedicated anglers that are willing to catch their own bait. These anglers use cast nets to catch their desired bait of blueback herring and gizzard shad. The striped bass anglers that frequently fish the reservoir will slow troll live herring at the proper depth to catch their fair share of stripers. Anglers have been catching an abundance of juvenile striped bass during the summer of 2019 as they troll night crawlers for walleye and saugeye. From all indications and reports, it appears the 2018-year class is off to a great start with high % of fish surviving their first year plus in the system. 
Walleye and Saugeye
Walleye have been stocked into Little Creek Reservoir on consistent basis from 2008 to 2018. Most stocking years have consisted of a full allocation of 94,700 walleye fingerlings (100 fish/acre). There have been a few years, here and there, in which DWR hatcheries could not produce the desired stocking allocation. The current walleye population has been providing a lot of action for anglers trolling deep diving crank baits or bottom bouncing nightcrawler rigs. Most of the summer action can be found in the 18 to 24-foot depth range with fish holding just above the thermocline. The majority of caught walleye have been in the 3 to 4-pound range. Recent DWR night electrofishing surveys have revealed some trophy walleye in the 5 to 8.75-pound range. DWR staff have been inserting $20 reward tags into walleye for several years as anglers are encouraged to mail in any reward tags with some catch information if they would like their $20 reward check. The concession stand at Little Creek Reservoir should be able to pass along the reward tag sheet. Contact DWR Region 1 office at (804) 829-6580 for more information on the tagging study. Saugeye, a cross between a male sauger and female walleye, were stocked into the reservoir in May 2014, with 95,000 fish stocked. The saugeye have matured and reached upwards of 5 to 5.5 pounds. Saugeye will typically display dark saddle bar blotches on their body along with a vibrant pale orange coloration to their fins. Rows of black dots/streaks can be seen in the web margins of their dorsal fin. Both the walleye and saugeye have been foraging heavily on the blueback herring population. Little Creek Reservoir has a strong population of blueback herring in the 5 to 6-inch range.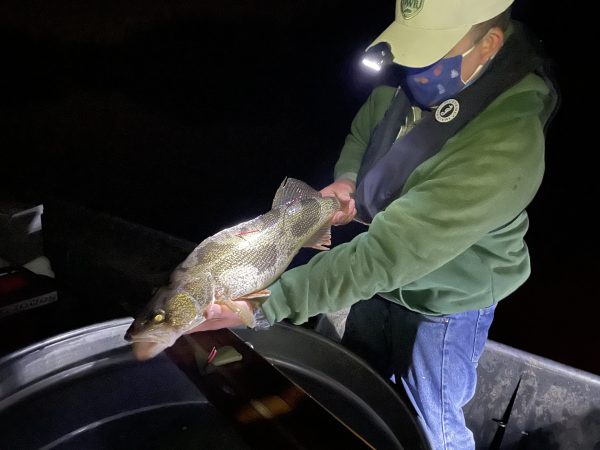 Scott Herrmann, DWR Fisheries Biologist, with a 7.2 lb Saugeye encountered during an electrofishing survey on March 9th, 2021 on Little Creek Reservoir.
Black Crappie
Little Creek Reservoir has produced some very large black crappies in the 2 to 2.75-pound range over the last few years. Black crappies tend to school in waters that are too deep to effectively sample with an electrofishing boat. An electrofishing survey will collect some black crappies that are within reach of the shoreline. The 2018 survey revealed a limited abundance of black crappie with 16 fish collected. Fish ranged in size from 9 to 14.75 inches. Past trap net surveys have been hit or miss as it relates to encountering schools of crappie migrating close to the shoreline. Anglers are encouraged to try their luck on the outside edges of the beaver huts when the reservoir is at full pool. Crappies are similar to a lot of the other fish species that tend to hold in the 15-foot range when the reservoir is down a few feet and the water temperatures are on the hot side. Past fall surveys have shown some of the larger crappie to be feeding on 5 to 5.5-inch blueback herring. These fish are taking advantage of the present forage base. 
Bluegill and Redear Sunfish
The bluegill population is dominated by fish less than 6 inches in length. The 2018 electrofishing survey collected 562 bluegills during three sample runs dedicated to complete community sampling. This catch rate of 562 fish/hr showed a decline from past surveys. The largest bluegill measured 8 inches in total length. The redear population appears to be similar to the bluegill population with an abundance of juvenile fish present. The 2018 electrofishing survey collected 157 redear sunfish for a catch rate of 157 fish/hr. Although there were many redear sunfish in the 2 to 4-inch range, there still was a fair number of fish in the 5 to 7-inch range. Anglers have had success with numerous citation-sized redear sunfish over the last few years. Recent fishing reports have shown a good presence of 9 to 11-inch redear sunfish being present. The northern creek arm of the reservoir up from the pump house is a popular location during the month of May to find larger-sized redear sunfish stacked up in small pocket coves.  
Chain Pickerel
The chain pickerel population within Little Creek Reservoir has risen and fallen over the last five years. The abundance of 13 to 16-inch fish typically seen during spring electrofishing surveys have matured to provide anglers with a few 2.5 to 3-pound fish. Some anglers have been harvesting their fair share of near citation-length chain pickerel. The 2018 survey revealed the collection of 59 chain pickerel for a CPUE of 29.5 fish/hr. The collected pickerel ranged in size from 6 to 20 inches, with the majority of fish in the 13 to 17-inch range. Various year classes were easily seen on the length frequency histogram, although no overly impressive contribution from one-year class could be detected. Chain pickerel serve their role as an important part of the fishery. They help to forage upon the numerous small sunfish that are present in the reservoir. These fish held tight to the bank under whatever cover (sticks, grass, etc.) that they could find to create an ambush point for feeding. The chain pickerel have been reported to have switch to a summer pattern where they can be found by anglers in the 15 to 20-foot depth range. It appears that the pickerel are taking advantage of some cooler water that is found at that depth.
Channel Catfish
Little Creek Reservoir has a decent abundance of channel catfish considering the fishery is not stocked. The natural reproduction provides enough recruitment to keep several year classes actively part of the fishery. Anglers have reported catching several quality-sized channel catfish while trolling around for walleye. A 30-pound channel catfish was caught by an angler during the early summer of 2019. Any of these larger catfish have turned their attention to feeding on blueback herring schools. Juvenile sunfish will provide the rest of the forage base for catfish that decide to hang tight to the shoreline. 
Yellow Perch
Based on the reports of anglers, Little Creek Reservoir has a good yellow perch population. Anglers have reported hundreds of citation-sized yellow perch over the years. Recent DWR surveys are unsuccessful in finding many of these larger perch as they typically hold deeper than where the electric field can travel to stun fish. The majority of the trophy yellow perch catches have come from anglers that are trolling around in search of walleye. 2019 catches include perch up in the 13 to 14-inch range. While other Newport News Reservoirs are overrun by an influx of juvenile yellow perch (3 to 5-inch fish), Little Creek Reservoir does not have that problem as the walleye and saugeye are most likely the driving force that keeps their population in check. If you catch a yellow perch at Little Creek Reservoir, it will most likely be a respectable fish. 
Biologist Reports
Regulations
There is a 12-inch minimum size limit on largemouth bass, which has been in effect since the reservoir was opened to fishing in 1988.
The reservoir is open to fishing sunrise to sunset and park personnel determine these hours.
Gasoline-powered motors are not allowed, but electric trolling motors can be used.
No bank fishing is allowed except from the fishing pier.
All other regulations are as stated in the Virginia Freshwater Fishing Regulations booklet.
Facilities, Amenities, and Nearby Attractions
The facilities at Little Creek include a boat ramp, 140-foot fishing pier, picnic tables and grills. In addition, a second peninsula covering about 20 acres provides a nature trail, play area, and more picnic tables and grills. Boats, canoes, paddleboats, electric motors and batteries can be rented from the concessionaire.
More Information
For information please contact:
Little Creek Reservoir Park
180 Lakeview Drive
Toano, VA 23168
Contact
757-603-7853
or visit the website.
For further information please contact:
Department of Wildlife Resources
3801 John Tyler Hwy.
Charles City, VA 23030
Phone: (804) 829-6580, Ext. 126