Nottoway Lake is a scenic 188-acre impoundment located in Nottoway County, Virginia. With exceptional cover and a wooded shoreline, this lake offers a great opportunity for anglers to catch several warmwater species of fish in a rural setting. The lake was impounded in 1978 and opened to fishing just two years later. Most of the standing timber was left at that time as fish cover in the lake.
The lake was stocked in 1978 with largemouth bass, bluegill, redear sunfish and Florida strain largemouth bass. In 1979, Nottoway Lake was stocked again with largemouth bass. That year, channel catfish stockings of 25 per acre began and have continued in almost every other year since.
The lake is owned and managed by the Va. Department of Game and Inland Fisheries. To reach this wonderful fishing experience, take Route 606 north off of Route 460 near the town of Blackstone, Virginia. Follow the signs for the public fishing lake to Nottoway Lake.
The Virginia Department of Wildlife Resources (DWR) will require an Access Permit for visitors to department-owned Wildlife Management Areas (WMAs) and public fishing lakes, who are age 17 and older, unless they possess a valid Virginia hunting, freshwater fishing, or trapping license, or a current Virginia boat registration. Learn more about the Access Permit.
Maps & Directions
Nottoway Lake is located six miles north of Blackstone. From U.S. Rt. 460 west, exit right onto Rt. 606 and go about 5.1 miles to the lake entrance. The lake can also be reached from U.S. Rt. 360 west. Fromt 360 west, go south on Rt. 153 to Spainville, then right on Rt. 610, left on Rt. 609 and right on Rt. 606 to the lake. Stores that sell bait and some fishing tackle are located on U.S. 360 and 460. Map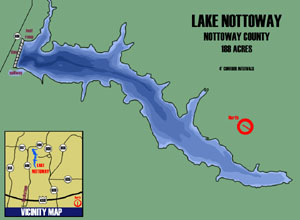 Fishing
Largemouth Bass
The current fishery supports a healthy population of largemouth bass due in part to a 14 to 18 inch protected slot limit. The slot limit was imposed to allow harvest of ample numbers of largemouth less than 14 inches and still provide an opportunity to catch quality fish. Good numbers of largemouth bass in the one to three pound range are abundant with a few bass in the seven to ten pound range caught occasionally. Growth rates for largemouth are very good compared to the state average with most fish reaching catchable size at age 3. The spring spawn is the best time of year to catch a trophy-sized fish. Spinnerbaits, plastic worms and crankbaits are best suited for bass from April until early June. During the summer months and on into the fall, jigs work best when working deep water where fish congregate these times of the year.
Sunfish
Bluegill and redear sunfish offer anglers in the spring a fantastic bank fishing opportunity. Spawning fish congregate in the spring on the shoreline along the dam where they are easily accessible. There are abundant numbers of both species weighing up to half a pound and the number of larger fish has been increasing over the last several years. This trend is expected to continue. Overhanging trees and submerged structure offer the best cover around which to find either of the sunfish species. Live bait, jigs and small crankbaits are the best lures for catching in the spring and summer months.
Crappie & Catfish
Black crappie and channel catfish provide fishermen with a good change of pace when fishing. Numbers of crappie in the lake are low, however the average size of those fish is excellent. Small minnow plugs and live minnows are the best bet for catching these tasty fish. The catfish fishery is sustained by stocking fish every year. Natural reproduction is not successful enough to maintain good numbers of fish so the department releases about 15 fish per acre each year.
Biologist Reports
Regulations
Largemouth Bass
5 per day, only one over 18 inches
14 – 18 inch slot limit (all fish 14 to 18 inches must be release unharmed)
Sunfish
50 per day in aggregate
No length limits
Crappie
25 per day
No length limits
Channel Catfish
8 per day
15 inches minimum
General
Outboard motor use restricted to 10 hp or less
Prohibited activities: swimming, open air fires, trotlines, littering, sailboats, alcohol, trapping, camping, and fishing tournaments involving prizes
Nottoway Lake is open to fishing 24 hours a day
Facilities, Amenities, and Nearby Attractions
A large parking lot provides ample parking for all anglers. Bank fishing is mainly limited to the dam and area surrounding the parking lot. The boat ramp is open all year round and night fishing is welcomed at the lake.
More Information
For more information on Nottoway Lake, please contact:
Virginia Department of Game and Inland Fisheries
107 Foxwood Drive
Farmville, VA 23901
(434) 392-9645