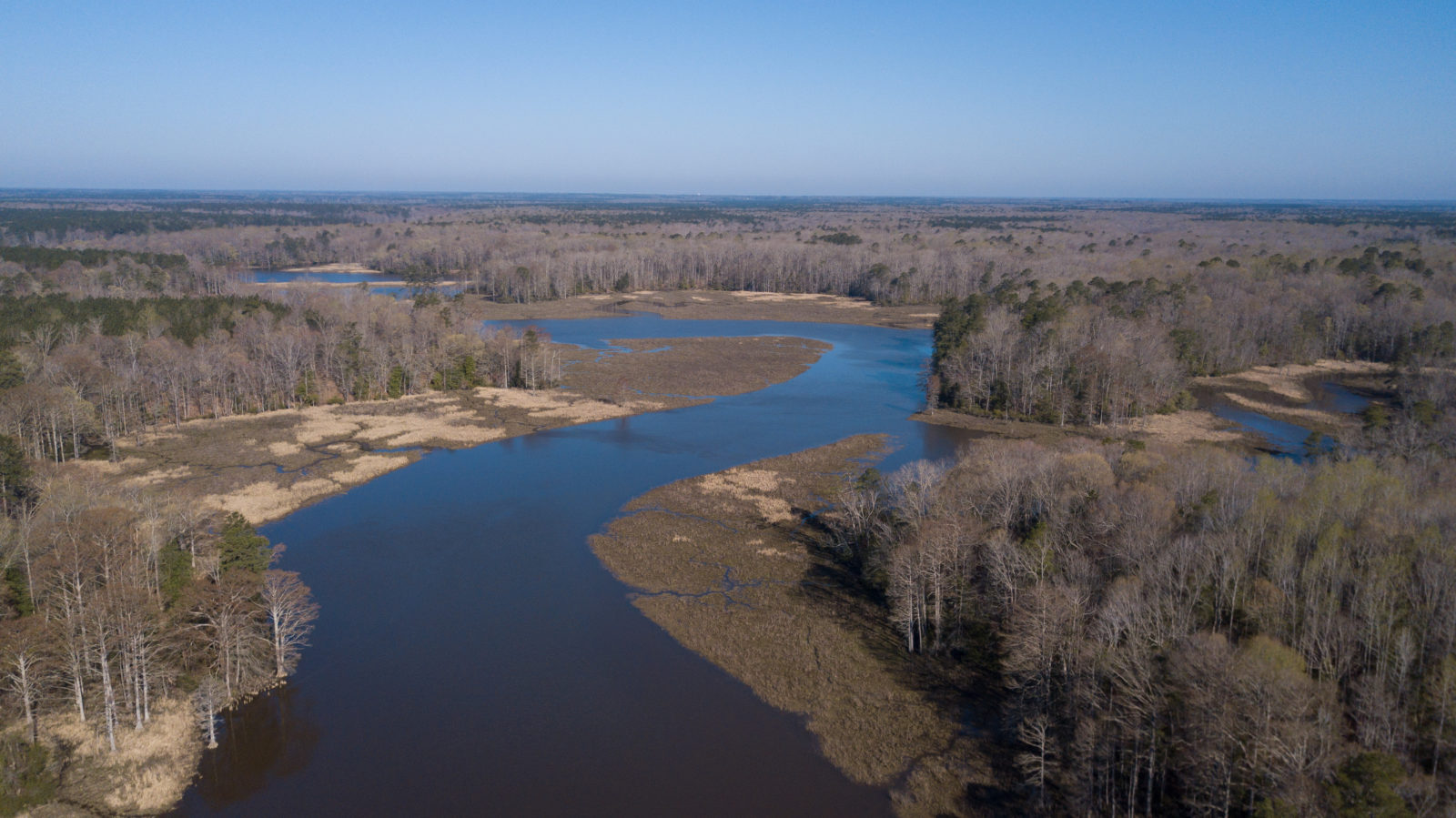 The Chickahominy Wildlife Management Area is the only DWR management area in the coastal plain that consists mainly of woodlands and is managed primarily for upland wildlife rather than wetland species. This type of management, coupled with the area's location along a major tidal river and creek, gives this Charles City County area a variety of habitat types that is unique to the Department's Wildlife Management Area system. A sighting-in range located at the WMA provides hunters a place to hone their skills.
The management area gains its name from the Chickahominy River which forms the area's eastern boundary. To the south, Morris Creek flows through the area and then along its southern boundary. Other smaller tidal creeks and marshy guts cut into the forests to provide additional wetland diversity. The upland, though mainly wooded with mixed hardwood and pine stands, also features cultivated, mowed and "old field" openings. The area's 5,217 acres are contiguous although there are some interior, private properties. Nearly level, elevations range from about 25 to 50 feet.
Hunting
Hunting opportunities on the Chickahominy Wildlife Management Area include those for deer, turkeys, squirrels, rabbits, doves and waterfowl. Timber is sold to to create small clearings and mowed trails provide linear openings and create "edge" to further enhance existing habitat. White-tailed deer are abundant. Turkeys use the area extensively, and squirrels are plentiful during most years. Open areas and cut overs provide important early successional habitat supporting a variety of small game.  Ducks are common and use the beaver ponds as well as tidal waters adjacent to the property. Waterfowl is hunted primarily by floating blind, hunters being allowed access on a first come basis. Stationary blinds are not allowed.
Sighting-In Range
Be sure to bring your own paper targets, cardboard backing, clothespins and tape. No reservations are required. Visitors age 17 and older who do not possess a valid Virginia hunting, freshwater fishing, or trapping license, or a current Virginia boat registration, will need to purchase an Access Permit. No pistol shooting is permitted. Shooters are limited to one hour of shooting when the range is full.
Range Operation Dates and Hours
September 1 to March 31, closed on Mondays except holiday Mondays.
Dates
Hours
September
Closed on Monday
Tuesday-Saturday: 9 AM – 6:30 PM
Sunday: 1 PM – 6:30 PM
October – January
Closed on Monday
Tuesday-Saturday: 9 AM – 4:30 PM
Sunday: 1 PM – 4:30 PM
February – March
Closed on Monday
Tuesday-Saturday: 9 AM – 5:30 PM
Sunday: 1 PM – 5:30 PM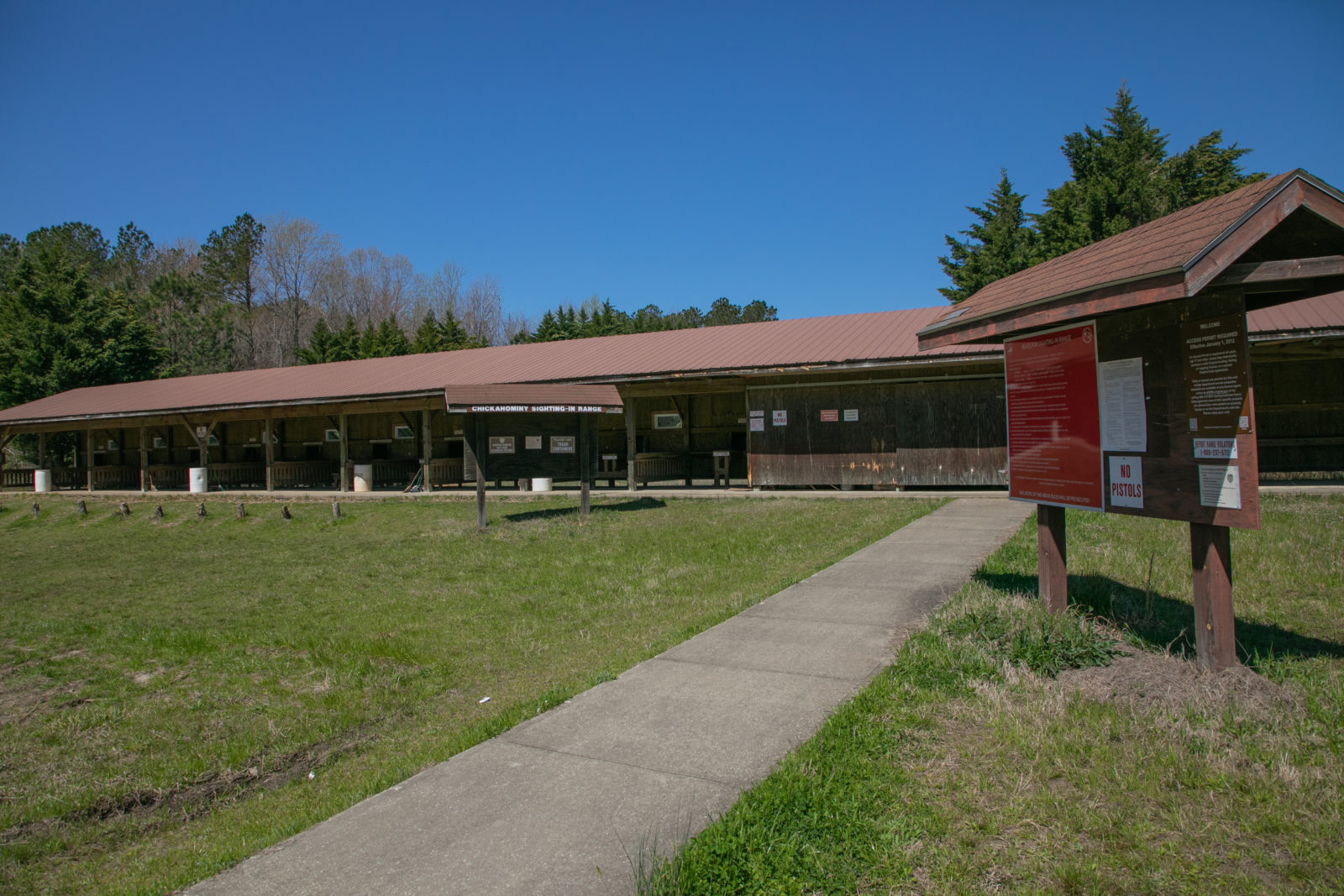 Fishing
Morris Creek is a good largemouth stream and also provides excellent fishing for crappie and catfish, including channel, blue and white. Many of the smaller tributaries are also productive. The species mentioned above also occur in the Chickahominy River as it passes the management area. Additionally, the river often provides good fishing for striped bass and yellow perch.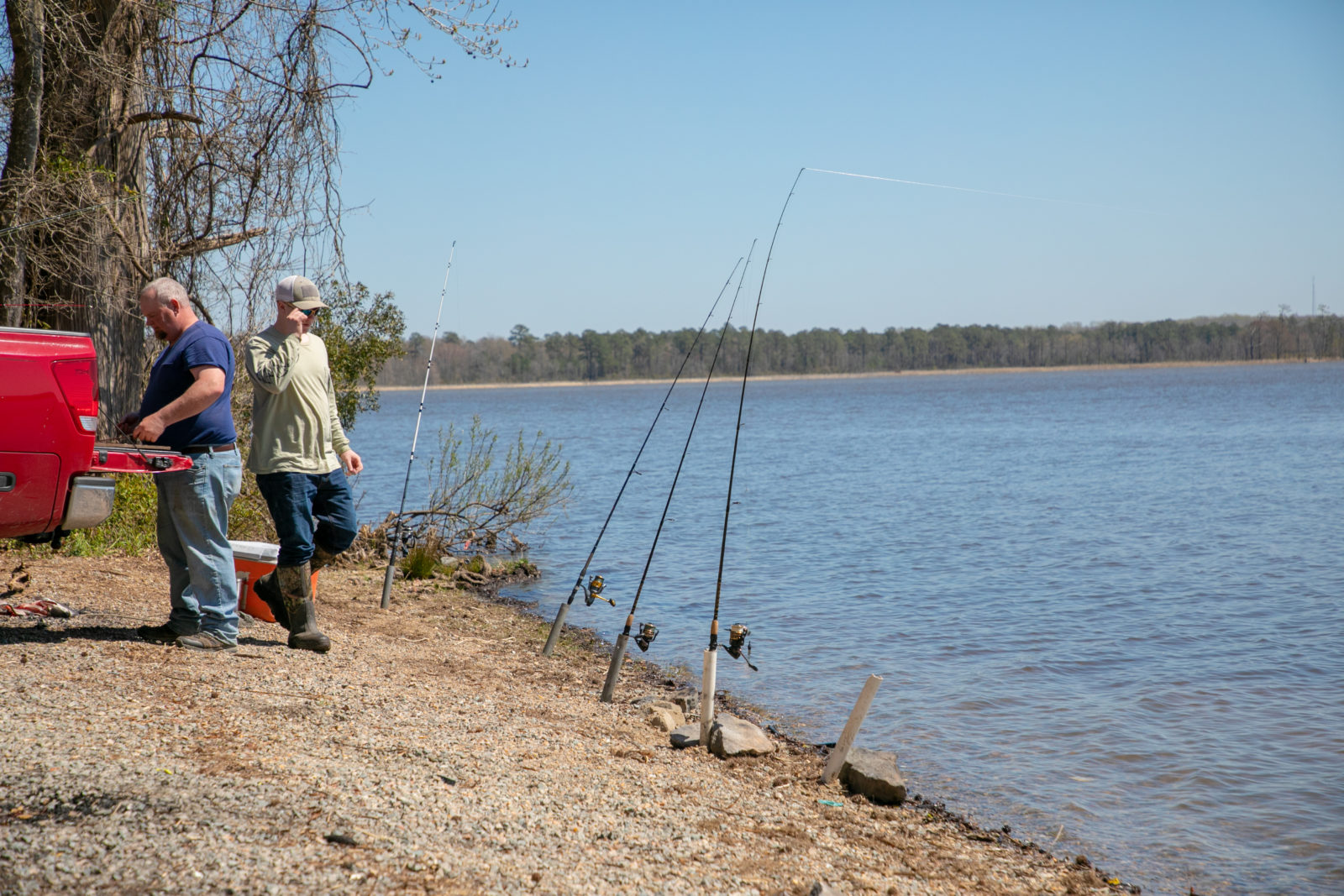 Other Activities
The Chickahominy Wildlife Management Area is excellent for observing and photographing wildlife. Visits to the bluffs along the Chickahominy River, or the interior of the property often yield sightings of many upland and wetland plant and animal species, including ospreys and bald eagles. Nearby, a number of restored plantations are located along the James River and easily accessible from state route 5. Also close by are Lake Harrison, the Federal Fish Cultural Station, Williamsburg and the Scotland-Jamestown Ferry.
Facilities
Parking areas are located along routes 623 and 621 as well as along some of the interior roads. An excellent public boat ramp on Morris Creek gives boating and fishing access to the creek and the Chickahominy and James Rivers. Trails mowed to benefit wildlife also invite hikers. A well developed sighting-in range for rifle and shotgun shooters is a popular feature of this area.
Directions
The Chickahominy Wildlife Management Area is most readily approached from state route 5 eight miles east of Charles City Courthouse, at Rustic. Here, take route 623 north. The area may also be approached from U.S. Route 60 at Providence Forge by taking State Highway 155 south; then left onto route 614;, left again on 615 and bear right onto 623. Consult the map for greater detail.
Images by: Ron Messina/DWR
Recreational Opportunities