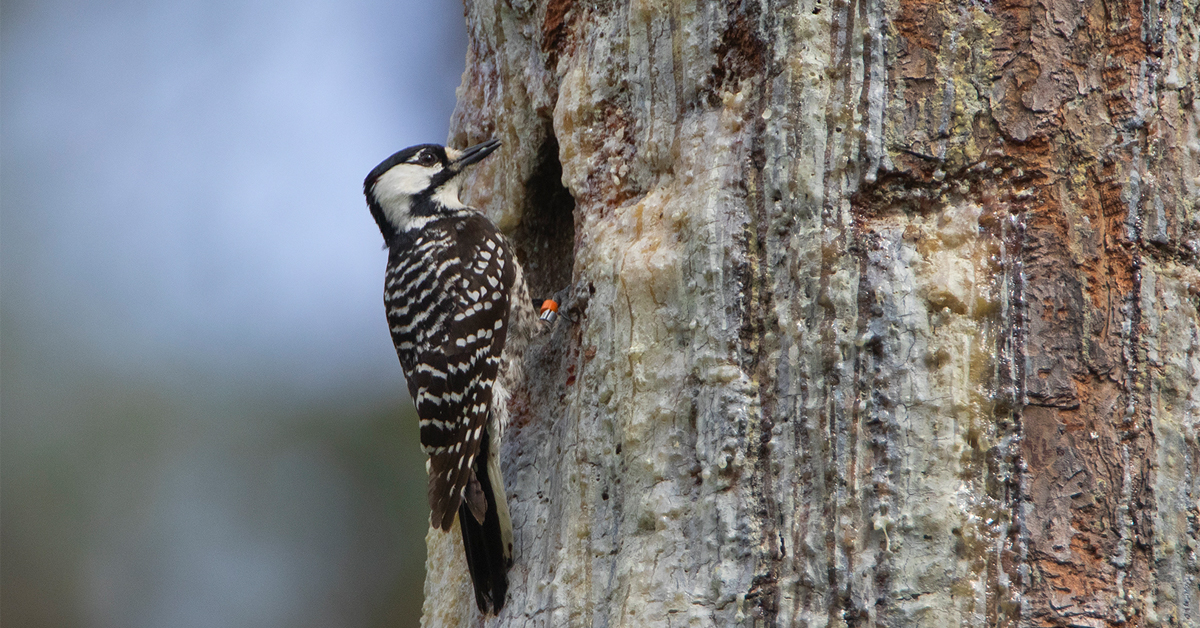 By Sergio Harding, DGIF Nongame Bird Conservation Biologist
Photos by Lynda Richardson, DGIF Art Director
As tall pine trees swayed in the breeze, brown-headed nuthatches squeaked like rubber duckies. Field sparrow and prairie warbler songs ascended as if reaching for the sky. A red-eyed vireo seemed to duel a summer tanager with its sing-songy vocalization (the tanager won).
This was the backdrop against which two chicks of the federally endangered red-cockaded woodpecker were banded at Big Woods Wildlife Management Area (WMA) on the morning of May 11. The birds were banded by biologists from the Center for Conservation Biology at the College of William and Mary.  Looking on and savoring the fruits of their labor were biologists from the Virginia Department of Game and Inland Fisheries (DGIF) and The Nature Conservancy, whose habitat management efforts at the WMA made it possible for the woodpeckers to nest.
This marks the second year that the woodpecker has nested on the WMA. With a total Virginia population of just over 100 birds in 18 potential breeding groups at three sites, every individual counts. The hatching of the two chicks from a clutch of four eggs at Big Woods is therefore another positive step in the ongoing recovery of red-cockaded woodpeckers in the Commonwealth.
A second cluster of pine trees provisioned with artificial cavities is ready to welcome additional breeding woodpeckers to the WMA as we seek to grow their population into the future. In the meantime, we await the fledging of the two newly-banded chicks in roughly three weeks in order to bring this year's success story to a close.
How to Support Red-cockaded Woodpeckers in Virginia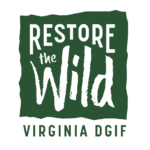 Purchase a Restore the Wild Membership to support the DGIF's habitat restoration work, such as that accomplished at Big Woods WMA. The membership also serves as your pass to visiting Big Woods WMA and over 40 other WMAs throughout the Commonwealth.
Consider participating in a Safe Harbor Agreement, if you are a landowner with property adjacent to Piney Grove Preserve, Big Woods WMA, or Great Dismal Swamp National Wildlife Refuge.
If visiting red-cockaded woodpecker viewing areas, such as at Big Woods WMA, please stay out of the marked stands of trees that hold the woodpeckers' cavities. Do not approach, pursue the birds, or play callback recordings—all of which are considered harassment of this endangered species.
To learn more about Red-cockaded Woodpeckers and their history in Virginia, visit their species profile on the DGIF website.
*DGIF acquired Big Woods WMA through funds obtained from the U.S. Fish and Wildlife Service's Recovery Land Acquisition Grant, specifically in service of conservation for the federally endangered Red-cockaded Woodpecker.