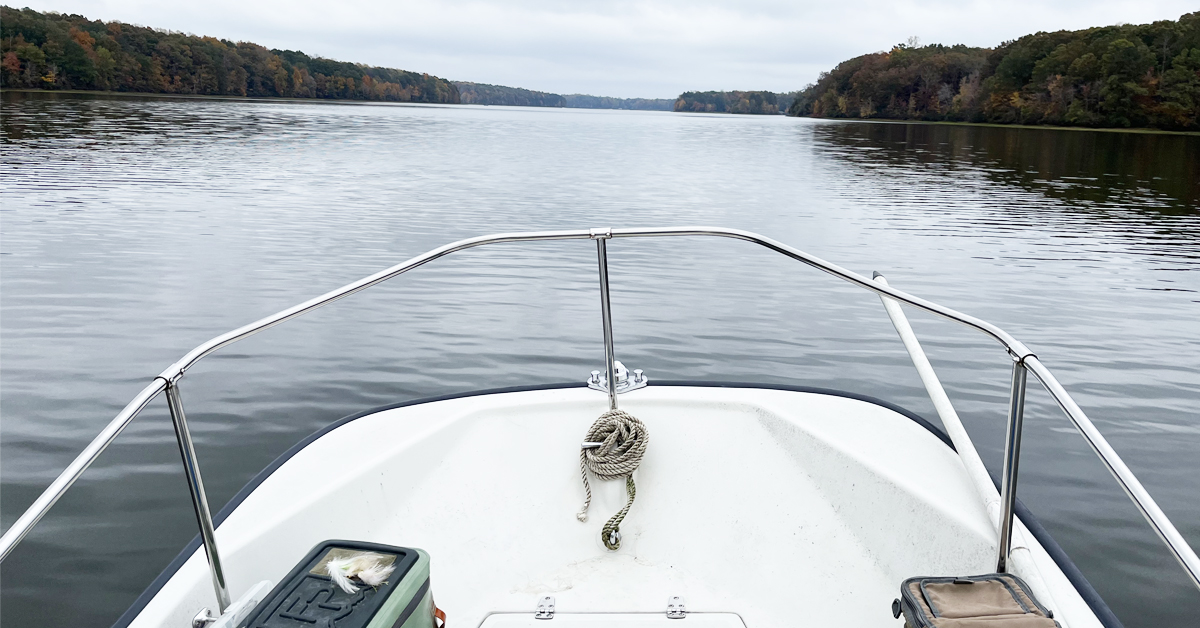 By John Page Williams
Photos by John Page Williams
Lake Chesdin is a 3,100-acre reservoir that serves as a water supply for the bustling Tri-Cities area of Petersburg, Colonial Heights, and Hopewell, as well as Chesterfield, Dinwiddie, and Prince George Counties. It also supplies excellent boating and fishing to the half-million people who live close by or within an hour's drive, including residents of Richmond and Henrico. The Brasfield Dam, built in 1968, backs up the Appomattox River for eight miles-plus, depending on the river's flow. At full pool, the lake's surface elevation is 157.2 feet.
The Appomattox River Water Authority owns the lake and the dam, while the Virginia Department of Wildlife Resources (DWR) manages the fisheries, boating, and surrounding wildlife resources. They include one of the Commonwealth's finest largemouth bass stocks, along with black and white crappie, redear sunfish, channel catfish, walleye, saugeyes, and several other species. For wildlife watching, the adjacent John J. Radcliffe Appomattox River Conservation Area is a site on DWR's Virginia Bird & Wildlife Trail. DWR maintains a two-lane launch ramp with pier on the lake near the dam on the Dinwiddie side.
We visited the lake in November with Alex McCrickard, DWR's aquatic education coordinator, who's a veteran of several gillnet surveys on Chesdin with departmental biologists. While Chesdin wasn't at full pool on the day of our visit, its winding Appomattox channel still offered depths over 25 feet down by the dam and more than 15 feet most of the way up to the stump field at its headwaters. Our skiff's pushpole helped a lot as we explored the flats up there. The old river channel provides plenty of fish habitat, both shallow and deep. Note, though, that the channel winds close to shore in some places mid-lake. It also shifts quite a bit in the headwaters. Be especially careful upstream of Cattle Creek. A lake chart, whether printed or digital, can be a big help in navigation.
At any time of year, it's worth keeping a pair of binoculars and a field guide aboard, even for casual birders. The fish population draws great blue herons, belted kingfishers, bald eagles and—from March to September—ospreys. Winter brings Canada geese and migratory waterfowl. The John J. Radcliffe Appomattox River Conservation Area offers more information on additional species that visit the lake through the seasons of the year.
Fall colors were lovely on our November visit. The lake lends itself to many water activities, from hard-core tournament bass fishing to family cruises aboard pontoon boats and exploration by paddlecraft such as canoes, kayaks, and stand-up paddleboards. The one caution is that boat traffic can be heavy and fast. Bass anglers fish Chesdin year 'round, with frequent weekend and evening catch-and-release tournaments. Warm weather weekends bring out families in all sorts of craft. It's important at all times to observe safe boating practices, beginning with ALL occupants ALWAYS wearing life vests aboard ANY vessel.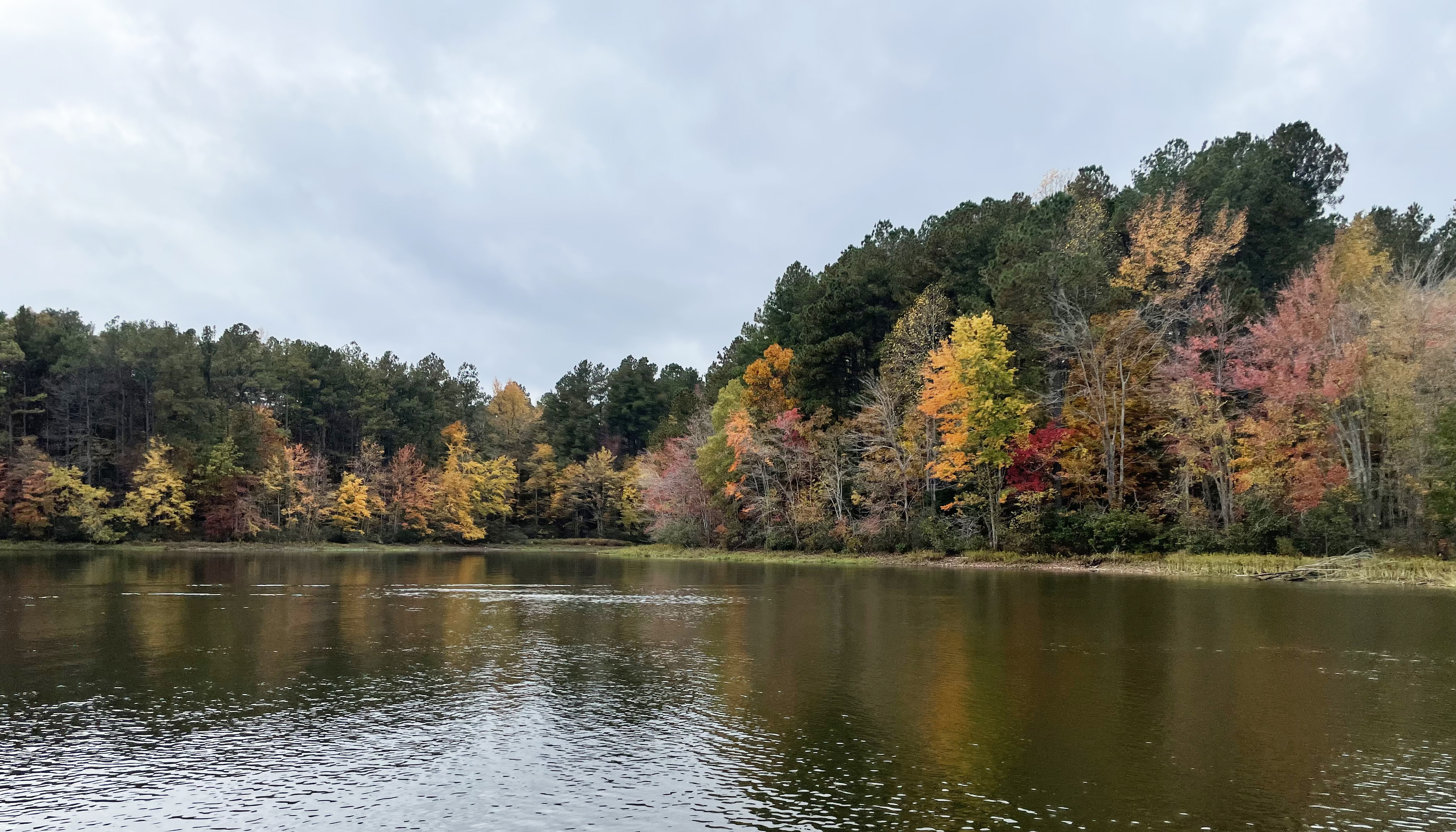 It's fishing, though, that draws the most people to Lake Chesdin, beginning with DWR's Chief of Fisheries, Dr. Mike Bednarski. This photograph shows him with a well-fed 6.5-lb. largemouth bass he caught on a gold, suspending jerkbait here in during February a couple of years back. "These bass have plenty to eat," he told us. "Chesdin has a rich, diverse natural food web, including shiners, panfish (especially large numbers of 5- to 7-inch bluegill sunfish), and gizzard shad. A 22-inch fish will weigh close to seven pounds." Surveys by DWR biologists show an abundance of "preferred-size" bass (15″-20″), with many "quality" fish just below and reasonable opportunities for "memorable" 20″-24″ fish like the one pictured. If there's any downside, he suggested, it's that with so much natural food available, especially in the fall, it can be difficult to get their attention with lures.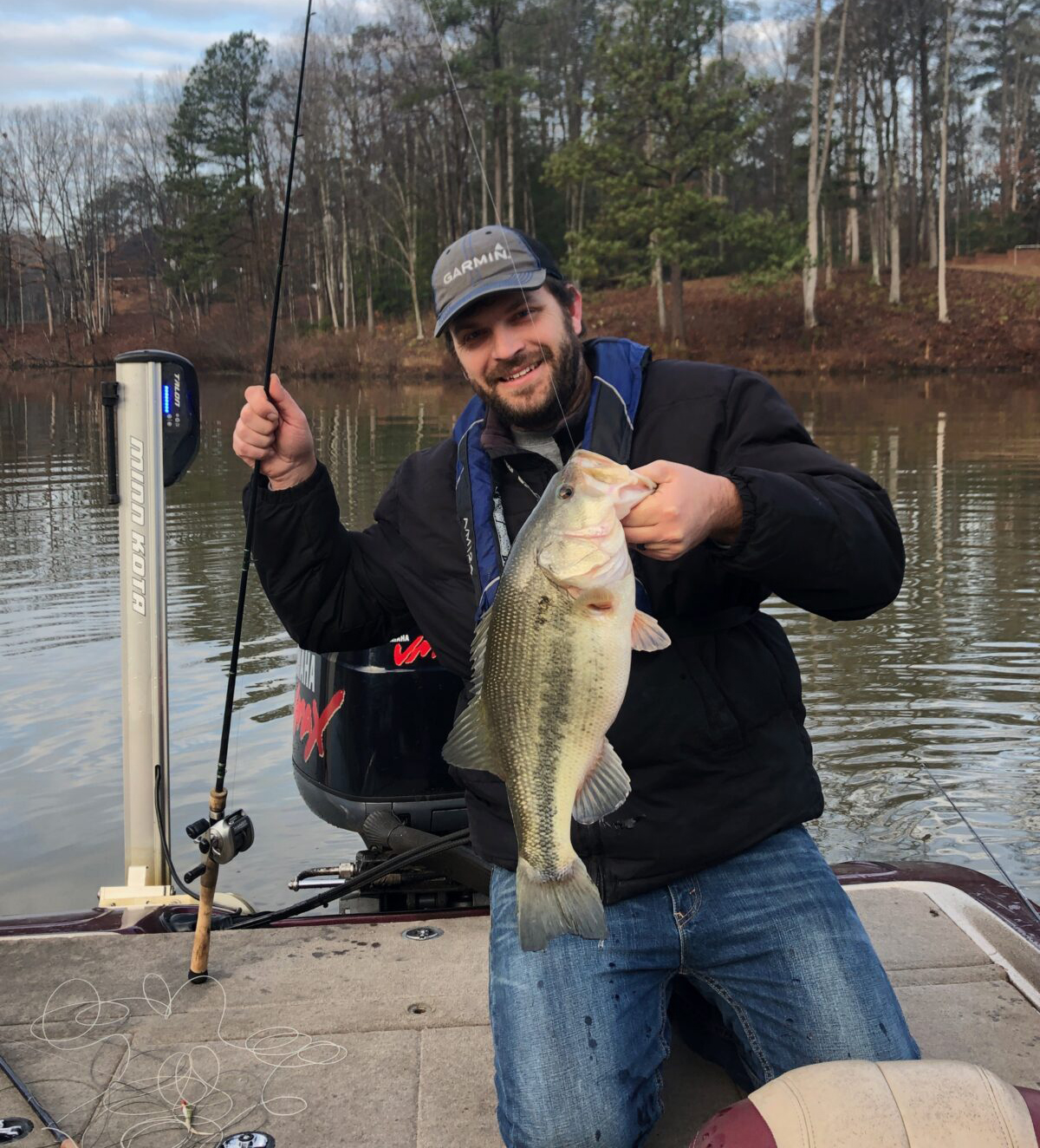 "Chesdin changes through the year," he continued. "It's a dynamic system on a big river. To be successful, anglers need to learn the seasons. I'm typically targeting vegetation—water willows, hydrilla, and lily pads—along with current and structure. In cold weather, the fish tend to forage over the remains of hydrilla and lily pad beds in four to six feet of water just off the shorelines. If the main lake becomes dirty from heavy run-off up the Appomattox watershed, look for clear water up in the creeks. At that time, many fish are surprisingly shallow. For them, light jigs, 1/8- and 1/16-oz. heads with sharp, light wire hooks do well with 2″-3″ swimbaits in natural colors like green pumpkin. If you hang up in weeds, shift to a lighter jig. Hair jigs in subdued colors work then too. Throw something that doesn't look obviously fake; make it look organic—is it a leech, a minnow, or a crayfish? A surprising variety of species bites them, not just bass but also crappie, chain pickerel, and even sunfish. In slightly deeper water just off the banks, suspending jerkbaits catch some of the year's biggest bass.
"As the water warms to spawning temperatures, the bass move shallow into shoreline pockets of water willow," Bednarski continued. "When the water is clear, it's possible to sight-fish spawners with a spider grub in pockets down-lake. Post-spawn is a great season. The fish are hungry. It's time for big swimbaits. Mid-summer gets hot and crowded. I fish early in the morning around hydrilla beds at the top of lake, throwing topwater lures like poppers, frogs, and buzzbaits. Fall is the season when Chesdin's bass key on all of the forage fish that have grown over the summer. They feed heavily to fatten up for winter. Then it's swimbait time again, working carefully over main-lake points. Being successful means putting in time, working key spots thoroughly. Again, it's most important to learn what the fish are doing at each season and fish accordingly."
As other fisheries, Lake Chesdin hosts black and white crappies that feed on shiners, juvenile gizzard shad, and, in spring and summer, young bluegills. Many are in the seven- to eight-inch range, though there are larger fish around, including a reasonable number of citation size fish (15″ or 2 lbs.). As to the general category of bream, the lake's bluegills are mostly small, but the redear sunfish ("shellcrackers") show some promise, with fish in the eight- to 10-inch range. DWR has stocked walleyes and saugeyes, which appear to be doing well according to recent surveys. These good-tasting fish offer anglers opportunities to learn new skills.
The fishery provides a good opportunity to catch quality-sized (20″-25″) channel catfish along with some white catfish. One angler we talked with spoke enthusiastically of summertime jug fishing for Chesdin's channel cats from her family's pontoon boat (see the Freshwater Fishing & Boating in Virginia regulations book for special regulations).
In the end, there's no bad season and plenty of good reasons to Explore the Wild from DWR's public landing on Lake Chesdin.  Just remember to practice boating safety, beginning with wearing a life vest.