March 1, 1999: a great day in Virginia history!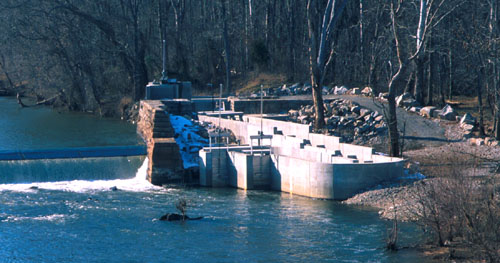 On that day, the Department of Wildlife Resources (now DWR) opened the fishway at Bosher's Dam on the James River for its inaugural spawning run, providing fish with access to 137 miles of the James River and 168 miles of its tributaries. Not since 1823 could migrating fish, such as American shad, swim past the dam!
In Colonial times, Virginia's waters teemed with shad and herring. Scientific and anecdotal evidence shows that American shad once migrated up the James River to sites near its headwaters at Eagle Rock. Early European settlers made particular reference of these numbers, noting that "[t]he rivers abound with fish both small and great. The sea-fish come into our rivers in March…great schools of herring come in first; shads of a great bigness follow them" (Alexander Whitaker, 1613). The economic value of the shad fishery in Virginia waters increased steadily throughout the 1800s and peaked in the early 20th century. However, the 1800s also brought about the construction of many large dams, including Bosher's Dam in 1823, for grist mill water power, canal systems, and other developments of the Industrial Age. These dams barred migratory fishes from their historic upstream spawning habitats, reducing the number of fish that returned each spring.
Due to the crash of the American shad fishery, a moratorium was placed on their harvest in 1994. While such corrective actions can be implemented immediately to help restore declining fish populations, removal of dams and the return of fish to hundreds of miles of spawning habitats can take years to accomplish.
The work of creating new fish passages in the James River began in Richmond in 1989, when Manchester and Brown's Island dams were breached with explosives. Since the Belle Isle Dam had been "naturally" breached during a prior storm, the next challenge was at Williams Island Dam. A 30-foot wide by 2.5-foot deep notch was cut into the dam in 1993, opening another 2.6 miles of spawning habitat upstream to the base of Bosher's Dam. While these breaches, or gaps, took a great deal of planning and financial support from many partners, moving fish around Bosher's Dam would present the most significant challenge on the James River. While short notches or gaps had been used successfully in the other Richmond dams, passing migratory fish over the 10-foot high Bosher's Dam required biologists to consider a much more substantial fishway. After careful evaluation of the site and consultation with other experts, biologists and engineers determined that the most appropriate structure would be a "vertical slot" fishway.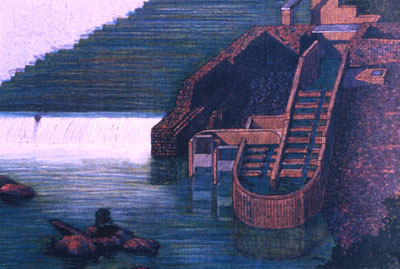 As with any fishway, one of the primary objectives is to provide smooth flowing water that attracts fish away from the frothy turbulent waters flowing over the dam. Fishways are positioned and designed to maximize this "attraction flow," guiding fish into the fishway. In some passage facilities, such as this one, resting places are mandatory to prevent the fish from tiring out before they reach the upper end. Once fish enter the Bosher's fishway, they negotiate their way through a series of 13 paired and slightly offset baffle walls and resting pools as they make their ascent. The term "vertical slot" refers to the 16-inch gap in the baffle walls that divides one pool from the next. Fish can easily swim through the vertical slots, gaining 9 inches each time they move from pool to pool. Near the upper end, they pass by a 4-foot wide by 7-foot high counting window before exiting the fishway into the river above the dam. A livestreaming webcam has been stationed at the counting window to give visitors a peek at this incredible journey. At the Bosher's fishway, there is also a trap near the window that allows biologists to sample fish as needed.
Throughout this project, a small but vital 3-agency team continued to keep the vision alive. The James River Association, without whose efforts this project would not have been accomplished, spearheaded the fundraising efforts. The Department of Wildlife Resources continued to coordinate the project and obtained (and matched) several federal grants. The City of Richmond, the current owner of the dam, also provided funding and personnel to the initiative. Ultimately, funding for the $1.5 million fishway was secured through grants, donations, and contributions from federal, state, city, and county agencies; corporations and foundations; and citizens… an excellent example of public-private partnerships! Learn more about DWR's other fish passage projects.
Chronology
1995 – U.S. Fish and Wildlife Service Hydraulic Engineering Department provided conceptual plans; final engineering and design completed by J.K. Timmons and Associates (now Timmons Group).
September 1996 – Bids received to complete fishway construction.
June 1997 – English Construction (Lynchburg) broke ground for construction.
Spring 1998 – High water and abnormal flood frequency plagued the project and delayed completion; spring spawning run missed.
Fall 1998 to Spring 1999 – Construction resumed and continued without incident.
March 1, 1999 – The completed fishway opened to allow fish passage from below the dam to above the dam.
April 20, 1999 – Fishway dedication ceremony.
Spring 1999 – Tens of thousands of fish moved through the new fishway, including American shad indicating early fishway function success
Annual monitoring every year since 1999 shows the fishway to be effective at passing American shad, striped bass, sea lamprey and over 25 additional resident species including multitudes of gizzard shad.
American eel elvers heading upstream from the ocean pass through the fishway on their way to their rearing habitat.
Factors that affect migration through the fishway include water temperature, river level, time of spring and, of course, the number of fish of any given species that are in the reach of the James below Boshers Dam.
Significant contributors in this project included:
Virginia DWR
James River Association
City of Richmond
National Fish and Wildlife Foundation
Environmental Protection Agency-Chesapeake Bay Program
National Oceanic and Atmospheric Administration
National Marine Fisheries Service
U.S. Fish and Wildlife Service
Virginia Marine Resource Commission
Virginia Saltwater Recreational Fishing Development Fund
Marine Fishing Improvement Fund
County of Henrico
Mary Morton Parsons Foundation
Massey Foundation
Flagler Foundation
Richard S. Reynolds Foundation
Ruth Camp Campbell Foundation
Friendship Fund
Herndon Foundation
Elis Olsson Memorial Foundation
Philip Morris USA
CSX Corporation
Ethyl Corporation
Private Richmond foundation
Numerous anglers, conservationists and other individuals!