Important Notices for this Waterbody
Notice
Amelia Lake Fishing Pier Closed
The fishing pier at Amelia Lake in the Amelia WMA is closed due to storm damage. We hope to replace the pier at a later date. Bank fishing opportunities are still available at that location.
Amelia Lake is a 100-acre impoundment located entirely within Amelia Wildlife Management Area in Amelia County, Virginia. The lake is owned and managed by the Virginia Department of Game and Inland Fisheries. The impoundment is located close enough to Richmond for convenient access to boating and fishing or other recreational activities on the management area.
Amelia Lake is managed to provide a warmwater fishery comprised of largemouth bass, channel catfish, black crappie, bluegill, and redear sunfish. The lake has an over-abundance of largemouth bass, which results in high catch rates of small fish for anglers. This impoundment is well suited for beginning anglers who are interested in catching fish that aren't necessarily trophies. Though the potential to catch a trophy largemouth bass still exists.
Amelia Lake can be reached by travelling on 360 to State Route 604 North. Once on 604, simply follow the signs to the lake.
The Virginia Department of Game and Inland Fisheries (DGIF) will require an Access Permit for visitors to department-owned Wildlife Management Areas (WMAs) and public fishing lakes, who are age 17 and older, unless they possess a valid Virginia hunting, freshwater fishing, or trapping license, or a current Virginia boat registration. Learn more about the Access Permit.
Maps & Directions
16100 Kennons Lane
Amelia, VA 23002
Located between U.S. Rts. 60 and 360, Amelia Lake is about 25 miles southwest of Richmond and 10 miles north of Amelia Courthouse. From U.S.Rt. 360 west of Richmond, go north on Rt. 604; turn left on Rt. 616, then right on Rt. 652. From U.S.Rt. 60 west of Richmond, go south on Rt. 622 at Flat Rock, veer right onto 610, then right on 604, another right onto 616 and right on 652. Stores, which sell bait and some fishing tackle, are located on Rts. 60 and 360.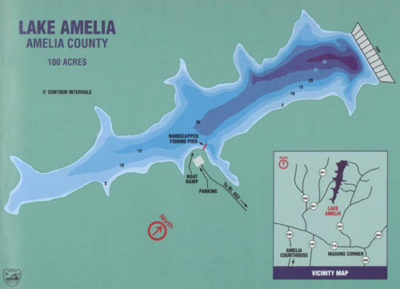 Fishing Opportunities
Largemouth bass
The Amelia Lake largemouth bass population currently exists in a very unbalanced state dominated by high numbers of small fish. Densities of bass collected in our samples (measured in number of fish per hour of electrofishing) reach levels over 500 bass per hour. Normal densities in comparable lakes in the Southeast are much lower at around 100-150 bass per hour. With densities of fish this high, food and other resources become limiting in the system and growth of the fish suffer. The end result is a population of bass over-run with fish around eight to ten inches. To combat this overcrowded bass population, the size limit restriction that was in place at Amelia was lifted in 2001 to encourage harvest and reduce numbers of bass in the system. Currently there is no size limit in place at Amelia Lake.
Panfish
The impact of largemouth bass overcrowding not only results in stunted largemouth, but also has an impact on the panfish species (bluegill and other sunfish) in Amelia Lake. Due to the high numbers of bass preying on the sunfish in the lake, numbers of panfish are greatly reduced. Fewer panfish in the system result in less competition for food for those that remain and thus better growth potential. Overall, numbers of sunfish in Amelia are down but the average size is on the rise. Good-sized sunfish are currently available to anglers and with the high numbers of bass in the system, should continue for a while. Black crappie are also present in Amelia Lake in limited numbers. Growth rates of crappie are about average for Piedmont systems.
Channel catfish
There is a limited catfish fishery at Amelia Lake even though channel catfish are stocked each year.
Crappie
Amelia Lake boasts fair numbers of catchable size Black Crappie. Fish up to 12 inches have been collected in recent samples. In recent years, White Crappie have also been stocked in the lake in an effort to improve the fishery.
Biologist Reports
Regulations
Largemouth bass:
No size limit
5 per day creel limit
Sunfish
No size limit
50 per day creel limit
Crappie
No size limit
25 per day creel limit
Channel catfish
15 inches minimum
8 per day creel limit
General
Fishing license required for persons 16 years of age or older.
Electric motors only. Gasoline motors restricted.
Waterfowl hunting allowed opening day, Wednesdays and Saturdays.
Trapping by permit only.
The following are prohibited on this property:
Swimming
Open air fires
Trotlines
Alcohol
Littering
Sailboats
Jetskis
No tournaments involving prizes
Hours of use: 24 hours per day
Facilities
Amelia Lake has a single lane concrete boat ramp and large graveled parking lot. Another amenity of the Amelia Wildlife Management Area includes three shooting ranges: a 6-station rifle range, a clay-bird shotgun range, and an archery range.
News
Fish Stocking
Fish stocking to supplement existing fisheries is performed on an annual basis. Channel catfish fingerlings are stocked every year at a density of 15 fish per acre.
Fish Habitat
In an effort to provide better fishing opportunities, several hinge trees were felled at Amelia in 2004. In addition, Christmas trees have been sunk each winter since 2004 near the fishing pier and other sites on the lake to provide cover for sunfish and hopefully increase catch rates for Amelia anglers.
More Information
For more information on Amelia Lake, please contact:
Virginia Department of Game and Inland Fisheries
107 Foxwood Drive
Farmville, VA 23901
(434) 392-9645
For more information on the Amelia Wildlife Management Area, please contact:
(434) 561-3350