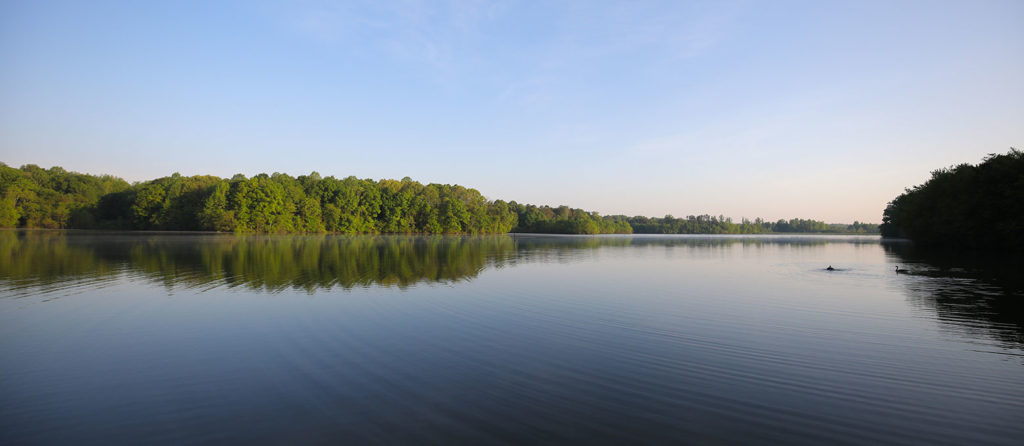 When looking for a wide variety of traditional outdoor activities in central Virginia, look no further than the Amelia Wildlife Management Area. Named for the county in which it is located, Amelia's 2,217 acres offer hunting and fishing, plus shooting ranges and other year round opportunities for those who simply enjoy the out-of-doors.
Amelia Wildlife Management Area is primarily upland habitat with approximately 175 acres of bottomland hardwoods and beaver swamps along the Appomattox River. Formerly farmland, much of the area remains open and is actively managed to enhance wildlife habitat. Mature upland hardwoods and pine stands comprise the forestland on Amelia. The terrain is gently rolling and elevations range from 200 to 300 feet. The major portion of the area, including a lake and all facilities, is bounded on the north and east by the Appomattox River. A small tract, southeast of the main tract, also adjoins the river.
Hunting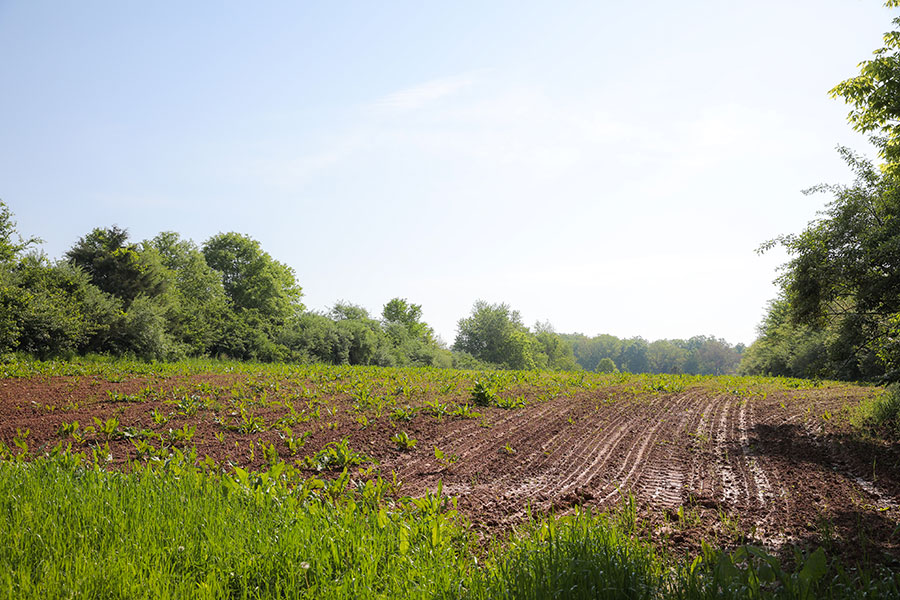 To enhance hunting opportunities, open land is being managed by prescribed burning, strip disking, planting beneficial wildlife species, and development of dense hedgerows. This type of habitat provides rabbit and quail hunting opportunities. Dove fields are planted annually. Good deer and turkey populations exist on the management area. Squirrel hunting opportunities are found in the numerous mature hardwood stands. The Appomattox River provides some opportunities for waterfowl hunting. Woodcock hunting along the river floodplain can be very good when these birds are passing through.
Quota Hunts
Quota hunting is conducted on the opening day of the spring turkey season and for the next 3 weeks of that season. Individuals desiring to hunt on Amelia WMA during this time period must apply through the Department's quota hunt system. For information and to apply for a DWR quota hunt please visit GoOutdoorsVirginia.com.
Sighting-In Range
Two ranges are available, including a sighting-in range and a clay-bird shotgun range. The Amelia WMA ranges are open to the public from September 1 – March 31, Tuesday – Sunday and on holiday Mondays. Otherwise the ranges are closed each Monday for maintenance. The ranges may occasionally be closed at other times as posted in advance on-site.
The sighting-in range has 6-stations from which the shooter fires into the backstop at 100 yards. There are target points at 25, 50 and 100 yards. Shooters may sight-in rifles or muzzleloading rifles, or they may pattern their shotgun at the sighting-in range. No pistols/handguns are allowed. No reservations are required. Range users will be required to bring their own target frames and paper targets only. Visitors age 17 and older who do not possess a valid Virginia hunting, freshwater fishing, or trapping license, or a current Virginia boat registration, will need to purchase an Access Permit.
Range Operation Dates and Hours
September 1 to March 31, closed on Mondays except holiday Mondays.
Dates
Hours
September
Closed on Monday
Tuesday-Saturday: 9 AM – 6:30 PM
Sunday: 1 PM – 6:30 PM
October – January
Closed on Monday
Tuesday-Saturday: 9 AM – 4:30 PM
Sunday: 1 PM – 4:30 PM
February – March
Closed on Monday
Tuesday-Saturday: 9 AM – 5:30 PM
Sunday: 1 PM – 5:30 PM
Fishing
The 100-acre Amelia Lake and the 4.5 acre Saunders Pond offer fishermen the opportunity to catch largemouth bass, crappie, channel catfish, bluegill, and redear sunfish. The largemouth bass density is very high, giving anglers ample opportunity to catch numerous fish. The bluegill and sunfish fishery is very good on Amelia Lake. Trees left standing during lake construction have rotted and fallen, providing cover for fish. In addition, fish attractors have been constructed and positioned near the handicapped-accessible fishing pier (see note below regarding the status of the fishing pier). Fishermen who turn their attention to the Appomattox River will find largemouth bass, catfish, and redbreast sunfish. During late winter or spring, river anglers are likely to land striped bass and walleye.
Notice (posted February 4, 2019): The fishing pier at Amelia Lake in the Amelia WMA is closed due to storm damage. We hope to replace the pier at a later date. Bank fishing opportunities are still available at that location.
Other Activities
Amelia is frequently the site for outings by scouts, school groups, nature study classes, and families. These, as well as individual visitors, find Amelia an excellent place for wildlife viewing, nature photography and hiking.
Facilities
Two shooting ranges are available: a 6-station rifle range and a clay-bird shotgun range. Range rules and hours are posted on the Amelia WMA webpage and on kiosks located at the ranges. Facilities are not available for handguns. Numerous parking lots exist to access the area, and a concrete boat ramp is available for launching small boats.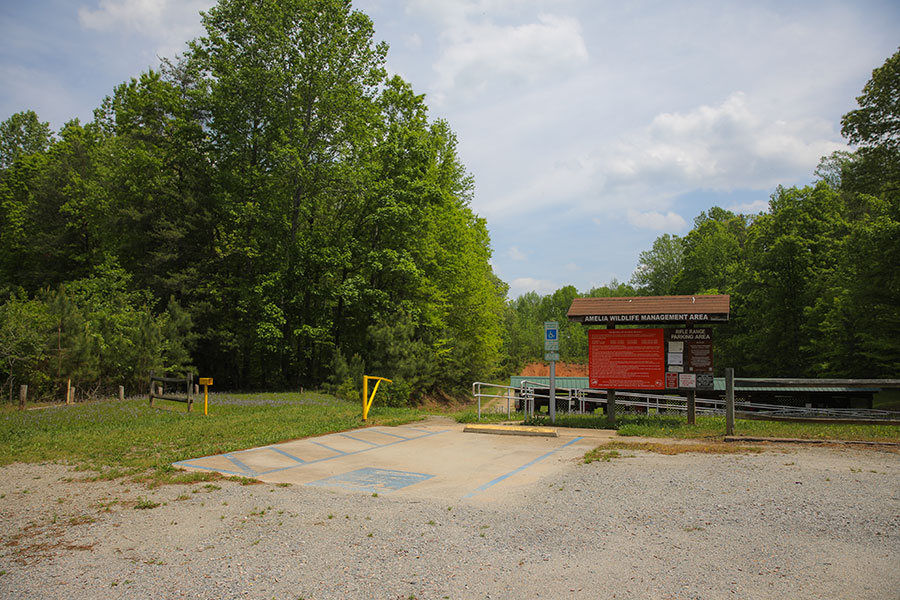 Directions
Located between U. S. Routes 60 and 360, the Amelia Wildlife Management Area is about 25 miles southwest of Richmond and 10 miles north of Amelia Courthouse. From U. S. 60 at Flat Rock, turn south on route 622: right onto route 610; and right onto route 604 to Mason's Corner. From U. S. Route 360, turn north on Route 604.
Images by: Meghan Marchetti/DWR
Recreational Opportunities