Briery Creek Lake is an 845-acre lake that is owned by the Virginia Department of Game and Inland Fisheries and is within the Briery Creek Wildlife Management Area in Prince Edward County. The dam was completed in 1986 and the lake was open to fishing in 1989. In 1986 and 1987 the lake was stocked with Florida strain largemouth bass, northern strain largemouth bass, bluegill, redear sunfish (also known as shellcrackers), channel catfish, and crappie. Timber in the floodplain was left standing or felled and drumchopped resulting in an abundance of fish habitat. Biologists hoped that the presence of Florida-strain bass and the complex habitat would produce a high quality largemouth bass fishery.
Initially, the largemouth bass regulation was an 18-inch minimum length and two fish per day creel limit. Early production of largemouth bass was excellent and in 1991, this regulation was changed to a 12-15 inch protected slot limit (5 per day) to allow anglers to harvest the abundant smaller bass. Briery Creek Lake quickly began producing trophy largemouth bass and became one of the state's premier bass fisheries. To help protect this fishery, the regulation was changed to a 14-24 inch protected slot limit on January 1, 2001. This regulation was modified again with a changing fishery by adjusting the slot limit to a 16-24 protected slot limit on January 1, 2013. The daily bag limit is still five bass per day, but only one may be longer than 24 inches.
The Virginia Department of Game and Inland Fisheries (DGIF) will require an Access Permit for visitors to department-owned Wildlife Management Areas (WMAs) and public fishing lakes, who are age 17 and older, unless they possess a valid Virginia hunting, freshwater fishing, or trapping license, or a current Virginia boat registration. Learn more about the Access Permit.
Maps & Directions
Briery Creek is located 7 miles south of Farmville. Take Rt. 15 south to Rt. 790.
790 Ramp:
609 Briery Lake Road
Farmville, VA 23901
701 Ramp:
1203 Landing Road
Farmville, VA 23901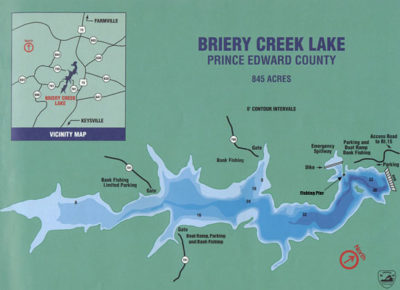 Fishing Opportunities
Briery Creek Lake is one of the most important largemouth bass fisheries in the state and biologists certainly treat it as such. Not only are annual electrofishing samples conducted, but creel surveys have also been used to gather information as well (angler effort, catch, harvest and attitudes and opinions on the fishery). Spring creel surveys (March thru May) are an effective method for following trends in fishing, particularly for trophy bass (greater than 22 inches). The creel data have given biologists the best information in evaluating this fishery and the trophy slot limits.
Overall, angler catch rates (number caught per hour of fishing) have remained remarkably consistent since 1999 (about 4 fish per 10 hours of fishing). This is a very good catch rate, particularly for the spring. What has varied is the catch rate of trophy bass which has declined due to Largemouth Bass Virus impacts and overcrowding of smaller bass. Recent catch rates for trophy bass has declined and efforts are underway to restore and improve this important aspect of the fishery.
The sooner the lake gets to 60 degrees, the sooner the fishing gets good. But it has to stay fairly constant. Anglers planning trips to Briery to target citation bass would be well served to shoot for the last week of March through April, but if it gets warm early, shoot for early April. Anglers are welcome to call the Farmville office or Worshams grocery for more information.
Briery is still one of the best waters in the state to chase 10 pound bass. But for those anglers who are not lucky enough to get a lunker, they should have a blast with 2-4 pound fish. We are collecting more fish over 15 inches than ever before. Hopefully some of these fish grow into trophies in the coming years.
Biologist Reports
Regulations
Trophy Largemouth Bass Regulation
16–24 inch protected slot limit
5 fish per day creel limit
No Bass may be retained between 16 and 24 inches
Only one bass longer than 24 inches may be retained
Crappie
9 inch minimum length limit
25 fish per day creel limit
Statewide fishing regulations apply for all other fish species.
General
Motor use restricted to 10 horsepower or less
Prohibited activities: swimming, open air fires, trotlines, littering, sailboats, alcohol, and fishing tournaments involving prizes.
Waterfowl hunting allowed every day of the season
Trapping by permit only.
Fishing Hours
Fishing from a boat: 1 hour before sunrise to 1 hour after sunset.
Fishing from the shore: Open to fishing 24 hours per day
Facilities
Briery Creek Lake can be accessed off of Routes 790 and 701. Route 790 leads to a small parking area near the dam. Anglers may fish from the dam, which is mowed twice a year. At that parking area is a kiosk which provides visitors information on the Briery Creek Lake Wildlife Management Area, as well as information on fishing regulations. Just beyond the dam on Route 790 is a concrete boat ramp (with courtesy pier) with a large, paved parking area and two porta-john facilities. Fishing from the shoreline is limited here. Route 790 ends on a large peninsula that offers tremendous shoreline access for anglers not fishing from a boat. There is also an unimproved (gravel) boat ramp that is ideal for anglers with small boats or canoes. Also on this peninsula is a covered handicapped fishing pier that was built in 1999 (pictured below). Fisheries biologists place Christmas trees around the handicapped pier as fish attractors. A handicapped porta-john facility is also located on the peninsula.
Route 701 leads to the other major access on Briery Creek Lake. At this area is a two-lane concrete boat ramp (with courtesy piers), a large, paved parking area, and porta-john facilities. Anglers without boats will find plenty of shoreline to fish. This area provides boat anglers easier access to the upper end of the lake.
News
Largemouth Bass
Biologists sample Briery Creek Lake each spring with an electrofishing boat to monitor the fish populations. Largemouth bass have a balanced size structure (meaning a good balance of young "recruits" and adults), and grow fairly well. It takes largemouth bass about three years to reach 12 inches and about 8.5 years to reach 20 inches. Creel surveys are also used to collect information on the condition of the fish populations at the lake.
During creel surveys, anglers are interviewed as they leave the lake and asked things like how long they fished, what they caught, and what they harvested. It is also a great opportunity for biologists to get information on angler attitudes and opinions and determine what they would like to see done with the fishery. Here are some highlights from the creel surveys:
Fishing pressure is highest in March, April and May.
About 70% of Briery Creek Lake anglers fish for largemouth bass and most (82%) fish there in hopes of catching a trophy fish.
Catch rates for largemouth bass were highest in the summer but the success on trophy largemouth bass is highest in the spring.
On average, a trophy largemouth bass is caught for every 115 hours of fishing effort in the spring. This estimate goes up slightly in the rest of the year.
About 70% of the trophy largemouth bass caught were in the spring.
About 29% of the trophy largemouth bass caught were harvested.
Anglers from across Virginia fish at Briery Creek Lake. Additionally, anglers from at least 15 states come to fish Briery Creek Lake each year.
Fishing at Briery Creek Lake is economically important to the local community
Information from Virginia's Angler Recognition Program also demonstrates that Briery Creek Lake is one of the state's best largemouth bass fisheries. Since 1995, Briery Creek Lake has been at or near the top for "citation" largemouth bass each year. In fact, 24 of the 25 heaviest largemouth bass from public waterbodies have come from Briery Creek Lake since 1993. Additionally, 16 of the 25 heaviest largemouth bass since 1970 have come from Briery Creek Lake! Not bad for a lake that was built in 1986.
Panfish
Although known widely as a trophy bass lake, Briery Creek Lake is also one of Southside Virginia's best lakes for bluegill, redear sunfish, and crappie. Biologists also use electrofishing and creel surveys to monitor these populations and all are characterized by moderate to high abundances and fast growth. Angler catch rates for bluegill and redear sunfish are best from late April to June while crappie are typically best in March and April.
Other Species
Chain pickerel are fairly abundant in Briery Creek Lake but most fish are less than 20 inches.
Tips for Proper Care and Handling of Trophy Bass:
Some anglers at Briery Creek Lake are fortunate enough to catch a trophy largemouth bass. Often times, anglers will keep their trophy in a livewell and travel to one of the local stores to have their fish weighed on certified scales. Still others may keep their catch in a livewell in hopes of catching a bigger fish later that day. Anglers not wishing to have their trophy mounted will release their fish at the end of their fishing day. However, this does not guarantee that the trophy will survive. Anglers may take precautionary measures to decrease the likelihood of delayed mortality of released fish.
Land the fish as soon as possible. Playing a fish to exhaustion diminishes its chance of survival. Having the proper fishing tackle is important.
Avoid excessive handling when landing a fish, removing the hook, taking pictures, measuring, etc. Always make sure that your hands are wet before handling fish.
If you plan on weighing a fish at one of the local businesses, do so immediately after catching it. The sooner you release the fish back into the lake, the better its chance of survival. Also, holding a fish in a livewell all day and then releasing it greatly diminishes its chance of survival.
To handle trophy fish, wet your hands, then use your thumb to clamp down on the bottom lip and support the fish's weight by placing the off-hand under the fish (toward the tail). Do not hold the fish just by the lower lip.
Water temperatures of 75 degrees F and warmer are more stressful on fish. Run livewell aerators continuously and add ice, salt, and bacterial fungal retardant if necessary.
Fish should not be out of the water for more than 30 seconds.
Proper handling and care of trophy largemouth bass will increase everyone's chances of catching a trophy bass.
More Information
For more information on Briery Creek Lake:
Virginia Department of Game and Inland Fisheries
107 Foxwood Drive
Farmville, VA 23901
(434) 392-9645
For information on the Town of Farmville:
Farmville Chamber of Commerce
116 North Main Street
Farmville, Va 23901
(434) 392-3939