By Dr. Peter Brookes
Photos by Dr. Peter Brookes
I was fortunate enough to have scored a Chesapeake Bay Slam (redfish/sea trout/striper) in Virginia waters. Indeed, I've been known to eat a Breakfast Slam (pancakes/eggs/bacon) from time to time.
But I had not yet notched a Virginia Trout Slam.
Being a bit of (OK, fanatical) "to-do" list maker, I decided that I definitely needed to add this one-day, three-species test of wild/stocked salmonid angling acumen to my fishing/hunting bucket list. I had been thinking about a Virginia Trout Slam Challenge ever since the Virginia Department of Wildlife Resources' (DWR) announced it back in the spring of 2020, but I wasn't quite sure I could pull off netting a rainbow, brook and brown trout all in one day.
I've caught all three species before in Virginia, but not in one day.
The thought of the Slam re-emerged after I'd booked a guided spring fly fishing trip to the Whitetop Laurel area in southwestern Virginia, a place I had hiked through a number of years ago, but had never fished. I know, I know—shocking, considering Whitetop Laurel's national reputation for trout fishing.
It was a bit of a drive from my home to southwestern Virginia, so I had plenty of time to think about the trip. Since this area has all three trout species, the idea of a Trout Slam flitted through my head like a mayfly. But knowing good and well that fishing can be a fickle friend, I quickly dismissed the notion. In addition, with limited time, I had only booked two half-days of fishing, putting myself in a tough spot. Intent on managing expectations, I set the bar low, just hoping to get out into nature and feel a few tugs on my fishing line.
When I met up with the guide, he took me to a small stream nearby that is a tributary to Whitetop Laurel. The fishing on this section was not terribly productive, but I landed a dink of a wild rainbow. One not even worthy of a photo.
After that "warm-up," we decided to move to another Whitetop Laurel tributary. We had to descend a relatively steep embankment before fishing this section, which was a bit wider and deeper with heavier flows. In no time, I hooked what seemed like a decent fish. I assumed it was a rainbow—certainly not a brook trout. As I fought the fish in the current, it flashed us at the surface as it sought to throw the hook. It was a buttery brown trout.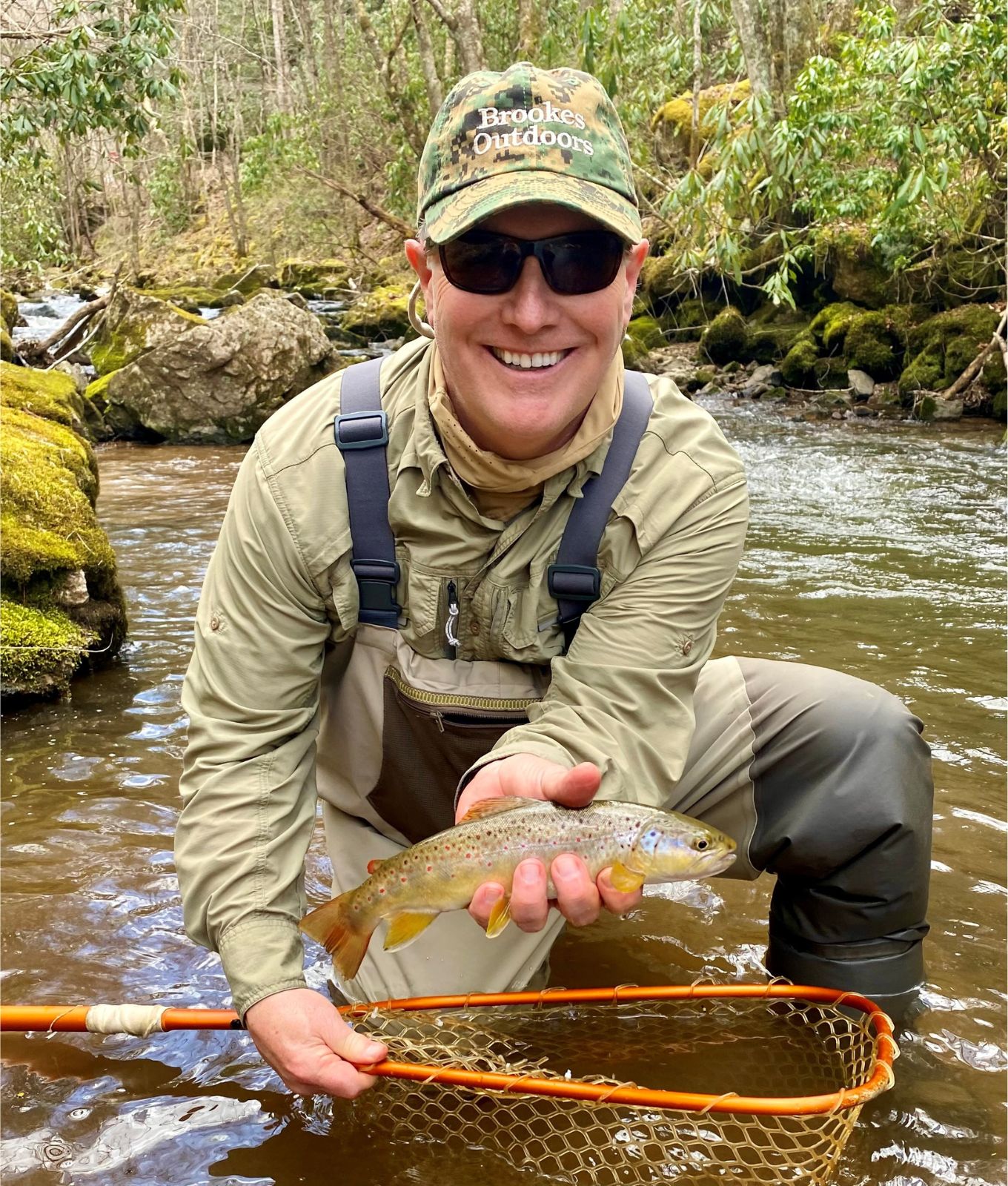 Not expecting a brown, we both gasped with excitement.
Landing the brown was not going to be easy with lots of rocks and plenty of downfall at the end of the pool where the water shot like a fire hose through a small opening into the next plunge pool. Relatively light tippet on the business end of my fly rod also caused concern.
Indeed, if not for the guide's quick, able "netsmanship," the fish would probably have been lost.
As we admired the wild trout in the net, I exhaled deeply, realizing that a Slam was possibly within reach. The guide said he knew of a thin blue line of a stream nearby where we would almost surely get into brookies. In an embarrassment of riches before leaving this section of water, I landed another feisty brown trout. But with daylight burning, we quickly headed for another stream just up the road.
Crouching behind some cover, it wasn't too long before our native—and beloved—brook trout were hammering my dry fly. None of these wild brookies were large, but they were beautiful both for their color and for sealing the deal on the Slam.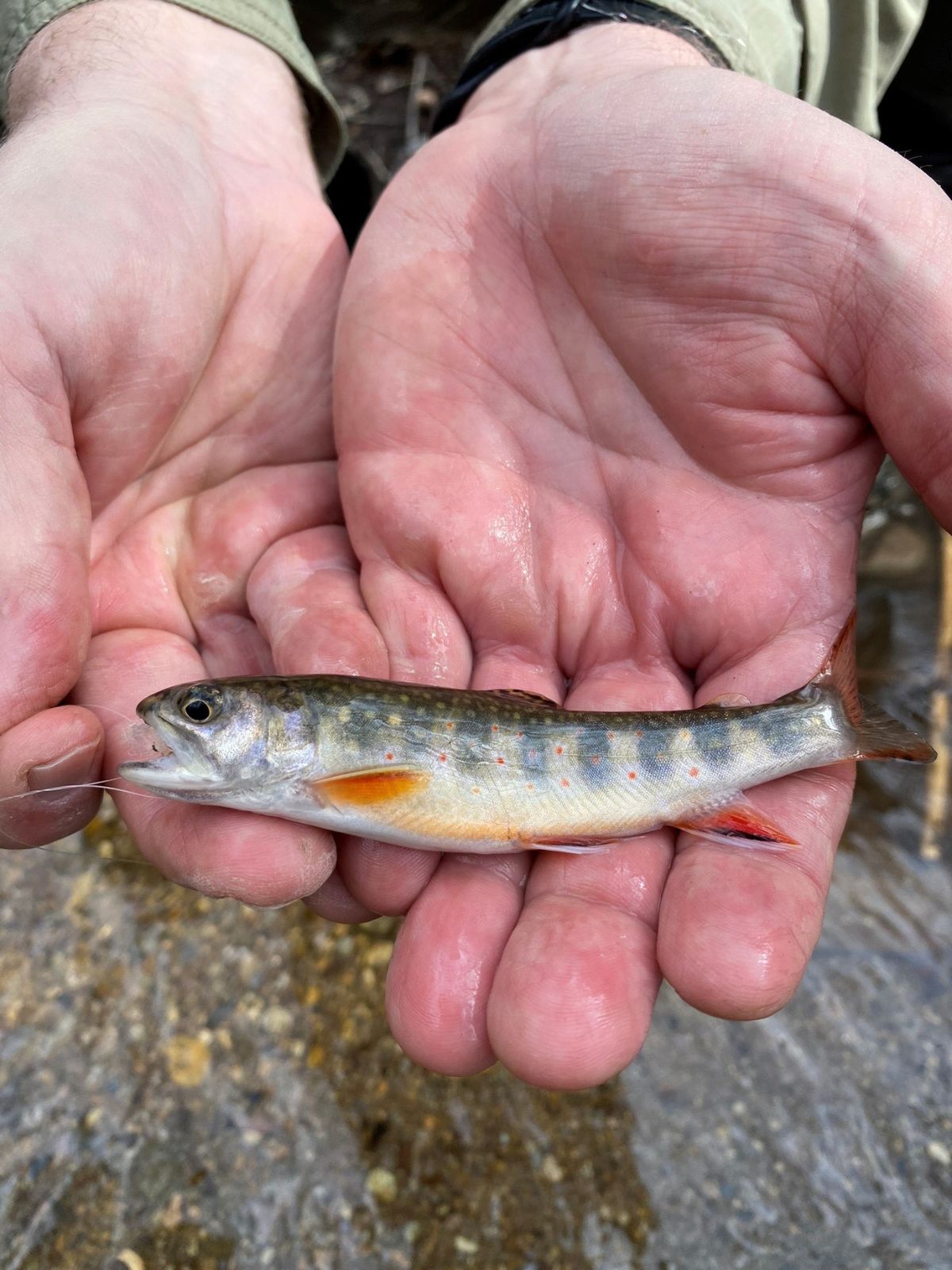 My guide congratulated me on my "trout trifecta." In return, I joked: "It is better to be lucky than good!" With an unexpected win in hand, we headed back to town as the sky began to darken on the early spring afternoon.
I, of course, realize that it was a team effort; I had a great guide who knew the local waters well. Also, there were no citation fish in my net that day, either; none of the trout likely exceeded 12 inches. But that is OK—we still had the thrill of getting a Slam.
Even without it, I had a great time in the mountains and woods and on the waters near Mount Rogers National Recreation Area, which is actually the highest point in the Blue Ridge Mountains at 5,700+ feet. Moreover, we had "Goldilocks weather" that day—that is, not too hot, not too cold—as Mother Nature's spring gently awakened the waters, mountains, hills, and hollows of southwestern Virginia from its winter slumber.
Fortunately, trout season is coming back after the heat of summer, including being replete with DWR trout stockings. Plus, there are many places to chase the Virginia Trout Slam Challenge beyond where I fished this time.
Heck, while the Slam was a total blast, you don't need to focus on that if you would prefer not to. Just get a Virginia fishing license, get outdoors, get on the water, and get yourself some stocked or wild trout. Fall is an ideal time to wet a line in the Commonwealth.
---
Dr. Peter Brookes is an award-winning outdoor writer.