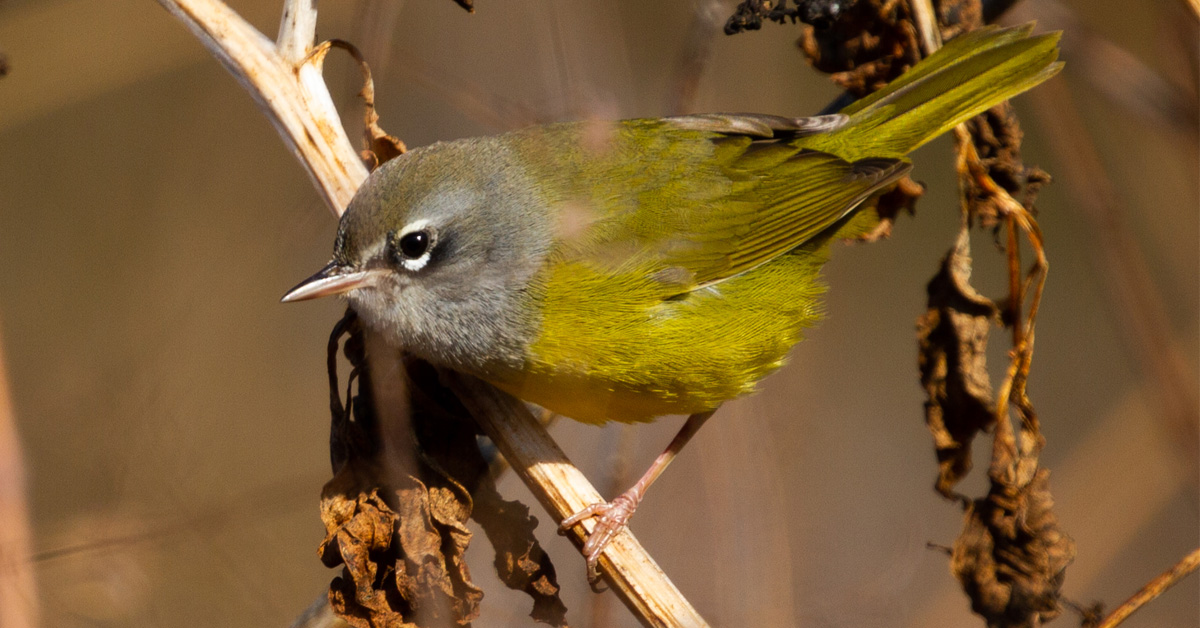 By Jessica Ruthenberg/DWR Watchable Wildlife Biologist
A rare bird to Virginia, a MacGillivray's warbler, was observed late this fall at the Virginia Department of Wildlife Resources' (DWR) Lake Shenandoah, bringing with it much delight, surprise, and excitement from birders who traveled from all across Virginia and beyond for their chance to see this small, striking, grey-and-yellow songbird. It was, after all, only the third ever accepted record of this species in the commonwealth. Diane Lepkowski, an avid local birder, was one of the first to observe and photograph the rare bird. "The thrill of seeing this extreme rarity was a real treat, as was connecting with fellow birders who traveled to find it," said Lepkowski.
In the United States, the MacGillivray's warbler is normally found in the West, along the Rocky and Sierra mountains. A neotropical migrant, this species' breeding range stretches from southeastern Alaska to northeastern Mexico. It winters primarily in Central America. Lake Shenandoah, located near Harrisonburg in Virginia's Rockingham County, is certainly far off range for this little bird.
While we will never know exactly what threw this bird so far off its migratory course, it's clear that Lake Shenandoah provided critical habitat for the bird during its time in Virginia. First spotted by a birder on November 27, the bird was last reported on December 21, marking a span of three and a half weeks of sightings. DWR Fisheries Biologist Jason Hallacher credits the pollinator meadow at Lake Shenandoah for attracting the rare bird.
"Early successional habitats made up of native wildflowers and grasses are such rare habitat types within the Shenandoah Valley," said Hallacher. "Providing a stopover for neotropical migrants to fuel up for their long journey is precisely the reason for restoring the shoreline habitat surrounding the lake. We are thrilled to see the public taking advantage of this property and hope that they pick up a few pieces of knowledge from our interpretive signage while they visit."
Staff from DWR and volunteers first began working on this meadow restoration project in 2015. They converted the previously mowed lawn along the lake's western arm by preparing the land and planting it full of native wildflowers and grasses beneficial to pollinators. A 1.5-mile trail loop with interpretive signage around the perimeter of the lake provides a safe outdoor experience and serves to educate the public about wildlife and conservation. This restoration project has been a success thanks to continued maintenance by DWR along with help from the Virginia Master Naturalists. Other restoration efforts have included prescribed burns to control woody vegetation and stimulate growth of native plants.
Not only does this restored habitat provide important habitat for pollinating insects, such as bees and butterflies, but come fall and winter, the meadow's bountiful seedheads and tall brush provide essential shelter and food for wintering birds like sparrows and finches. MacGillivray's warblers favor dense thickets and shrubby, brushy areas along the water, so Lake Shenandoah's meadow habitat provided a much-needed and hospitable stopover location for this off-course migrant. "For this little warbler, who was SO far off course, the pollinator trail was exactly what it needed!" added Lepkowski.
Although the MacGillivray's warbler is no longer present at Lake Shenandoah, there are still many birds to be observed at this designated site on the Virginia Bird & Wildlife Trail. According to eBird, 215 species of birds have been observed there, which is amongst the highest number of bird species documented for a given location within the Shenandoah Valley. It's particularly an excellent winter birding spot—a diversity of wintering waterfowl can often be found on the lake, in addition to the wintering sparrows and finches along the pollinator trail. To access Lake Shenandoah, all visitors age 17 and older must have a Restore the Wild Membership, Virginia hunting or freshwater fishing license, current Virginia boat registration, or a DWR access permit. For more information about wildlife viewing at the lake, check out the DWR's Lake Shenandoah Virginia Bird & Wildlife Trail webpage.