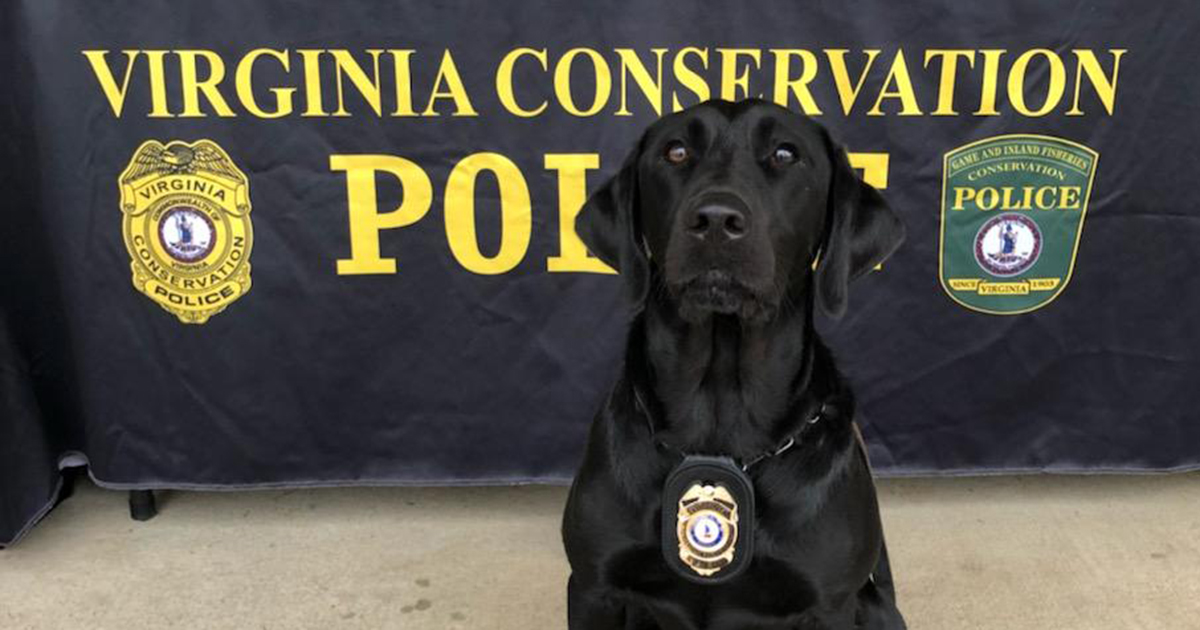 Photos by Meghan Marchetti
The Virginia Department of Wildlife Resources' K9 program is a specialized unit consisting of eight teams of Conservation Police Officers paired with canine partners. The primary purpose of the K9 program is to further the agency's mission by conserving wildlife populations and habitat, connecting people to Virginia's outdoors, and protecting Virginia's people and their property.
What They Do
Each K9 team receives specialized training in human tracking, evidence recovery, and wildlife detection. These elite K9 teams assist law enforcement personnel by tracking violators, detecting concealed wildlife and firearms, and conducting area searches for evidence recovery. Additionally, the K9 teams assist other enforcement agencies by tracking fugitives from justice, recovering evidence at crime scenes, and locating missing or lost persons.
The K9 teams are used to educate the public and deter violators through demonstrations of the K9 teams' abilities and presentations for schools, interested groups, and media. By providing resource management information during K9 demonstrations and presentations, we hope to foster a sense of wildlife stewardship with the outdoor community. For information on requesting a K9 presentation for your organization, please contact our K9 unit.
Caring for the CPO K9s
You can help support the CPO K9s! Through the Ward Burton Wildlife Foundation, a special 501(c)(3) non-profit fund has been set up for the public to show their support and contribute to the care of DWR's K9 CPOs. Contributions will help pay for equipment, food, general wellness care, and veterinary care for these canine officers. You can send donations with "K9 Fund" noted to the Ward Burton Wildlife Foundation, PO Box 519, Halifax, VA 24558 or click to donate directly via PayPal.
Donate
Follow Along with the K9s
Keep up with the DWR K9s with articles about their training, their equipment, and how they work for wildlife.
Meet the CPO K9s
Thanks to CPO K9s Who Have Retired
The History of the DWR K9 Program
DWR established its K9 program in the fall of 2010. Three carefully selected candidates and their potential canine partners were selected to attend the 2011 Indiana K9 Natural resources Protection Program. While in Indiana, the three K9 teams received more than 400 hours of training before being certified as Natural Resource K9 Teams. After graduation, the three certified K9 teams made an immediate impact on the Law Enforcement agency's mission by detecting numerous wildlife violators and locating several missing persons.
The initial success of the K9 program on Virginia's natural resources prompted the agency to expand the program by adding two additional K9 teams in 2012. The K9 program has continued to grow and currently operates with seven K9 teams. Since the creation of the program, the K9 teams have located numerous lost or missing persons, assisted local, state, and federal law enforcement agencies by locating evidence at crime scenes, and helped DWR officers charge more than 1,000 wildlife-related cases. We are excited to see what the future holds for this program.