Description
Located just outside of Lebanon in Russell County, the Big Cedar Creek Farm is an eight acre POWWR property which runs adjacent to Big Cedar Creek, a tributary of the Clinch River. As the name implies, the site is framed by large cedar trees and is underlain by unique geologic features. In addition to touching an approximately 3400 ft stretch of the creek and its associated riparian habitat, a mix of upland forest and floodplains are also present. Wildlife utilizing the site include but are not limited to: bobcats, egrets, songbirds, turtles, trout, osprey, kingfisher, black bear, white tailed deer, turkey and otters.
Notes:
This property is enrolled in the DWR's Public Opportunities for Wildlife-Related Recreation (POWRR) program which provides public access for a variety of wildlife-related recreation through lease agreements on private property. Hiking, birding, photography and general wildlife viewing is permissible without the need to posses a license, permit, or Restore the Wild membership. A map of POWRR properties and site boundaries can be found here. Please respect the respective property boundaries and any observed no trespassing signs on site.
Other allowable activities on site include include limited fishing (requires a freshwater fishing license). Dogs are allowed but must remain on a leash and all waste must be picked up. Prohibited Activities include: ATV riding, hunting, trapping, boating, open fire, discharge of firearms, possession of alcoholic beverages and camping.
Directions
From Lebanon, travel east on Main street, then turn right onto Big Cedar Creek Road and continue on for approximately half a mile. A gravel parking area is located on the left hand side of the road and is marked with a DWR sign.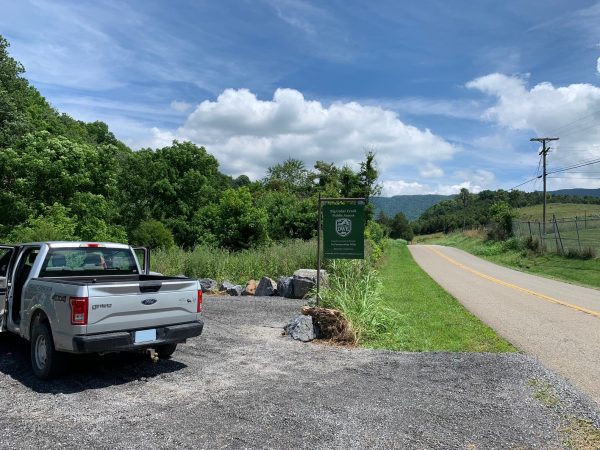 Location & Directions
View on Google Maps
Site Information
Site Contact: VA Dept of Wildlife Resources Region 3 Office: 276-783-4860
Access: Free, Open daily from dawn to dusk
Facilities