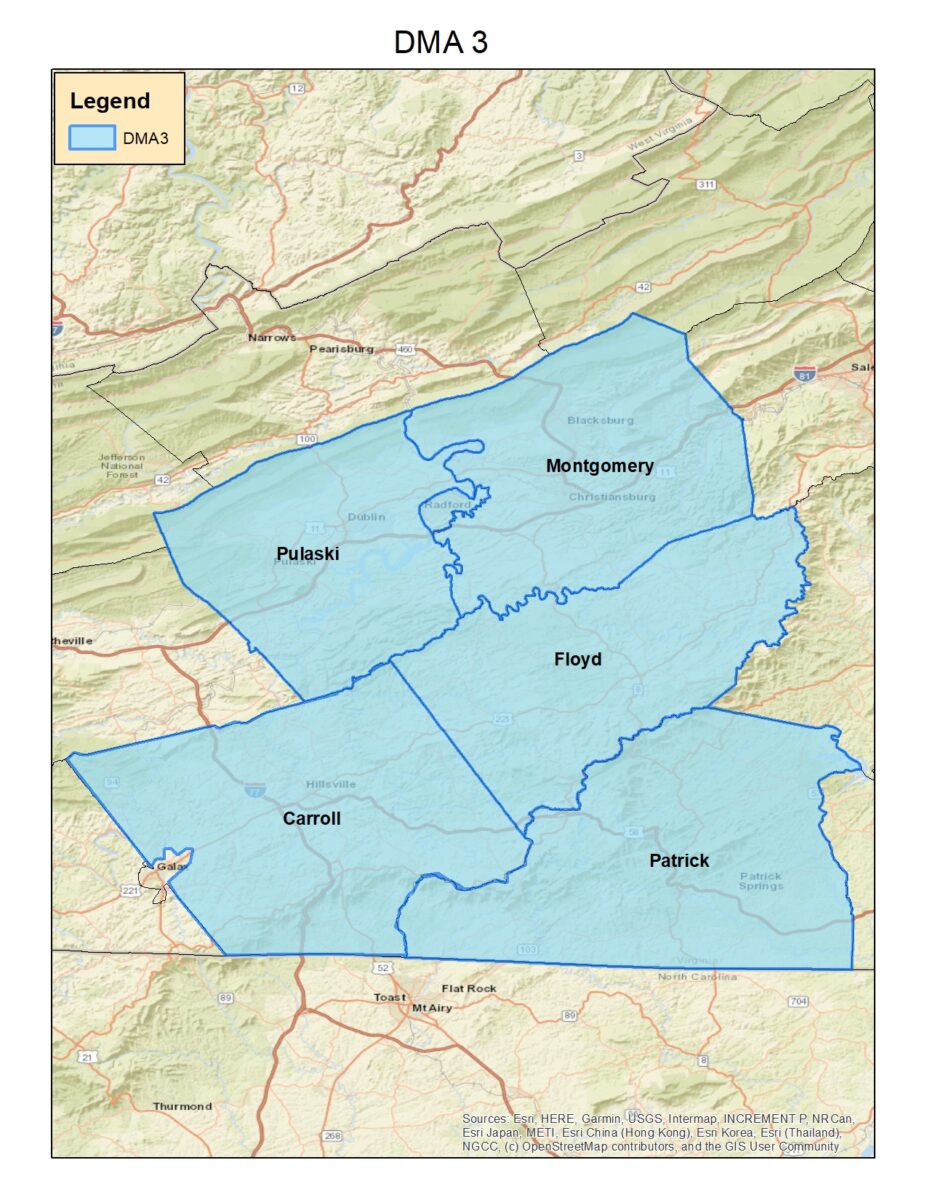 In January 2021, The Virginia Department of Wildlife Resources (DWR) confirmed chronic wasting disease (CWD) in a 2.5 year-old male deer legally harvested in November 2020 in southwestern Montgomery County.  The deer was harvested more than 160 miles from the closest previous detection in Madison County.  At the time of harvest, the hunter did not notice any outward signs of disease and the deer appeared to be in good condition. (For information on DWR's response to the 2020 CWD detection in Montgomery County, please view the video presentation entitled Initiation of CWD Monitoring and Management in DMA3.)
This led to the creation of Disease Management Area 3 (DMA3) and further surveillance has since detected 11 CWD-infected deer (6 in Montgomery, 4 in Floyd, & 1 in Pulaski).  Additionally, CWD has been detected in several northern North Carolina counties that border VA.  The DWR's CWD Management Plan guides staff to incorporate any counties located within 10 miles of a CWD detection into a disease management area (DMA).  Due to a North Carolina detection, Patrick County has been added to DMA3, which now includes Carroll, Floyd, Montgomery, Patrick, and Pulaski counties.
If you are hunting in DMA3 this fall, please be aware of the following:
Patrick County has now been added to DMA3. 
Carroll, Floyd, Montgomery, & Pulaski Counties are subject to Earn a Buck regulations and are open for early (Sept. 2 – Oct. 6) and late (Jan. 7 – March 31) antlerless-only general firearms season on private lands.  (Please note that Patrick County is not included in this list.)
Mandatory CWD Sampling will occur in DMA3 in Carroll, Patrick, and Pulaski Counties on Saturday, November 18, 2023.  All deer harvested in these counties on this day must be taken to either a DWR staffed sample station (Exxon/Circle K: 26 Airport Rd, Hillsville; Cana Vol Fire Dept: 391 Fire House Road, Cana; Howell's Grocery: 230 Woolwine Hwy, Stuart; and New River Valley Fairgrounds: 5581 Fairgrounds Circle, Dublin) or a voluntary CWD testing drop off station (list and map below). DWR staffed sample stations will be open from 8AM-7PM.
Deer heads plus 4 inches of neck from a deer harvested at any time during the season in DMA3 may be brought to a CWD deer head drop site for voluntary CWD testing.  Hunting in a DMA does not guarantee that you will harvest a CWD-positive deer but it does make it more likely when compared to hunting elsewhere in Virginia.  The Centers for Disease Control and Prevention (CDC) recommends that all deer harvested from areas known to be affected by CWD be tested prior to consumption. If you would like to get a deer harvested in DMA3 tested any time during the deer hunting season, bring the deer head plus 4 inches of neck to any of the Department CWD deer head drop sites for free CWD testing.  See the following websites for more details: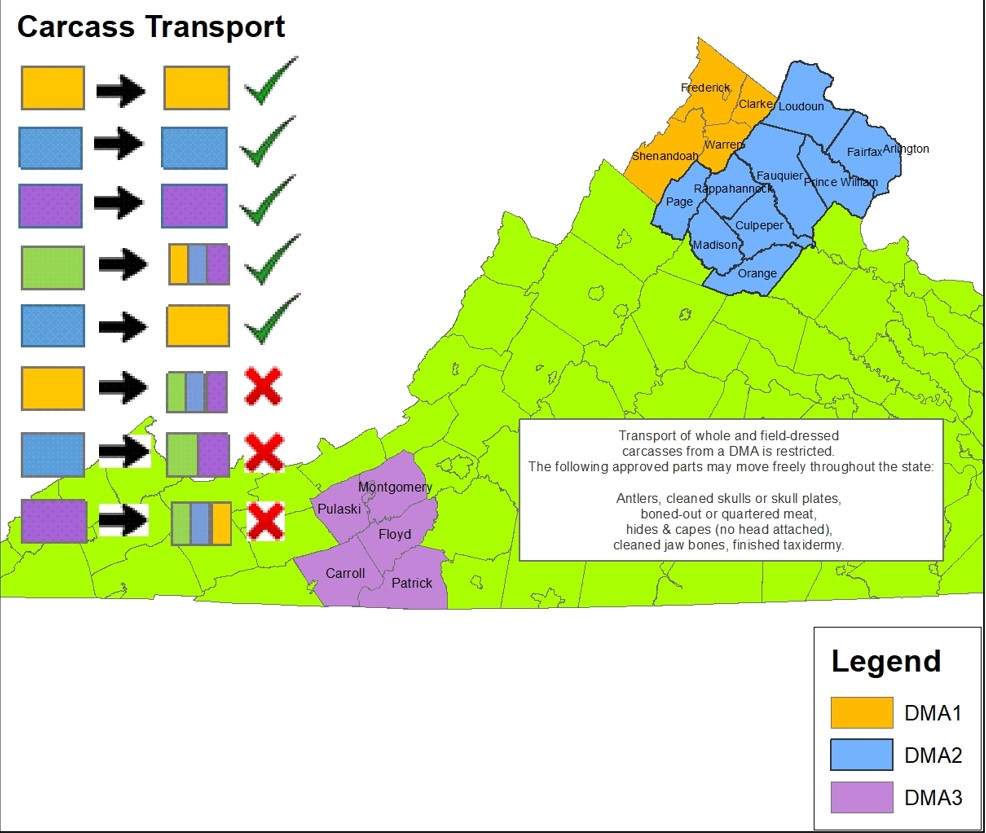 Whole deer carcasses and certain carcass parts from deer killed in DMA3 cannot be legally transported anywhere else in VA outside of the DMA3 boundary. Carcass parts that can be legally transported out of DMA3 include:
Boned-out meat
Quarters or other portions of meat with no part of the spinal column or head attached
Hides and capes with no heads attached
Clean (no meat or tissue attached) skulls and skull plates with or without antlers attached
Clean jaw bones
Antlers with no meat or tissue attached
Upper canine teeth, also known as "buglers," "whistlers," or "ivories"
Finished taxidermy products
Landfill disposal is the recommended option for deer harvested in a Disease Management Area.  Please click here for information on where you can dispose of deer harvested from DMA3.
Deer feeding is prohibited year-round in DMA3 and in all of the following counties in VA: Albemarle, Augusta, Bland, Buchanan, Carroll, Clarke, Craig, Culpeper, Dickenson, Fairfax, Fauquier, Floyd, Fluvanna, Franklin, Frederick, Giles, Grayson, Greene, Loudoun, Louisa, Madison, Montgomery, Orange, Page, Patrick, Prince William, Pulaski, Rappahannock, Roanoke, Rockingham, Shenandoah, Spotsylvania, Stafford, Warren, Wise, and Wythe counties, and all cities and towns within these counties.
A Disease Focus Zone (DFZ) is still present in the southwestern corner of Montgomery County. (A link to the DFZ map may be found here.)  Either-sex CWD Management Tags are available to all landowners holding greater than 5 contiguous acres within the DFZ. Please contact our Wildlife Health Coordinator at alexandra.lombard@dwr.virginia.gov for tags.
Hunting season dates, either-sex days, Earn A Buck requirements, and other deer hunting regulations for counties and cities included in DMA3 can be found in the Hunting & Trapping Regulations section of this website.