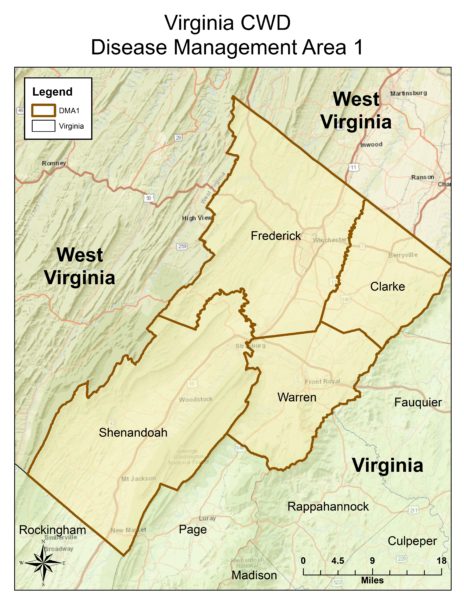 DWR confirmed chronic wasting disease (CWD) in Virginia for the first time in Frederick County in 2009.  Disease Management Area 1 (DMA1), formerly known as the Containment Area, was created in response to this initial CWD detection.  DMA1 includes Clarke, Frederick, Shenandoah, and Warren counties.
If you are hunting in DMA1 this fall, please be aware of the following:
*NEW in 2021* Early (September 4-October 1) and late (January 2-March 27) antlerless-only general firearms seasons have been introduced on private lands in DMA1 counties.
*New in 2021* 1:1 Earn a buck in effect for Clarke, Frederick, and Warren counties.  It is already in Shenandoah county.
*NEW in 2021* All deer harvested in Shenandoah County on November 13th are required to be tested for CWD at a DWR sample station .  This sample effort may be affected by COVID-19 so please check back for updates.  Click here for more details on sample station locations.
Whole deer carcasses and certain carcass parts from deer killed in DMA1 cannot be legally transported into DMA2 or into any non-DMA counties. Click here for more details on carcass transport.
Deer heads + 4 inches of neck from a deer harvested at any time during the season in DMA1 may be brought to a CWD deer head drop site for voluntary CWD testing.  Hunting in a DMA does not guarantee that you will harvest a CWD-positive deer but it does make it more likely when compared to hunting elsewhere in Virginia.  The Centers for Disease Control and Prevention (CDC) recommends that all deer harvested from areas known to be affected by CWD be tested prior to consumption. If you would like to get a deer harvested in DMA1 tested any time during the deer hunting season, bring the deer head plus 4 inches of neck to any of the Department CWD deer head drop sites for free CWD testing.  See the following websites for more details:
Deer feeding is prohibited year round in DMA1.
Hunting season dates, either-sex days, Earn A Buck requirements, and other deer hunting regulations for counties and cities included in DMA1 can be found in the Hunting & Trapping Regulations section of this website.