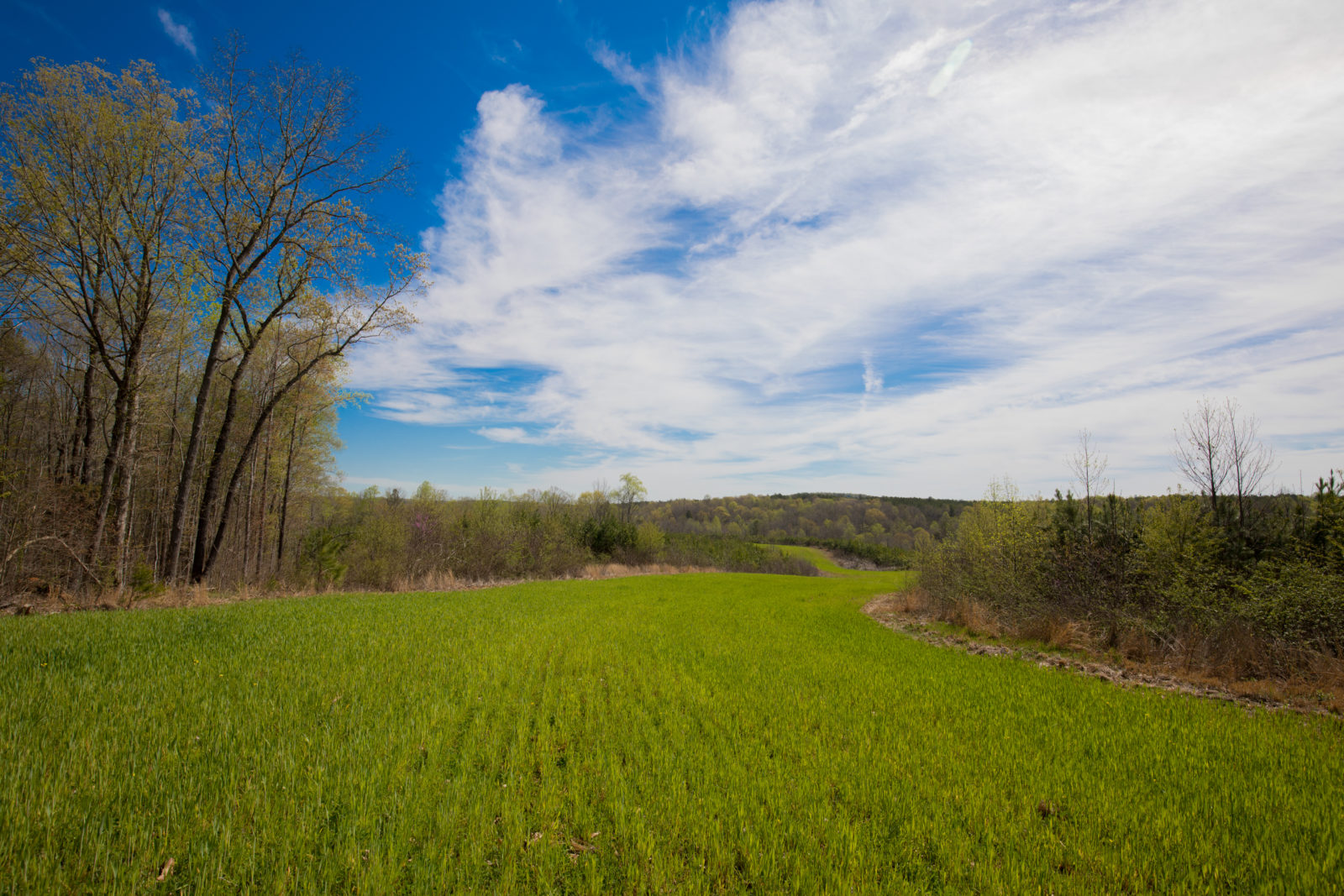 Over the past century, the fields and forests of Featherfin have hosted some of Virginia's most prominent citizens. Today, all of Virginia's citizens are welcome to spend the day afield at Featherfin and continue its rich hunting and fishing heritage.
Featherfin covers nearly 3,084 acres in Prince Edward, Appomattox, and Buckingham Counties. Numerous forested ridges and small drainages merge with the Appomattox River along Featherfin's 10 miles of river frontage. These forest habitats include both hardwood and pine stands. Many hardwoods stands were selectively harvested over the past 30 or 40 years, but mature hardwoods exist throughout much of the area. Most of the pine forests are composed of various aged loblolly pine stands planted on old farm fields as they were taken out of agricultural production. Diverse wetland habitats border the Appomattox River, including approximately 125 acres of low ground fields in the central part of the area.
Hunting
Featherfin's extensive pine and hardwood ridges provide abundant habitat for all of the forest game species found in Virginia's Piedmont. Deer, turkey, and squirrel hunting can be very productive. In recent years, black bears also have become more common on the area, and occasional sightings by hunters have been reported. Old fields left fallow from previous farming activities offer some limited habitat for rabbits and quail. The Appomattox River provides opportunities for jump-shooting wood ducks during the early fall, and woodcock are common within many wetland areas along the river and its tributaries.
Quota Hunts
Quota hunting is conducted on the opening day of the spring turkey season and for the next 3 weeks of that season. Individuals desiring to hunt on Featherfin WMA during this time period must apply through the Department's quota hunt system. For information and to apply for a DWR quota hunt please visit GoOutdoorsVirginia.com.
Fishing
The Appomattox River supports a good fishery throughout much of its length, including the section of river that runs through Featherfin. Sunfish species such as bluegill, redbreast sunfish, and green sunfish are very common. The anglers best bet is to target black bass species: largemouth, spotted and smallmouth bass. Expect most bass to be less than 12 inches, but when hooked with ultralight tackle, they will provide ample entertainment. Other species of note include channel catfish, chain pickerel, and brown bullheads.
Other Activities
With its diverse forests, grasslands, and wetland habitats, Featherfin is an excellent place to view a wide variety of bird and other wildlife species. Numerous trails traverse the property, inviting hikers to enjoy a day a field. Located a few miles northwest of Featherfin are the Appomattox-Buckingham State Forest and Holiday Lake State Park which provided additional opportunities for hunting, fishing, hiking, wildlife viewing, and camping.
Facilities
Parking areas are located along all of the state maintained roads that traverse or border the area. Featherfin is managed primarily as a walk-in area, and numerous roads and trails connect these parking areas with the interior of the property and the Appomattox River.
Directions
Featherfin is located approximately 10 miles west of Farmville. From Farmville, take U.S. Route 460 west. Turn right onto route 626. At the intersection of route 626 and route 609, proceed north on route 609 to the Wildlife Management Area. Featherfin may also be accessed by taking Route 626 east from Route 24 northeast of the Town of Appomattox.
Images by: Meghan Marchetti/DWR
Recreational Opportunities