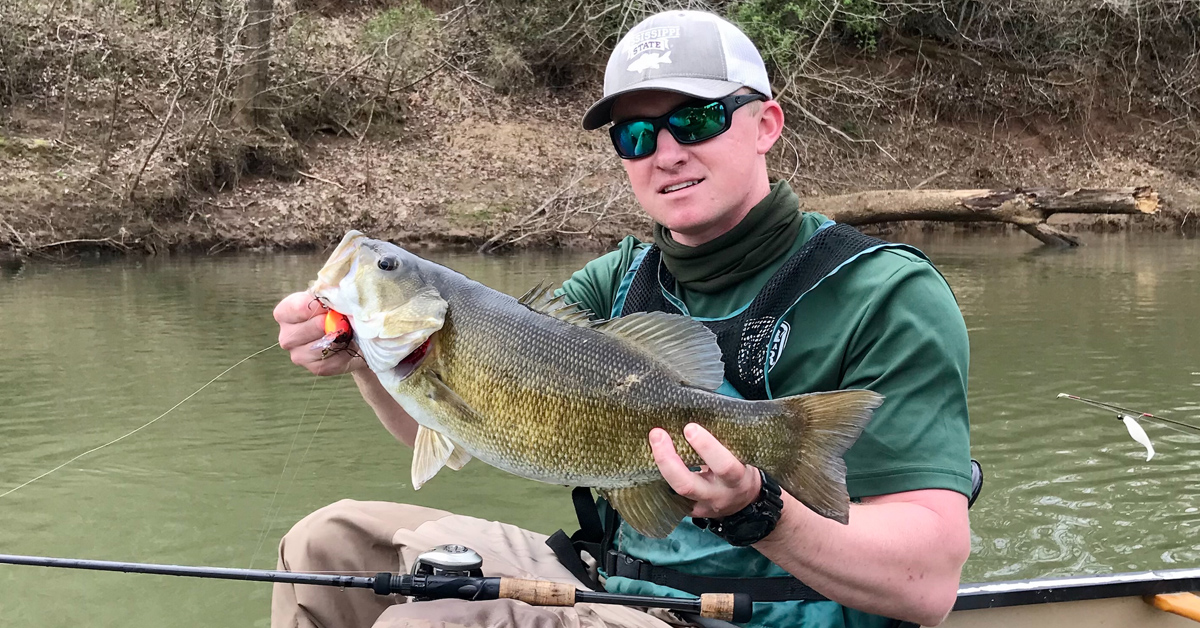 By Alex McCrickard/DWR
The Virginia Department of Wildlife Resources (DWR) is tasked with managing freshwater fisheries across the state of Virginia using best available science. Our biologists utilize a variety of fisheries methodology to collect information on the health of our fisheries. Data derived from scientific fisheries methodology is known as fishery-independent data and is key to managing our fisheries for the best interest of the public. Examples of fishery-independent surveys include electrofishing, gill netting, and trap netting surveys that our biologists implement to manage these public resources. Additionally, angler-derived data or fishery-dependent data is data that is collected from recreational and or commercial sources. Fishery-dependent data can also play a role in the management of our fisheries.
The Online Virginia Angler Recognition Program (OVARP) is one unique source of fisheries-dependent data that our agency collects annually. The OVARP is a voluntary program where anglers can be recognized for the catch of trophy-sized freshwater fish. Different minimum lengths and weights are required to reach trophy "citation" size for the 30 different species in the program. Of particular interest to Virginia anglers are the numbers of citation largemouth bass and smallmouth bass that are caught annually.
Smallmouth bass must be a minimum of 20 inches to be a length citation and 5 pounds to be a weight citation. You can receive a citation for either length, weight, or both but we are talking about truly large specimens for this species! Below are the top five waterbodies by total numbers of bass citations from 2022 for smallmouth bass. It should be noted that this is a voluntary program based on the honor system. Not every citation caught in Virginia is entered into the program, so this is simply a reflection of the data collected from the past year within the OVARP.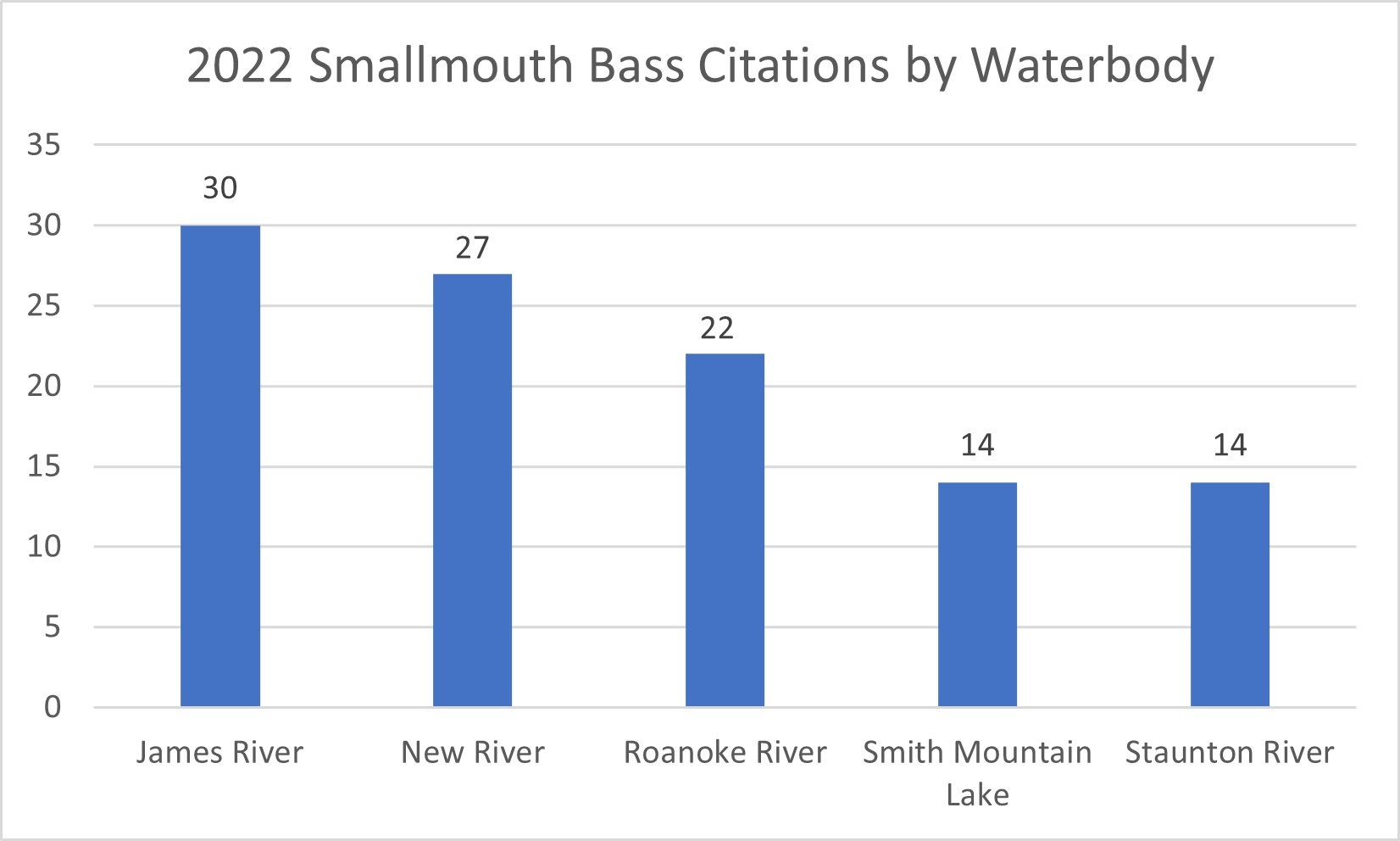 The top five waterbodies rated by total numbers of smallmouth bass citations caught in 2022 
1. The James River ranked #1 for producing citation smallmouth bass catches in 2022 with 30 citation catches awarded through the OVARP. The James has long been known as a top smallmouth destination from its headwaters at the confluence of the Jackson and Cowpasture rivers all the way to the fall line in downtown Richmond.
However, recent reductions in smallmouth bass abundance have many anglers concerned. "The non-tidal James River has experienced noticeable reductions in smallmouth bass abundance in recent years," said Hunter Hatcher, DWR fisheries biologist. "This certainly isn't ideal, but the result is an abundance of forage for the fish that remain, leading to rapid growth rates and excellent potential for a trophy catch on your next outing. For best success, anglers should target transition areas where deep runs and pools meet shallow rocky riffles.
"The hotter the weather gets, the more you'll want to key on riffles and moving water; you'll be surprised how shallow big smallmouth will be during the dog days of summer. Take note of current breaks created by boulders, rock ledges, and woody debris," said Hatcher. Additionally, it should be noted that late winter and early spring can be the best time of the year to target truly big smallmouth bass in pre-spawn mode. Floating the James is the best way to cover water in search of big smallmouth bass!
2. The New River has long been renowned as a trophy smallmouth bass fishery. The New produced 27 citation smallmouth bass catches through the OVARP, giving it the #2 ranking in the top waters list. Fishing the New is special as its an ancient river system that happens to be the oldest on the North American continent. "Similar to some other rivers in Virginia, the New River has experienced some below-average smallmouth bass spawns in the last several years, which has resulted in a slight reduction in the abundance of adult fish," said Jeff Williams, DWR regional fisheries manager. "However, good numbers of quality fish still remain for anglers to target. And recent above-average spawning classes, especially on the upper New, bode well for anglers as these fish grow to adult size."
Floating the New River is the best way to cover ground when fishing for smallmouth bass. Late winter and early spring give the angler opportunities at catching trophy smallmouth bass! "On the upper New River, anglers should target the reach immediately above Claytor Lake, from Allisonia upstream to the Route 100 bridge near Barren Springs," Williams noted. "Below Claytor Lake, anglers would do best to target the reach from Claytor Dam downstream to Radford.  Further down, the areas near Narrows and Rich Creek consistently produce good numbers of fish."
3. The Roanoke River might surprise some anglers by its trophy potential for smallmouth bass. In 2022, 22 citation smallmouth bass from the Roanoke River were awarded through the OVARP, giving it the #3 spot on the top waters list for smallmouth bass. Anglers might know the Roanoke River best for its trout fishing opportunities. DWR manages two delayed harvest sections of the Roanoke river for trout fishing in Roanoke County and the city of Salem.
However, being a warmwater system, the river does have a resident smallmouth bass population from the city of Roanoke down to the headwaters of Smith Mountain Lake.
4. Smith Mountain Lake might be best known for its trophy striped bass fishery, but anglers searching for trophy largemouth bass and smallmouth bass should not overlook this top destination. Smith Mountain Lake ranked #2 for citation largemouth with 12 being caught and #4 for citation smallmouth with 14 being caught in 2022. This scenic impoundment is large, at 20,600 acres located in Bedford and Franklin counties. Smith Mountain Lake provides deeper water habitat in addition to rock shoals, submerged brush piles, fallen trees, coves, and numerous big points.
In the spring, anglers can target boat docks and piers—just remember to be courteous to local landowners. Smith Mountain is one of the large impoundments involved in DWR's F1 largemouth bass program, which is aimed at enhancing the quality of largemouth bass fisheries in Virginia.
5. The Staunton River is an 81-mile segment of the Roanoke River between Leesville Dam and John H. Kerr Reservoir. Specifically, the section of the Staunton between the Dam and Brookneal is an underrated trophy smallmouth bass fishery! In 2022, 14 citation smallmouth bass were awarded from the Staunton River through the OVARP.
"The Staunton River provides an excellent opportunity to catch quality smallmouth bass," said Dan Michaelson, DWR fisheries biologist. "Excellent habitat, especially from Leesville Dam to Brookneal, provide anglers ample opportunity to catch big smallmouth. While Staunton River bass density isn't as high as some other rivers in Virginia, growth rates are among the best in the state. Manageable float trips are available, especially in the upper river, but plan ahead and enjoy the experience."
The Staunton is a beautiful river that provides the float angler a variety of opportunities from targeting smallmouth bass to walleye, saugeye, largemouth bass, Kentucky spotted bass, white bass and even striped bass. Habitat varies, but long deep pools, shallow choppy riffles, and shelfs are all good places to prospect for smallmouth bass.