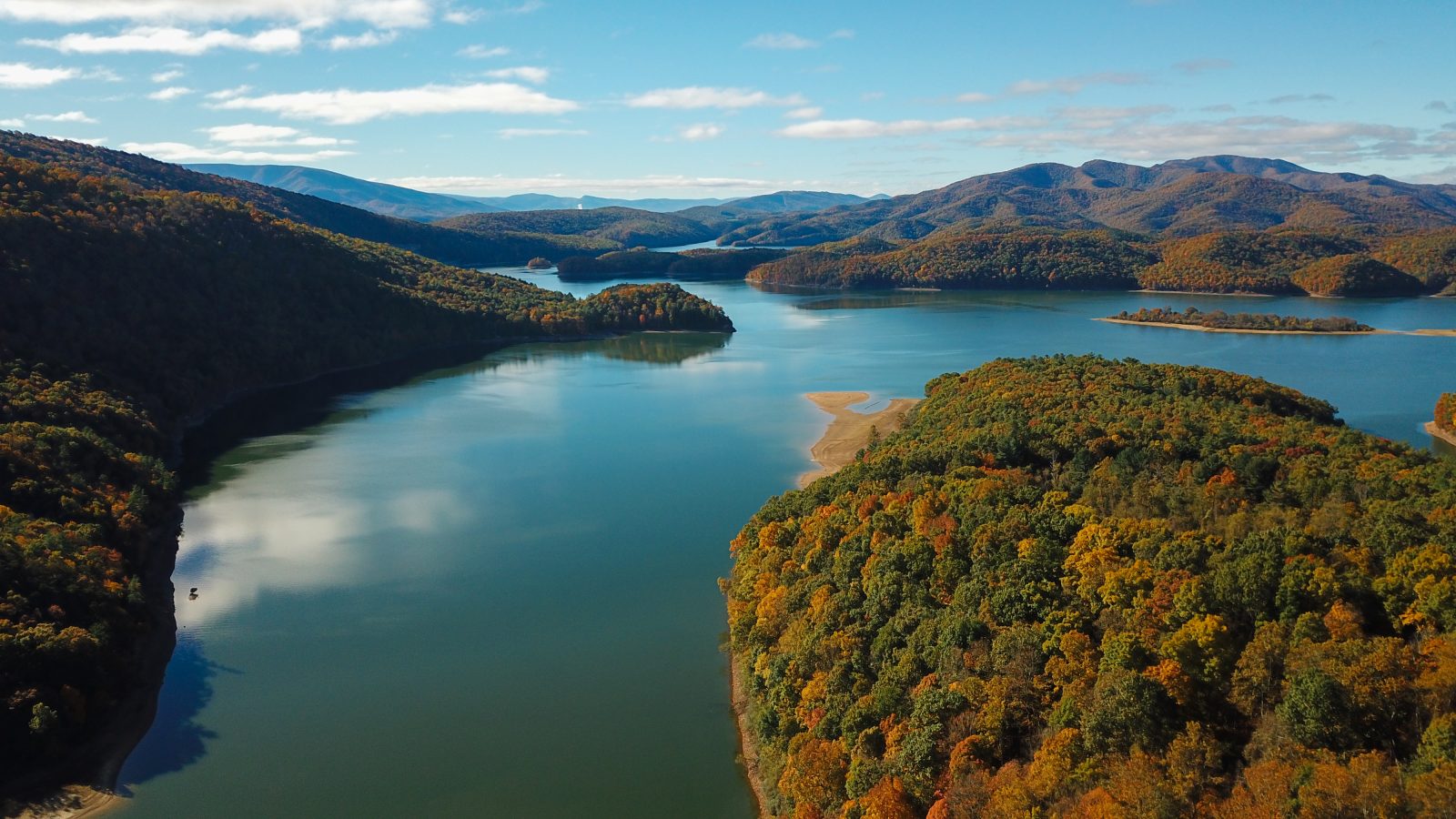 One of the earliest DWR-owned lands, the T. M. Gathright Wildlife Management Area's contribution to Virginia's wildlife resource has been long and far reaching. Described as, "some of the most beautiful mountain habitat imaginable," Gathright can also boast of producing the wild brood stock for some of the most successful wild turkey restorations imaginable. Lake Moomaw, occupying land that was once part of the management area, adds to the recreational opportunity offered by Gathright.
Located in Bath County and divided by Lake Moomaw, the two tracts of the Gathright Wildlife Management Area contains 13,428 acres, encompassing three major mountains, Allegheny and Bolar Mountains west of the lake, and Coles Mountain to the east. Elevations range from 1,400 to 3,600 feet. The area's long northwest boundary is marked by the crest of Allegheny Mountain where Virginia and West Virginia adjoin. Numerous streams flow eastward from the steep side of Allegheny Mountain and have created a series of secondary ridges and hollows that terminate at Mill Creek. The primary habitat found on the area is upland hardwood forest. Stands of oak/hickory and mixed oaks are the major forest types. Tulip popular grows in the more fertile hollows and small herbaceous openings are interspersed throughout much of the management area.
Hunting
The ridges and hollows of this area provide challenging hunting in a scenic environment. The area is managed mainly for forest wildlife and the best hunting opportunities are for deer, wild turkey, squirrel, bear and grouse. Management activities are concentrated in areas accessible by roads. Habitat diversity is gained with timber sales in the form of small clear-cuts, which provides wildlife openings, and thinnings to enhance hard mast production. Herbaceous habitat is created with the development and maintenance of grass/clover clearings. The lake provides a limited amount of waterfowl hunting.
Sighting-In Range
The sighting-in range is located on the Gathright WMA in Clay Lick Hollow and may be accessed from State Route 600 south of Route 39. No reservations are required. Visitors age 17 and older who do not possess a valid Virginia hunting, freshwater fishing, or trapping license, or a current Virginia boat registration, will need to purchase an Access Permit.
Range Operation Dates and Hours
September 1 to March 31, closed on Mondays except holiday Mondays.
Dates
Hours
September
Closed on Monday
Tuesday-Saturday: 9 AM – 6:30 PM
Sunday: 1 PM – 6:30 PM
October – January
Closed on Monday
Tuesday-Saturday: 9 AM – 4:30 PM
Sunday: 1 PM – 4:30 PM
February – March
Closed on Monday
Tuesday-Saturday: 9 AM – 5:30 PM
Sunday: 1 PM – 5:30 PM
Fishing
The lake's 2,530 acres offer excellent fishing for smallmouth bass, and brown and rainbow trout. A diverse fishery, the lake also holds largemouth bass, black crappie, channel catfish, yellow perch, chain pickerel, rock bass and various sunfish.
Other Activities
Outlying U.S. Forest Service land, and Douthat State Park to the east, offer the opportunity to camp, hike, picnic, view wildlife and trout fish at Douthat Lake.
Facilities
There are five parking areas along Route 600 near Mill Creek. Several Department roads, open seasonally, give limited vehicular access to the interior of the property. Foot trails give additional access. There is a sighting in range located in Clay Lick Hollow off Route 600. The U.S. Forest Service manages boat ramps, campgrounds, picnic areas and swimming beaches at several locations around the lake. The U.S. Army Corps of Engineers manages a visitor center at the dam.
Directions
The Gathright Area is located about seven miles west of Warm Springs and about 10 miles north of Covington. Access the area via State Route 39 west of Warm Springs and Route 600 south to the management area. Consult map for more detail.
Images by: Ron Messina/DWR
Recreational Opportunities