By Alex McCrickard/DWR
My swimbait landed a couple inches off the rocky bank. A few fast cranks on the reel brought my presentation away from the danger zone of a snag and into the desirable deeper, swifter water. I stopped retrieving to let my 1/8-ounce jig head settle into the deeper drop-off.
Moments later, I gave two twitches with the rod tip, and I slowly came tight. It wasn't the hard, unmistakable bump we all know, but a soft, slow tension as my rod arced over. Building tension led to clear headshakes and bouncing weight, ruling out the potential of a snag as the fish bull-dogged to the bottom. I played it slow and took my time, not horsing the fish, knowing I was on six-pound test line. As the fish slowly came to the surface, the unmistakable marble-like eyes appeared. Once on the surface, the fish turned on its side, the sun lighting up the gold coloration broken by dark blotchy markings. A quick scoop brought me face to face with a solid 21-inch saugeye.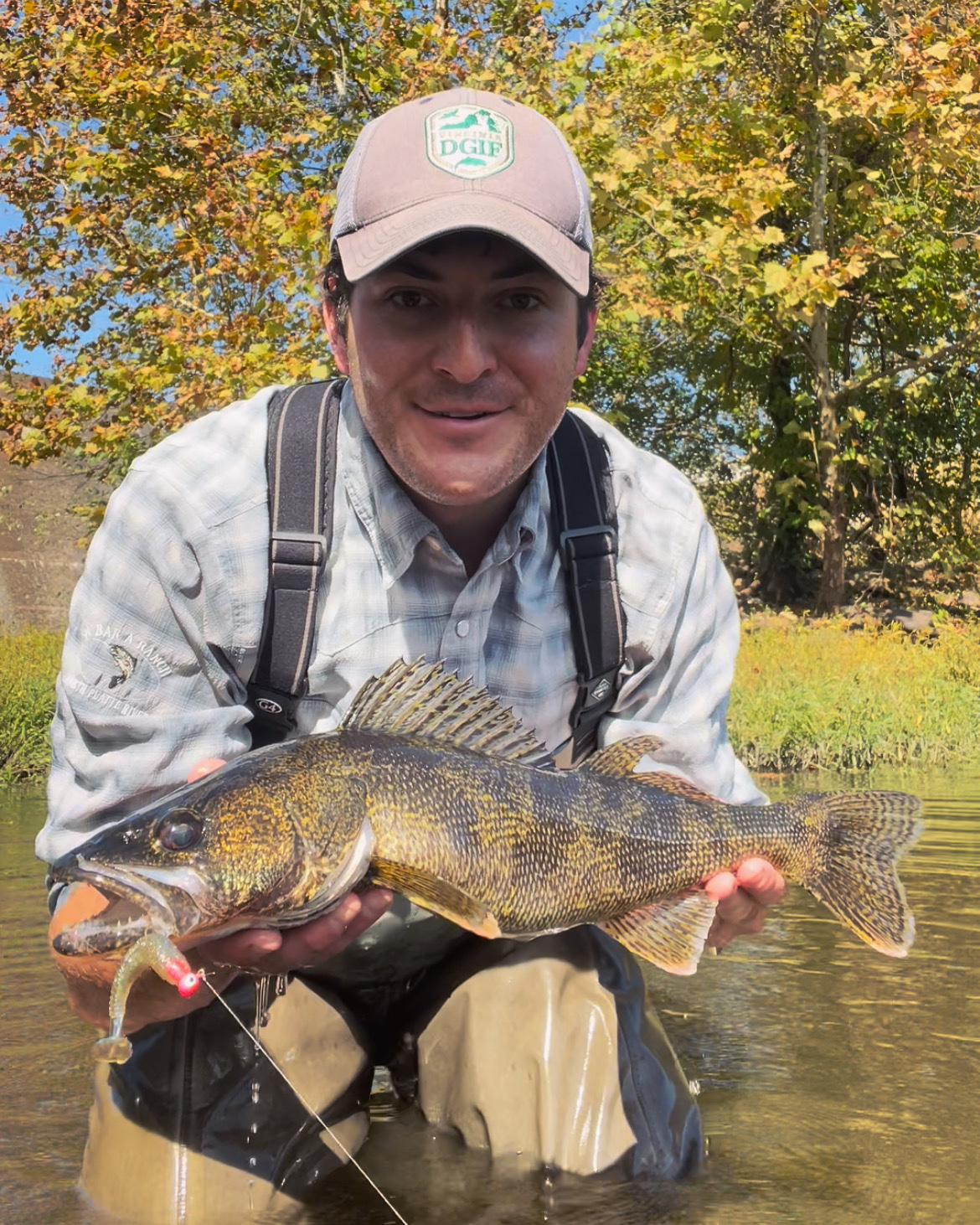 Many Virginia anglers are well acquainted with the diverse walleye opportunities the commonwealth offers. For decades, the Virginia Department of Wildlife Resources (DWR) has managed walleye fisheries across the state from the native strain New River walleye fishery in Southwest Virginia to smaller lakes and impoundments in Northern Virginia. Some Virginia anglers may even be familiar with the limited sauger fisheries that exist in far Southwest Virginia in the Clinch and Powell drainages. If you enjoy fishing for these members of the perch family, there is another species of fish that absolutely needs to be on your radar: the saugeye.
Saugeye, Sander canadensis x vitreus, are a hybrid created by crossing a female walleye with a male sauger. Saugeye first arrived on the scene in Virginia in 2013 via DWR stockings. Being a hybrid, saugeye exhibit traits from both walleye and sauger, which allows them to excel in some scenarios where walleye populations only perform marginally. DWR fisheries managers chose to stock saugeye in place of walleye on select impoundments across the central and northern part of the state, and for good reason.
From Strength to Strength
Similar to a sauger, saugeye tend to perform better in slightly more turbid and productive systems and can even tolerate warmer water temperatures than walleye. This, combined with their fast growth rates, allows them to flourish in scenarios where walleye have struggled to maintain adequate abundance for anglers. It's this hybrid vigor that makes the saugeye so desirable from a management perspective.
"The stocking survival rate that we are seeing is off the charts compared to what we are seeing with walleye," said John Odenkirk, DWR fisheries biologist. "And growth rates are incredible. We are talking about fish that aren't even a year old; in one growing season they are already over 12 inches long at Lake Anna. In less than two years, these Lake Anna fish are almost 18 inches at nearly legal size," Odenkirk exclaimed.
In addition to the management benefits of saugeye, their cryptic appearance makes them one of the most camouflaged freshwater fish we have in the state. When you catch one, I promise their coloration, markings, and unique patterns will be striking. Saugeye have tannish yellow to gold-colored sides with distinct dark sauger-like blotches or saddles extending from the dorsal to the ventral side of the fish. Like walleye, saugeye will have a dark blotch on the rear base of the front dorsal fin and a white tip on the base of the tail or caudal fin. Saugeye have a mouth full of teeth that anglers need to be aware of when handling these fish. In other words, it's advisable to refrain from lipping them like a largemouth bass unless you want a bloody thumb. Like walleye and sauger, a reflective layer of pigment in the eyes of a saugeye allows them to gather light in low light conditions making dawn, dusk, nightime, or cloudy days preferable feeding windows. All of these adaptations make saugeye one of the more unique predatory fish we have in the state.
In addition to these morphological traits, the best way to identify a saugeye is by looking at the dorsal fin. Saugeye will exhibit distinct streaks between dorsal fin spines and can frequently have one to two rows of spots along the base of the dorsal fin. Sauger will have more than two rows of spots, while walleye will only exhibit indistinct streaks between dorsal fin spines. The dorsal fin characteristics, combined with the dark sauger-like saddle blotches, are the key to identifying a saugeye when compared to a walleye.
Best Chances for Success
For fishing, tactics used to target walleye will also prove to be productive on saugeye. Without a doubt, fishing live bait can be a sure way for you to catch your first saugeye. Minnows and shiners fished either under a float or via a Carolina "fish-finder" rig on the bottom will prove productive. Anglers fishing with nightcrawlers will take their fair share of saugeye, especially when slow-trolled in the summer months on lakes with a crawler harness rig. Artificial lures can work well in late winter and early spring when saugeye are staging to go through the spawning motions.
Swimbaits, crankbaits, and jerkbaits fished in deep holes adjacent to rocky spawning substrate will work well in river systems. These same lures fished alongside any rock outcrops or rocky rip-rap shoreline where saugeye are concentrated in late February and early March will prove productive on lakes and reservoir systems.
When fishing lakes, use your electronics to your advantage and look for saugeye to be setup near bait.  Vertical jigging blade baits or jigs tipped with shiners will work well especially in the summer months when these fish are pinched above the thermocline on lakes and reservoirs.  For fly anglers, your best chances of success are during the pre-spawn timeframe in late February through the month of March.  Fly anglers may have more success with saugeyes on river systems during this time of the year.  Fishing deep holes with flashy streamers on a sink tip or 250 grain full sinking line will get you bit when the fish are concentrated.
You can find saugeye in the northern, central, and eastern parts of Virginia. Two DWR-owned lakes, Lake Brittle and Burke Lake, provide opportunities for anglers to chase saugeye in northern Virginia just a stone's throw from the nation's capital. Just a little further south, Lake Anna and Lake Orange provide two other saugeye fisheries for anglers to explore near Charlottesville and Fredericksburg. Lake Chesdin and the Appomattox River provide anglers with good chances to catch a saugeye near Richmond, and if you live in the eastern portion of Virginia, Little Creek Reservoir near Williamsburg is yet another option.
Anglers living in the greater Hampton Roads area can look to fish Lake Whitehurst in future years as the first saugeye stockings on this lake occurred in 2022. The Staunton River near Brookneal provides another opportunity for anglers to target saugeye in the south-central portion of the state. In fact, the first Virginia state-record saugeye came from the Staunton River last year at 6 lb., 0 oz.
Like walleye, saugeye are one of the best-eating freshwater fish around. Their white meat is light, flaky, and adaptable to a variety of recipes from traditional fried fish and chips to tacos or lightly seasoned filets. Some even find saugeye to have a slightly sweeter taste when compared to walleye. Their utility in the kitchen is just another added bonus these fish bring to the table for Virginia anglers. If you have never fished for saugeye, consider planning a trip to chase these unique fish.
Fishing for saugeye can be a challenge, but the reward of finding one of these beautiful fish is worth the effort, and their hybrid vigor might make saugeye slightly less finicky than walleye in some scenarios. So, consider giving saugeye fishing a try. I'm sure you will enjoy the exploration of new water in pursuit of this toothy critter!