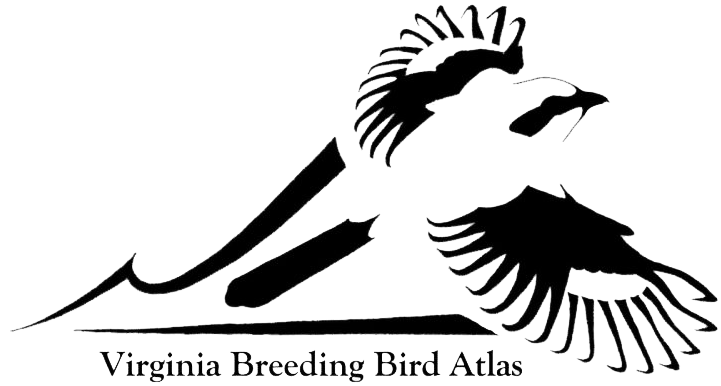 Thanks to its geographic position, topography and climate, Virginia has one of the highest bird diversities among states in the Eastern US. In partnership with the Virginia Society of Ornithology (VSO), the Conservation Management Institute at Virginia Tech, and hundreds of citizen science volunteers around the state, DGIF is cataloguing the diversity of Virginia's breeding birds through the 2nd Virginia Breeding Bird Atlas.
The Atlas is a 5-year effort (2016–2020) to document the current geographic distribution and breeding status of Virginia's game and nongame birds. It is the largest avian survey project in Virginia, both in terms of geographic coverage (the entire Commonwealth) and the number of species it surveys (over 200 breeding species). As such, it harnesses the power of hundreds of volunteer Atlasers, also making it the Commonwealth's largest citizen science project.
Objectives
Taking a "snapshot in time" of the current distribution of Virginia's breeding birds is a primary objective of the Atlas. In addition, comparison of these results to those of the 1st Virginia Breeding Bird Atlas (conducted by DGIF and VSO 1985–1989) will shed light on changes in distribution for individual species over the past 30 years. We already have good information on population trends for many avian species thanks to programs such as the North American Breeding Bird Survey; these tell us how bird populations have changed over the past several decades. However, the Atlas will allow us to see where these population changes are unfolding on the landscape by documenting where particular species are losing or gaining ground in the Commonwealth. This analysis will give us a clearer idea of the current status of our breeding bird species, including better identifying those species that may benefit from conservation action.
Abundance data adds a third dimension to species distribution data by not only informing us of where a species occurs, but in what numbers. The Atlas is using field technicians to collect bird abundance data throughout the state in order to supplement the traditional, volunteer-driven Atlas methodology. This effort will generate the largest baseline data set of its kind on the Commonwealth's breeding game and nongame birds. These data will in turn allow us to generate credible population estimates for many of our bird species for which we lack such information. In addition, it will enable us to produce density maps for many species across the state, revealing where in the state individual species are more and less abundant.
The overarching goal behind the Atlas is to provide project partners with information that can be put to good use for avian conservation. Improved understanding of where our bird species currently occur, in what numbers, and how their distribution within Virginia has changed over the past quarter century will improve strategic conservation planning and enable us to more efficiently target conservation efforts and actions on the ground.
More Information and How to Participate
If you are considering volunteering as an Atlaser, or are simply curious, we invite you to explore the official Atlas website for more information on this ambitious and important project. We welcome participation by anyone with an interest in birds and their conservation. While bird identification skills are necessary in order to most effectively conduct surveys, we also welcome contributions from beginners, who can be paired up with more experienced Atlas volunteers to learn the ropes. Surveys are easy to conduct and can be done at times that fit into your busy schedule. Priority areas for Atlas surveying are found throughout the state, and may even encompass your backyard. Most important are an enthusiastic attitude and a willingness to learn. Help spread the word for this important project that will better help us address the conservation needs of Virginia's diverse bird community!